Surface Type Cover or Keyboard delivers one of the best experiences when it comes to typing. Not only is it designed to bring the best looks, but it is also designed to ensure you can get your work done properly and faster. However, if you are having a problem where either the keyboard is not getting detected or isn't typing at all, let's troubleshoot your Surface Type Cover or keyboard. Sometimes, simple things like detaching and reattaching the Surface Type Cover or keyboard solve the problem.
Troubleshoot Surface Type Cover or Keyboard not working issues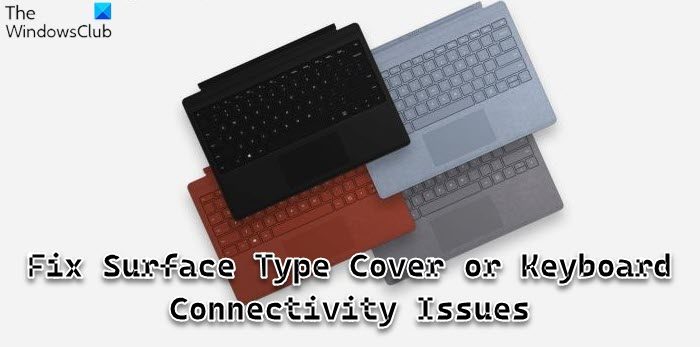 Fix Surface Type Cover or Keyboard Connectivity Issues
Before we start, make sure you check if Surface Cover is torn or needs physical repair or replacement if under warranty. You can get over to Microsoft Device page, and check. You should have your keyboard registered and talk to customer care about it.
1] Make sure to have the latest driver Installed
Make sure to install the latest Windows Updates for your Surface. This will also install the latest drives to ensure they are compatible with Surface and Windows. In case everything is up to date, you might want to reinstall the Surface Cover driver forcefully.
Open Device Manager, and expand Keyboards section, and then right-click Surface Type Cover Filter Device.
Select Uninstall device> OK.
Restart your Surface.
This will make Windows see it as a new device, and it'll automatically download and install the Surface Cover driver. The Internet is a must for this.
Read: Where to download the latest Surface drivers & firmware?
2] Clean the Type Cover connectors
It is possible that dust stuck between the connectors isn't allowing it to work properly. You can use a cotton swab with rubbing alcohol to clean it. Just rub it back and forth over the six circular magnets on the Type Cover's connector. Then let it dry. Once it is dry, reattach the cover and make sure that all the magnets touch the bottom edge of your Surface.
3] Reset your Surface if you are not able to type at all
This is probably the worst situation. If you cannot type at all, either your keyboard is at fault, or else you need to reinstall everything on your Surface device.
The best solution is to take your Surface to a shop and get it checked with a spare keyboard. If it works, then the problem is with your keyboard. You need to buy a new one or repair it. If your keyboard is working on a different surface, then you need to reset everything on your Surface.
Read: Surface Pen not working.
Fix Surface Type Cover or Keyboard Typing problems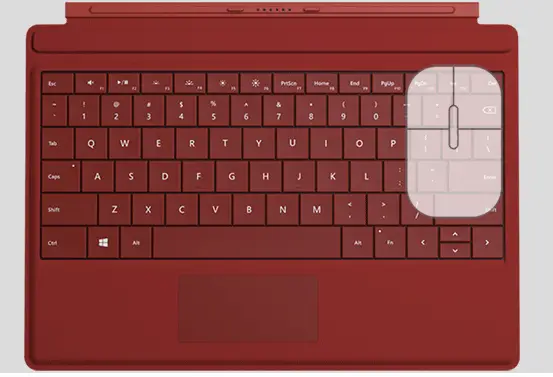 1] Keys on the Keyboard is not working, but the touchpad works fine
This is a typical case where for some reason one of the special keys like filter, sticky, mouse keys have turned on. These keys can be set back to normal from Ease of Access settings. This setting makes sure that repeated or brief keyboard strokes are ignored. This delivers a feeling that the keys are not working. Sticky keys, however, lets you press only one key at a time.
2] Touchpad doesn't work, but the keys do.
Another easy one to troubleshoot. Chances are that your touchpad is off. You will have to make sure that it's on. The settings, which can change it might differ a little depending on the hardware.
If you don't have those models but have Touch Cover (early model), Type Cover (early model), and Surface Pro Signature Type Cover on Surface Pro, you may need to use Surface Trackpad Settings app. You can download it from the Microsoft Store, if not installed.
3] Sensitivity Issue: The touchpad doesn't respond right away after I've been typing
Windows has made sure that the touchpad doesn't move the cursor when you accidentally brush your palm against the touchpad while typing. Technically, the sensitivity is always low for such scenarios. In case it is happening for you, the sensitivity for the touchpad has changed. Here's how to change the sensitivity.
Go to Settings > Devices > Touchpad. Under Touchpad sensitivity, select Low sensitivity or Most sensitive.
You might want to change this to high if you are planing game where you need both keys and touchpad to respond quickly.
4] Cant See what you type on the screen?
Windows Keyboard supports tons of languages, and if the settings for the keyboard and the computer don't match, texts become…invisible.
Select the Start button, and then select Settings > Time & language > Region & language.
Make sure the language you're using on your keyboard (the input language) matches the one you're using on your PC (the display language).
Then select the language, select Options and ensure the correct keyboard layout is available. To make sure your language is available for Windows, check the list of the language packs.
Did you get into similar issues? How did you resolve it? Let us know in the comments.