Keeping up with the weather is very important, especially at a time when global warming is a thing, according to experts. The best way to keep up with the weather on Windows 11/10, is to use the default Weather app. Now, if for some reason you attempt to use the Weather app but it's not working, then right away it should be clear that there's a problem, and that's why you're here. Or then it could be simply your Windows 10 Weather app's Live Tile that is not working. In any case, we've got you covered!
Weather app is not working or opening in Windows
If the Weather app's Live Tile is not working, here are a few things to try:
Unpin and then Pin again the Tile
Change the Tile's size and see, by right-clicking on it
Restart Explorer and see.
If the app itself is not opening, read on.
1] Update the Weather app
Most problems with an app from the Microsoft Store can be easily rectified with a simple update if one is available, so as it stands, that's one of the steps one must always consider taking when attempting to fix the Weather app.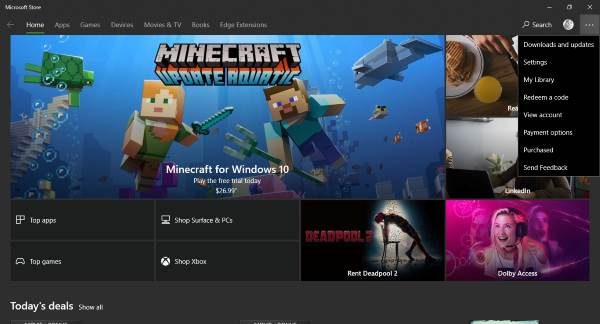 Launch the Microsoft Store, then from the top-right corner, click on the three dotted button. From there, then, select Downloads and updates.
The final thing to do here is to click on the Get Updates button. Clicking on this button will update all apps, which includes the Weather app. That should do the job, so go on ahead and test if the Weather app is working again.
2] Use the Windows Apps Troubleshooter
Many problems with apps from the Microsoft Store can be solved by simply running the Windows Apps Troubleshooter. It's a very simple thing to do, so we suggest reading this article right here and follow the instructions to run the Troubleshooter among other things.
Related: Weather widget not showing on Taskbar in Windows 11
3] Reset the Weather app
Make no mistake, resetting an app should always be the final action to take since it tends to delete all information it has gathered to make it work best for you. Then again, resetting usually never fails when it comes down to fixing most problems.
To reset Windows Store Apps, press the Windows Key + I to launch the Settings app as usual, and navigate to Apps where you'll need to click on it.
After firing up the App section, click on App & features, and from here, seek out the Weather app.
Finally, click on the Weather app, then select Advanced options. Finally, click on Reset, restart your Windows 10 computer, and check if everything is working again.
4] Uninstall and Reinstall the Weather app
To remove or uninstall the Windows App, right-click on its icon & select Uninstall. Next launch the Windows Store, search for the Weather app and install it.
That's it, folks. Bear in mind that everything we've talked about here can be used to fix any other apps from the Microsoft Store, so we suggest to use this article as a point of reference in the future.