Windows Updates are important for pushing changes and security updates. However, while attempting to upgrade the operating system through the Windows Update Assistant some users get the error Windows Update Assistant may get stuck at 99%. If you encounter the same issue, kindly read through this article to resolve the issue.
Windows 11/10 Update Assistant is stuck at 99%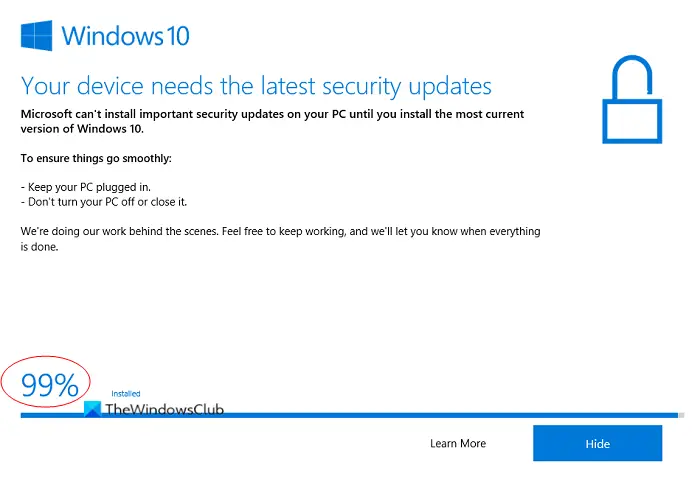 Try the following solutions to resolve the Windows Update Assistant is stuck at 99% error:
Wait
Run Setup from the Media folder
Run the Windows Updates troubleshooter
Use Media Creation Tool.
1] Wait
Wait! Even for a couple of hours if need be. Sometimes a stuck process can get unstuck of its own and that would be the best way if that happened.
2] Run Setup from the Media folder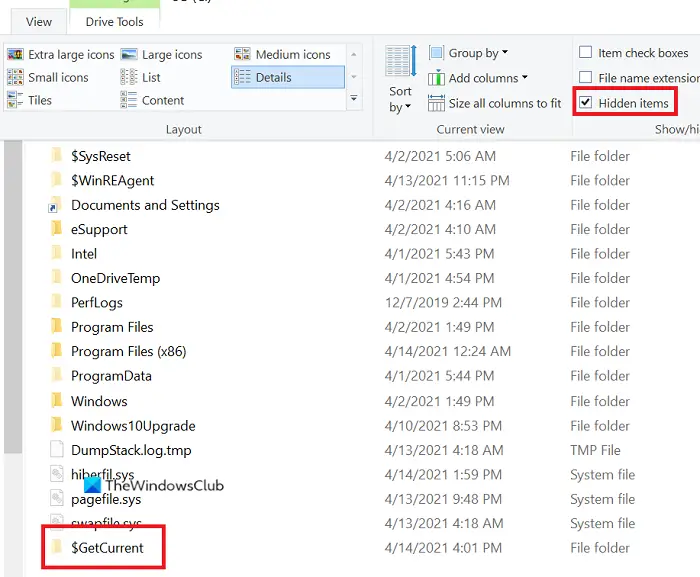 If Windows 10 Update Assistant is stuck at 99% then use this trick to reset the process. Make sure you follow these steps before you restart your PC:
Open the File Explorer
Go to the path C:\$GetCurrent.
If you are unable to see the $GetCurrent folder, it might be hidden.
In that case, go to the View tab and check the box associated with Hidden items.
In this folder, you will find the Media folder.
Copy and paste it to the Desktop.
Restart your computer.
Now, copy the Media folder back from the Desktop to the C:\$GetCurrent folder
Open the Media folder and double-click Setup.
Follow the on-screen instructions to finish upgrading
This way, you will be able to reset the process without deleting the Media folder. So, try running the Windows Update assistant once again.
3] Run the Windows Updates Troubleshooter
Exit the upgrade process and then run the Windows Update Troubleshooter is an excellent in-built tool in Windows 10 to check for issues related to Windows updates and resolve them if possible. The procedure to run the Windows Updates troubleshooter is as follows.
Go to Start >> Settings >> Updates & Security >> Troubleshoot >> Additional troubleshooters.
Select the Windows Update troubleshooter from the list and click on Run the troubleshooter.
4] Use Media Creation Tool
If Windows Update Assistant does not work for you, then you may use the Media Creation Tool to upgrade.
Hope it helps!
TIP: This post will help you if Windows Update Assistant is not working.