When you log out of Windows 11/10, it brings you back to the login screen where you switch the user or log back in. However, at times, Windows 10 remains stuck on the signing out screen with a blue spinning circle. All you see is the process of signing out, but it stays there. In this post, we will share some tips to get yourself out of the stuck signing out screen.
Windows 11/10 stuck on signing out screen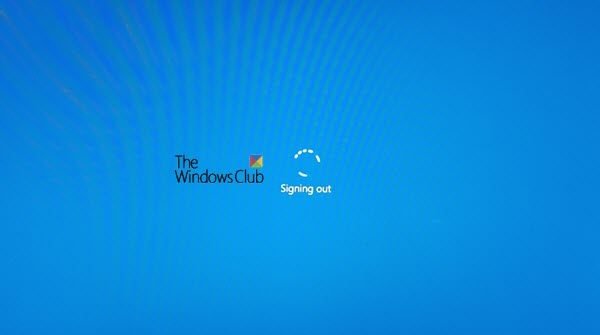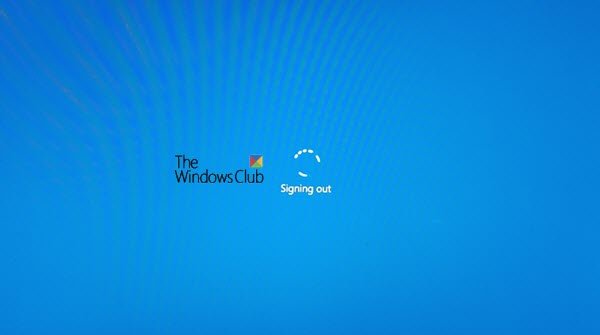 If Windows 11/10 is stuck on the signing out screen with a blue spinning circle, then these suggestions are sure to help you get out of the situation:
Force shutdown the computer
Troubleshoot in Clean Boot State
Check the status of User Profile Service
Repair User Profile
Run System Restore.
Make sure to use an administrator account which is required for carrying out some of our suggestions.
1] Force shutdown the Computer
Sometimes it's a one-off problem and gets resolved by forcing a shutdown. Long press on the power button of the laptop or computer until the screen goes blank. Restart the computer, and log in and log out to check if the problem persists.
2] Boot into Clean Boot State
When you log out of the computer, Windows closes all applications and services related to the account. If anything doesn't complete or stop responding, it gets stuck. Something similar may be happening here.
Force shutdown the computer, restart, and login back in to the computer. Next, boot in Clean Boot State. Clean-boot troubleshooting is designed to isolate a performance problem. To perform clean-boot troubleshooting, you must take several actions, and then restart the computer after each action. You may need to manually disable one item after another to try and pinpoint the one that is causing the problem. Once you have identified the offender, you can consider removing or disabling it.
Here are a few things you can do:
Carefully examine the list of programs. One of the applications may be blocking the process.
Exit all the program/s on the computer before logging out.
3] Check the status of User Profile Service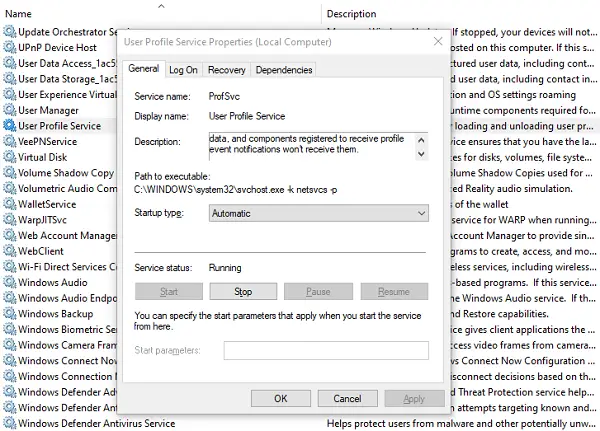 The User Profile Service is responsible for loading and unloading user profiles. If this service is stopped or disabled, users will no longer be able to sign in or sign out successfully. If disabled, some apps might not be able to get user data. Also, it will block any notifications related to the user account.
Search for User Profile Service
Double click to open its Properties box.
Ensure that the startup type is set to Automatic.
Make sure that it is Started.
This is likely to help resolve your issue.
4] Repair User Profile
Before you carry out this step, do create a system restore point first.
Now, part of the user profile may be corrupt, and this could lead to signing out issues.
You need to repair the corrupt user profile using a software or fix it using the Registry Editor.
Open Registry Editor and navigate to:
HKEY_LOCAL_MACHINE\SOFTWARE\Microsoft\Windows NT\CurrentVersion\ProfileList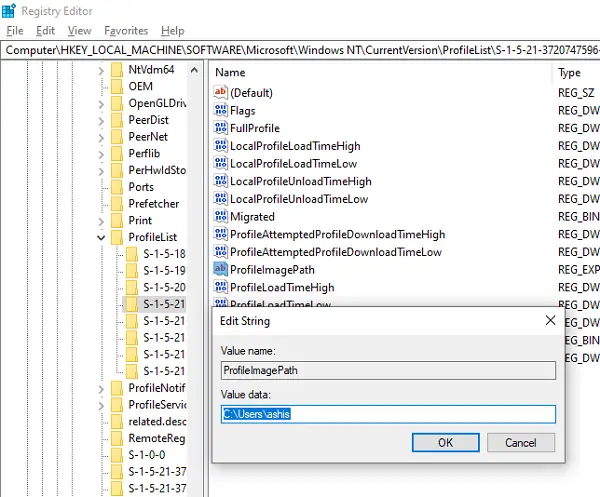 Look for Folders Starting with S-1. If you notice any of the folders which end with .bak, then that's what is causing the issue.
Assuming Folder names as S-1-x and S-1-x.bak
First Rename S-1-x to S-1-x.backup, and then rename S-1-x.bak to S-1-x.
Next, under S-1-x, double click on ProfileImagePath key and check on the value.
If the username is not the same as the corrupted user name, then change it to the expected name.
Exit and restart.
Read: Spinning dots or Circle animation not showing on Reboot or Shutdown Screen
5] Rollback to a good Restore point
If you have created a restore point earlier, then look for a restore point that is at least a week old, and restart Windows. Verify if the issue was resolved.
We hope these tips were easy to follow and helped you to resolve the issue.
Related reads: