Windows 11/10 users have been reporting issues on connecting to iTunes, where their iPhone either failed to get detected, or their device wasn't recognized by the computer running on Microsoft's latest operating system (OS). While there is no single and assured solution to fix this issue, here are some simple workarounds and fixes which would help in resolving this problem.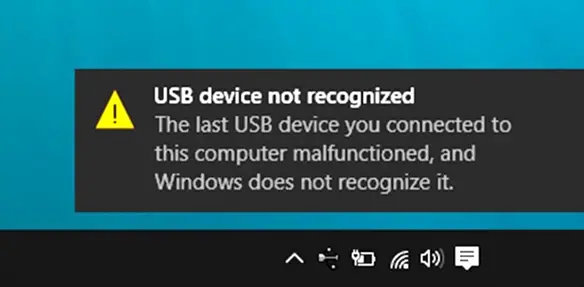 Windows 11/10 PC does not recognize iPhone
Before getting into the solution, it is important first to understand why a Windows computer may not recognize your iPhone. Explaining this issue in the simplest form, Apple products which basically include iPhone, iPad and MacBook don't go very well with Microsoft's Windows, hence whenever these two are brought together, they do not communicate easily. This is exactly why new errors and bugs keep on popping every now and then. And one such bug occurs when Windows 10 fails to detect iPhone.
Thorough research on this issue states that there is no single fix available to resolve this issue. Those who are seriously looking to resolve it will have to go through several checks, basically, trial and error method to see if their problem gets resolved.
1. Simply Reboot
Try to reboot the iPhone as well as the computer and then reconnect it to check if the issue is resolved. Yes, this is the first and the meekest fix which may work out. In case it doesn't, move down on this list.
2. Try Another USB Port
This issue can also arise due to a defective or damaged USB port on the computer. To verify it, connect the iPhone to a different USB Port.
3. Enable Autoplay
Connect your iPhone to your Windows PC, open Control Panel, and click open the Autoplay applet. Make sure that the option Use Autoplay for all media and devices is checked. Now search for the iPhone device and select the option Ask me every time from the drop-down menu next to the device. Does this help?
4. Install All Important Windows Updates
Make sure that the system has updated and installed all the latest Windows updates. To install the latest updates, users can simply go to Settings > Update & Security > Windows Update and download the updates from here.
5. Install/re-install the latest version of iTunes
iPhone may not be compatible when the user uses an older version of iTunes with Windows 11/10. Hence, one needs to make sure that he/she has the latest version of iTunes installed.
Read: How to install iPhone Drivers on Windows 11/10.
6. Always "Trust"
Whenever an iOS device is connected to the computer, a prompt message appears which says, 'Trust This Computer?'. Users should always click "Trust" as this is the most suitable option to resolve the issue in most cases.
Similar: Windows does not recognize or detect Android Device
7. Check if Apple Mobile Device Support service is installed
Another option is to check if Apple Mobile Device Support service is installed. Users can check this by going to Control Panel > Uninstall a program. If it not installed, iTunes needs to be reinstalled. You may want also to check if your device drivers are updated.
Read: iPhone not charging when connected to computer.
8. Disable VPN
Some users also complain that they are unable to connect their iPhone devices with a Windows 10 PC when VPN is turned on. If this is the case, try disabling VPN on the iPhone device. To disable VPN on your iPhone, follow the following procedure:
Open Settings on iPhone device
Tap General
Tap VPN
Tap on Delete Profile
Confirm action by tapping Delete again.
Related: iPad not recognized by Windows PC
9. Windows N or KN users
If you are using Windows 11/10 N or KN versions, ensure that you have Media Feature Pack installed. You can download it from Microsoft.
For a majority of the users facing problems in connecting their iPhone and Windows 11/10 devices, at least one of the above solutions solved the problem. If still, your Windows 11/10 fails to detect iPhone, then you might have a third-party software or driver which could be conflicting with iTunes and Apple's services. Try troubleshooting by performing a Clean Boot.
How to fix computer not recognizing iPhone?
To fix this issue, you need to restart your computer first. If it doesn't help, use a different USB port and cable, enable Autoplay, reinstall the latest version of iTunes, use the Always Trust option on your iPhone, etc. No matter whether you get this problem with your iPhone or iPad, you can go through the same solutions.
How to fix iPhone not connecting to Windows?
If your iPhone is not getting connected to Windows 11/10, you can follow the solutions mentioned above. You can simply change the USB port, USB cable and restart your computer. The most important thing is that you need to enable the Always Trust option on your iOS device to allow it to connect to Windows PC.
Related read: iOS device not showing up in iTunes for Windows PC.