If the iPad is not recognized by Windows 11/10 PC, you can follow these solutions to get rid of this problem. No matter why Windows is not detecting iPad, you can fix the issue within moments if you follow the tips mentioned below. Whether you use Windows 11 or Windows 10, the same things need to be followed.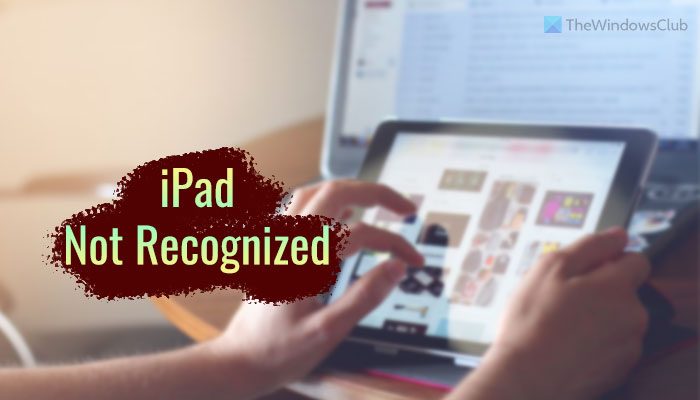 iPad not recognized by Windows 11/10 PC
If iPad is not recognized by Windows 11/10 PC, do the following:
Unlock your iPad
Trust the computer
Restart iPad and PC
Remove all USB devices
Update iTunes to the latest version
Install/Update driver
To learn more about these steps, continue reading.
1] Unlock your iPad
Windows doesn't detect the iOS or iPadOS devices when it is locked. You can lock your device once it is connected, but you must unlock your iPad when you are trying to connect it for the very first time. Therefore, if Windows 11/10 is not detecting your iPad, it is recommended to unlock your device and try again.
2] Trust the computer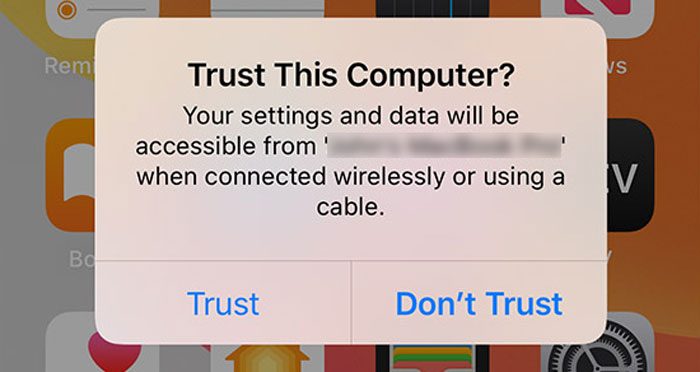 When you connect your iPad to the Windows PC via USB cable, you need to tap on the Trust option. It allows your computer to access the iPad. However, if you haven't done that yet or skipped this part, you won't be able to use your iPad on your Windows computer. If so, you can unplug your device and plug it in again to find the same window. This time, you need to tap on the Trust option.
3] Restart iPad and PC
At times, a simple restart can fix countless problems. If there is a bug, glitch, or anything else, you can fix it by restarting your device. Whether the problem lies on your computer or iPad, you can restart both to resolve the issue within moments. Even after selecting the Trust option, if it is not working, it is suggested to restart both devices and try again.
4] Remove all USB devices
If multiple USB devices are connected to your PC, it is recommended to remove all of them and try again. At times, different USB devices may cause various issues. If so, this solution will work for sure.
5] Update iTunes to the latest version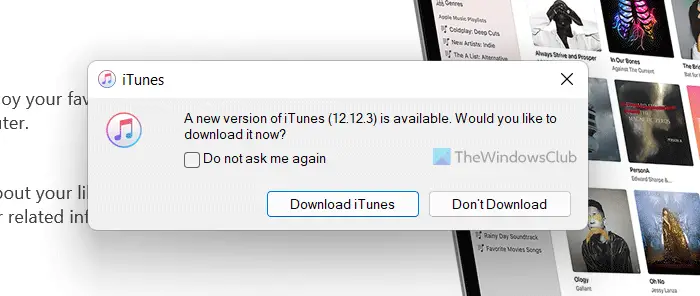 iTunes plays a vital role in connecting the iPad to Windows PC. You need to have iTunes to transfer audio and other files from one device to another. If you haven't updated your iTunes for a very long time, it could cause a similar issue. Therefore, try updating the iTunes app first before reconnecting.
6] Install/Update driver
Earlier, it was possible to update the driver using Device Manager. However, now it is even easier than that. You can install optional updates with the help of Windows Update or Windows Settings. To update the corresponding Apple driver, you can follow this guide in Windows 11.
Hope something here has helped you. If none of the aforementioned solutions worked for you, you could try the device with another computer as well. Sometimes, a bug can cause all the issues.
Read: Windows computer does not recognize iPhone.
How do I get Windows to recognize my iPad?
To get Windows 11/10 to recognize your iPad, you need to allow the connection first on your iPad. Many times, this simple setting could cause big issues, and you end up wasting your time. Apart from that, you can reinstall the iTunes app, change the lighting cable, etc.
Why won't my PC recognize my iPad?
There could be several reasons why your PC is not recognizing your iPad. If you do not trust the computer after connecting your iPad, you won't be able to use your iPadOS device with Windows 11/10 PC. Also, you can try reinstalling iTunes, which plays a vital role in transferring data from iPad to Windows and vice versa..