Is your iPhone or iPad device not showing up in iTunes on Windows 11/10/8/7? Here are some possible solutions that will let you fix this problem. iTunes allows users to move files between your computer and iPhone or iPad. Without iTunes, it is quite difficult to transfer a file from a PC to iPhone. Whenever you successfully connect your iOS device, it shows up in iTunes like this-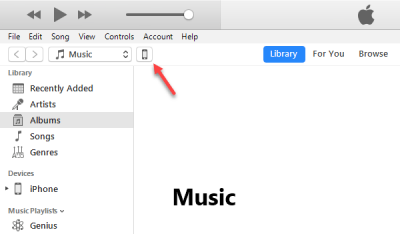 However, if the iPhone or iPad icon is not there where it should be, you may not be able to transfer any file or carry out any other task.
iOS device not showing up in iTunes for Windows
1] Trust the computer
This is the most basic setting you need to check right after connecting your iOS device with a USB cable. This particular setting helps users to determine whether they should allow the computer to access your mobile's files or not. Also, it appears only when you unlock your mobile after connecting to the computer. You need to unlock your mobile after connecting to a computer and check whether you receive a popup like this or not.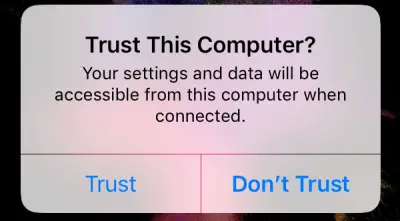 If yes, do not forget to tap on Trust button. If you select the other option, your iOS device will not show up in iTunes.
2] Always update iTunes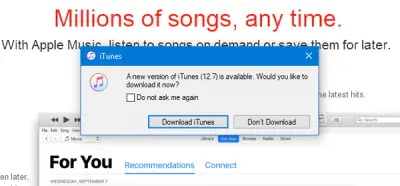 Like other developers, Apple often releases updates for iTunes. If you are offered an update, you should update the software right away. Sometimes, iTunes may not work correctly, if you do not upgrade your software to the latest version.
3] Restart Apple Mobile Device Service
When you install iTunes on Windows computer, a Service gets installed automatically. More specifically, you can find the service in the "Services" tool in Windows. You can try to restart this service to check whether it is working or not. For that, you need to open the Services menu on Windows computer. You can either search for "services" in the corresponding taskbar search box, or you can press Win+R, type services.msc and hit the Enter button. Following that, you should see an entry called Apple Mobile Device Service. Right-click on it, and select Restart.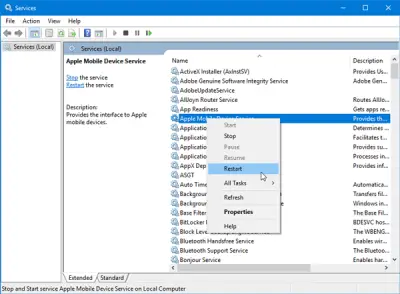 It should take a few moments to complete the whole process. Following that, restart iTunes and check if you can find the iPhone button on iTunes or not.
Read: iPhone not charging when connected to computer.
4] Reinstall Apple Mobile Device USB driver

If the above solutions are not working, you can try reinstalling the Apple Mobile Device USB driver. It gets installed automatically when you install iTunes. However, in this case, you should install it again. For that, make sure the iPhone or other iOS device is not connected to your computer. Then, navigate to the following location-
C:\Program Files\Common Files\Apple\Mobile Device Support\Drivers
In the above path, the "C" is your system drive. In the Drivers folder, you will find a Setup Information file called usbaapl64.inf. Right-click on that file, and select Install.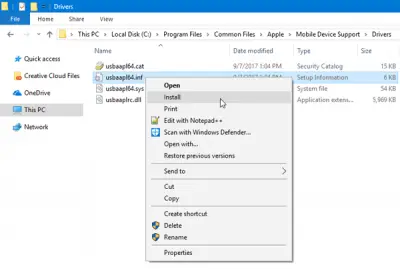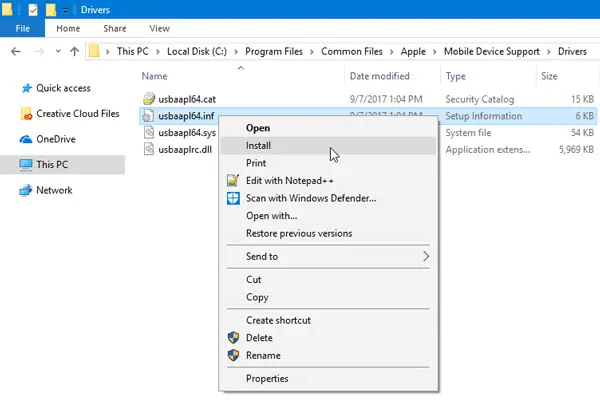 After a couple of moments, you should find a popup with a success message called "The operating completed successfully."
Now, open iTunes and try reconnecting your iOS device. It should work smoothly.
5] Reinstall iTunes
When no other solution is working, you should consider reinstalling iTunes. Visit the Apple website, download and install it correctly. Make sure that the existing iTunes is deleted entirely. For that, you can use a software uninstaller program such as CCleaner which removes all the leftovers.
Hope one of these simple solutions helps you.
See this post if Windows does not recognize your iPhone.