When you notice lag or overheating on your computer, the first place you check is the Windows Task Manager to see the process slowing the computer down or causing the heating. If you open Task Manager and see a strange process running, you now have to decide whether to leave it or get rid of it.
You may be reading this post because you say Modern Setup Host or SetupHost.exe running in the background of your system. Before even thinking of removing this file or process from your system, read this article. Here, I'll tell you what this process is and how to determine if it's a virus or not.
What is Modern Setup Host on your computer?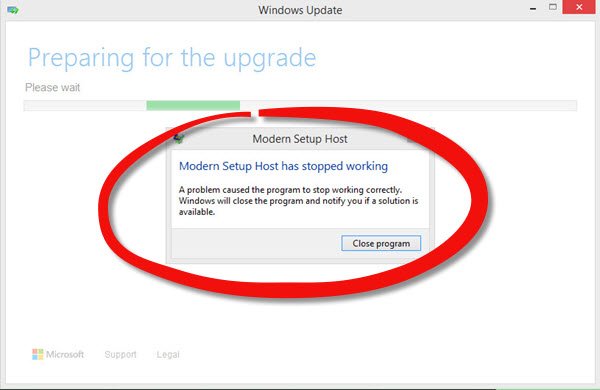 Modern Setup Host or the SetupHost.exe file is a Windows operating system process that prepares your machine for updates and facilitates the system setup when you upgrade your operating system to a newer Windows 10 edition. It comes bundled in Windows 10 and runs in the background of your system when you install Windows Updates. This SetupHost.exe process can sometimes show high CPU or Memory usage.
You can find the SetupHost.exe file in the $Windows.~BT/Sources folder of your computer. It doesn't interfere with the running of your machine, except when you install a Windows update. This is the only time Modern Setup Host should appear in Task Manager.
With Modern Setup Host missing from your machine, you wouldn't be able to run Windows updates. Updates won't also work if this file is buggy or corrupt.
Is Modern Setup Host safe?
You may see Modern Setup Host running in Task Manager and wonder what it is. Generally, this file isn't a virus; hence, it's harmless. However, malicious players often disguise their software as legitimate files or processes. So, the Modern Setup Host process you see may or may not be a virus. If you delete this file, you can get Windows update errors such as in the screenshot below.
Thankfully, you have ways to determine the authenticity of this file. Firstly, you are not to download the SetupHost.exe file from a third-party website because Windows installs it automatically while running updates. Files you obtain from these third-party websites are likely to be malicious.
Malicious versions of the SetupHost.exe file can lead to issues on your machine, of which the most common is high CPU usage. In the section that follows, I'll show you some factors you can check to be sure that your copy of Modern Setup Host is safe.
How do I know if SetupHost.exe is safe or a virus?
1] Check the file's location
The legitimate SetupHost.exe file resides in the $Windows.~BT/Sources folder of your computer. This means that you have to navigate File Explorer to Local Disk (C:) > $WINDOWS.~BT > Sources to find the file.
To determine the location of your copy of the SetupHost.exe file, press the Windows key and search for setuphost. Right-click on SetupHost.exe from the search results and select the Open file location option from the context menu.
Check the directory that opens up as the file's location. If this folder is anything other than the $Windows.~BT/Sources folder, then there's a chance that the file is not authentic.
2] Check the file's copyright and signature
Modern Setup Host is developed and distributed by Microsoft. Therefore, another way of verifying the legitimacy of the file on your system is to confirm that it carries the Microsoft signature.
Press the Windows key and search for setuphost. From the search results, right-click on SetupHost.exe and select Open file location.
Next, right-click on the SetupHost.exe file and select Properties from the context menu. Switch to the Details tab at the top of the SetupHost Properties window and go down to Copyright. Here, the legitimate file should indicate the copyright of the Microsoft Corporation. If you see a different company, delete the file because it's a virus.
After confirming the Copyright information, switch to the Digital Signatures tab at the top. The Name of signer column in the Signature list should show Microsoft Windows to verify that the file is
3] Check when it runs
Modern Setup Host concerns itself with Windows updates only. When not installing updates, the process should never run. This in itself is another pointer to tell if the file is malicious or not.
First, confirm that no update, press the CTRL + SHIFT + ESC key combination on your keyboard to open Task Manager. If you see the SetupHost.exe process running when you're not installing a Windows update, it's probably a virus, and it has to go.
To prevent viruses from infecting your computer and causing damage, you need reliable antivirus software.
Related read: Modern Setup Host has stopped working.