Many users have faced this issue that while using the Voice Recorder app of Windows. The app fails to save the recording. It could have happened for any reason like outdated audio driver, bad audio service status, etc. If you are also having the same problem, then this post might help you.
We couldn't save this recording, It looks like the autosaved file was deleted before you finished recording it.
Voice Recorder couldn't save this recording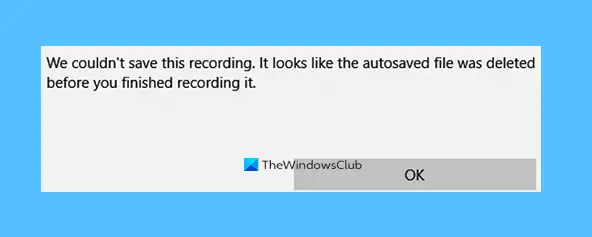 In this post, we have covered six different options that might help you resolve this issue. These are:
Save the file to another location
Run Recording Audio Troubleshooter
Reset or reinstall the Voice Recorder app
Update the Audio driver
Troubleshoot in Clean Boot State
Use a third-party audio recorder tool.
Let's check these options one by one.
1] Save the file to another location
Try to Save the file to another location and see iff that helps.
2] Run Recording Audio Troubleshooter
Just like Windows 10, Windows 11 also come with a Recording Audio troubleshooter that might come in handy to you for resolving this issue. So, try to run that troubleshooter and see if it helps.
In Windows 11, follows these steps: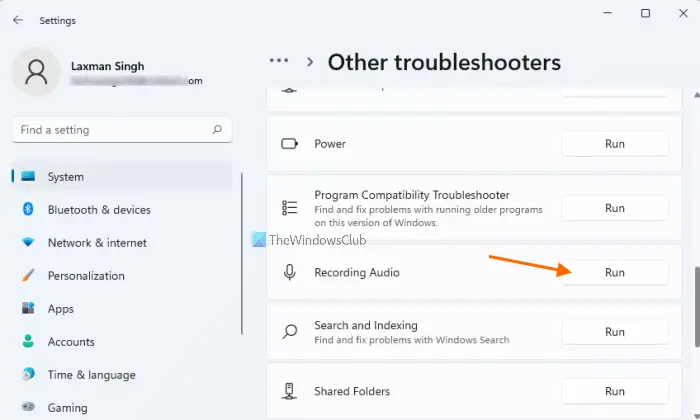 The steps to run Recording Audio troubleshooter in Windows 11 are as follows:
Hit Win+I shortcut key. This will launch Windows 11 Settings app
In the System category, scroll down and click on the Troubleshoot option
Click on the Other troubleshooters option
Scroll down the troubleshooters page
Click on the Run button available for the Recording Audio option
Now troubleshooter will prompt you to select an audio device (Microphone, Stereo mix, etc.) for which you are having a recording issue
Press the Next button.
After this, the troubleshooter will start detecting problems related to your audio device and provide you with the fixes accordingly. You just need to press the Apply this fix (if some fix is available) button and Windows will do the rest of the part for you.
In Windows 10, follows these steps: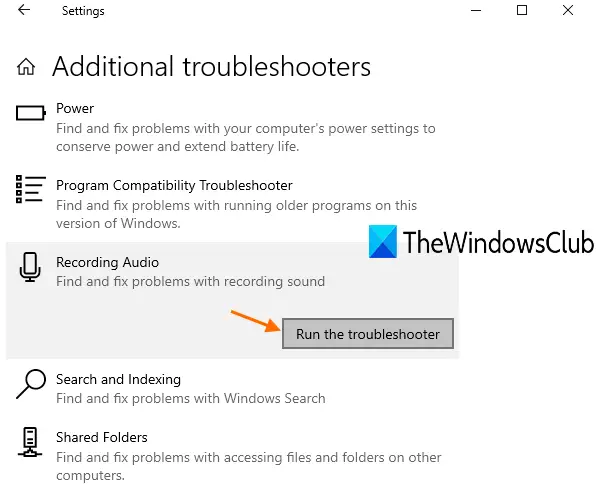 Windows 10 has built-in troubleshooters to find and fix different types of issues. One of such troubleshooters in Recording Audio Troubleshooter that might help a lot to fix this Voice Recorder couldn't save this recording issue. It checks for audio service status and other problems for the selected audio driver and provides the fixes. Here are the steps:
Open Settings app using Win+I hotkey
Access Update & Security category
Select Troubleshooter page visible on the left sidebar
Click on the Additional troubleshooters option on the right part
Scroll down the page
Click on the Recording Audio section
Press Run the troubleshooter button
Select the audio device for which you want to detect problems
Press the Next button.
Now the troubleshooter will automatically detect audio problems and provide you the fixes. That might fix this Voice Recorder issue.
3] Reset or reinstall Voice Recorder app
In Windows 11, follows these steps: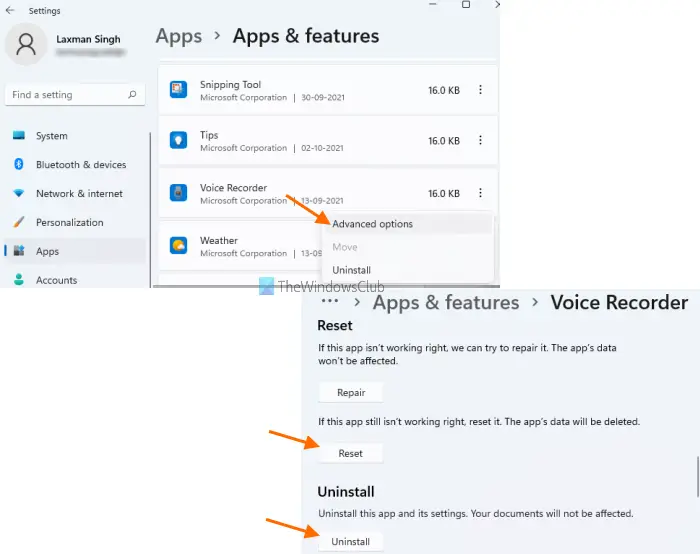 Sometimes, the only option to make an app work properly is by resetting or reinstalling that particular app. So, if other options don't work for fixing your recording audio problem, then you should try the same for it. Here are the steps to reset or reinstall Voice Recorder app in Windows 11:
Use the Win+I shortcut key to launch the Settings app
Click on the Apps category visible on the left section
Click on Apps & features option
Scroll down the list of apps to access Voice Recorder
Click on the icon with three vertical dots
Click on Advanced options
Scroll down the page
Use the Reset or Uninstall button.
If you are using Uninstall button, then you need to open Windows 11 Microsoft Store to install Voice Recorder app again.
In Windows 10, follows these steps: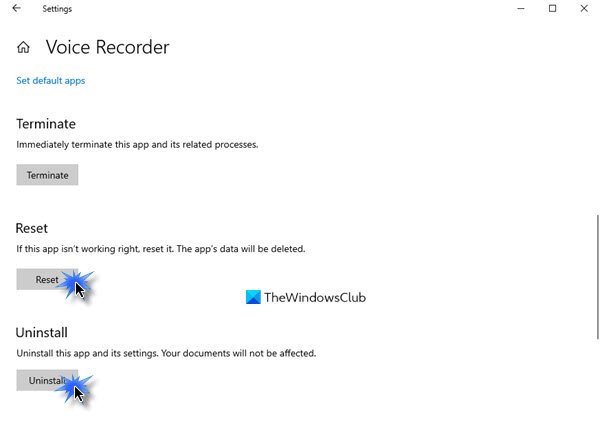 Open Settings > Apps > Apps and feartures
Locate the Voice Recorder app > Click Advanced options and then Reset or Uninstall the Voice Recorder app.
If you had to uninstall it then go to the Microsoft Store and download and install it.
4] Update the Audio driver
An outdated audio driver can also cause a lot of issues including this issue. Therefore, it is good to update your audio driver. The steps are:
Type device manager in the Search box
Press Enter key
In the Device Manager window, expand Sound, video and game controllers
Right-click on your audio driver
Click on the Update driver option
Use Search automatically for drivers option to let Windows automatically find, download, and install the latest driver.
Or else, you can also use the Browse my computer for drivers option to manually install the audio driver available on your PC
After updating the audio driver, Restart your PC, and see if your problem is gone.
This might fix the issue and you will be able to save the recording using the Voice Recorder app of Windows 10.
5] Troubleshoot in Clean Boot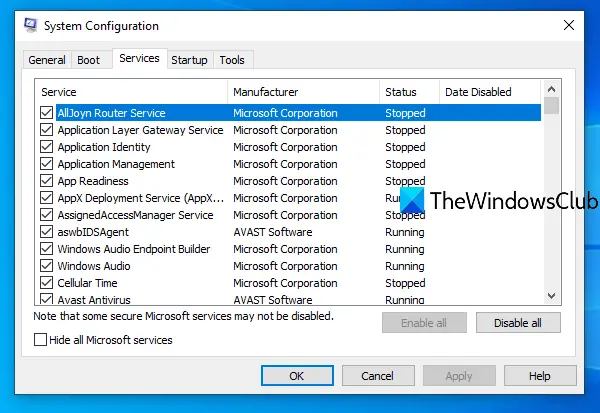 This is one of the useful options to get rid of this issue. Clean Boot starts your Windows 10 PC with a minimal set of startup programs and drivers which is helpful to troubleshoot and diagnose problems that you can't identify. It is a bit similar to the Safe Mode feature of Windows 10 and it might work to fix this issue as well.
If some program, driver, or other item is interfering with Voice Recorder app that is causing the issue that you aren't able to save the recording, then Clean Boot might help you identify it.
So, try to troubleshoot in Clean Boot State with different actions using the System Configuration feature. After each action, you should restart the PC so that you can identify the actual problem. This may take some time but might be helpful a lot to solve your problem.
6] Use a third-party audio recorder tool
If after trying all these options, the Voice Recorder app is still not able to save the recordings, then you should consider using some free audio recorder tool.
There exist some good free audio recorder software, like Ashampoo Audio Recorder, that you can try. You can also access the Microsoft Store and install some free third-party voice recorder app.
If the third-party audio recorder works fine, then you can also uninstall the Voice Recorder app if you want.
Why is my Windows Voice Recorder not working?
There could be any reason because of which the Voice Recorder app is not working on your Windows 11/10 computer. It might be corrupted, has outdated drivers, etc. It is even possible that the microphone might not be enabled on your computer or Voice Recorder doesn't have access to the microphone. The problem could be anything. So, you need to try some solutions that might work to solve this problem.
You can check and enable the microphone (if turned off or disabled), allow Voice Recorder to access the microphone, update the audio driver, adjust microphone levels, reset Voice Recorder, etc. Some of those solutions are also covered by us in this post. You can check the steps to try a solution and see if it works for you.
If the Voice Recorder still doesn't work, then it is better to use some other voice recorder tool.
How do I save a voice recording in Windows 11/10?
If you are using Windows 11/10 Voice Recorder app, then saving a voice recording is pretty easy. Actually, you even don't have to select the output folder to save the recorded audio. Once you are done with recording, the Voice Recorder app automatically saves it to the default folder. All your recordings are saved in the Sound Recordings folder under the Documents folder. You just need to use File Explorer to access Documents and open the Sound Recordings folder.
Though voice recording is saved automatically, sometimes the users also face the problem that the Voice Recorder is not able to save the recording. If you also face such an issue, then you can try some fixes like changing the save location for recordings, update the Voice Recorder app, update the audio driver, etc. All such fixes are mentioned above in this post with all the steps.