One of our readers reported that all the file extensions have changed to some unknown file format. If so, it could be a virus! If a virus has changed all the files extensions to unknown applications, then restore default file extensions, format & icons to the original state thus.
All file extensions changed on my PC; Is it a virus?
It is possible that you may have accidentally set the default option of files to something else. However, if this is happening for all, it is better that you scan your PC with an antivirus first before doing anything else. It can be Windows Defender at Boot timer or anyone which you use in Safe Mode, for the best results. you may also use a second-opinion portable scanner to be doubly sure.
If the scan is clear, or you were able to remove all the infected files which caused the problem, then it's time to reset the default association so it can open in its specified application. Try these methods one after the other. You may need admin permission to resolve it.
Reset Defaults in Windows 10 Settings
Delete UserChoice folder
Reset via File Association Fixer
Use Ransomware Decryption Tool.
1] Reset Defaults in Windows 10 Settings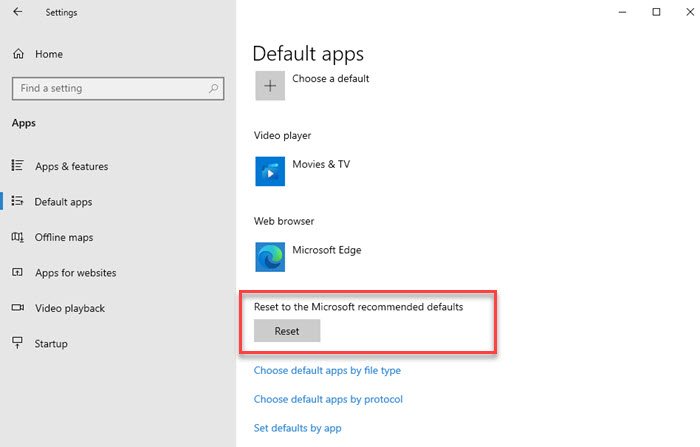 In Windows 10, open Settings (Win + I), and then go to Apps> Default apps.
Scroll down till you see Reset to Microsoft recommended defaults and click on the Reset button.
You can also achieve this by going to the classic Control Panel > Default Programs. However, it will bring you to the same place.
2] Delete UserChoice folder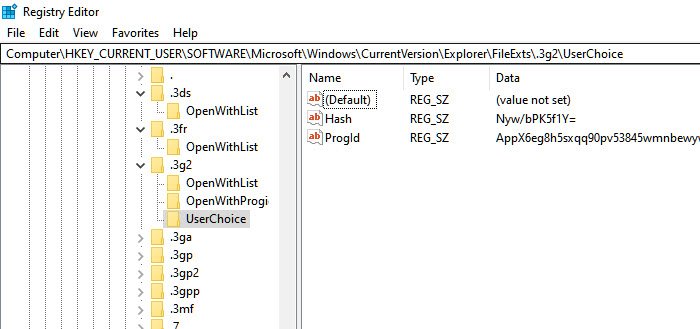 If this does not help, create a system restore point first and then try this:
Open Regedit  (Open Run prompt using Win + R, and then type regedit followed by pressing the Enter key)
Then navigate to the following key:
HKEY_CURRENT_USER\Software\Microsoft\Windows\CurrentVersion\Explorer\FileExts
Expand FileExts. Here you will see a list of file extension folders.
You will have to expand each of them, one after the other, and if you see a UserChoice folder under it, delete the UserChoice folder.
3] Reset via File Association Fixer
You can download or freeware File Association Fixer v2 and restore each file association manually. Like we saw above, the broken file associations are typically caused due to a corrupted Registry. This software can help you fix it.
4] Use Ransomware Decryption Tool
If you see an unusual file extension, maybe some ransomware has locked your files. See if any of these ransomware decryption tools help you – Hope one is available for your ransomware! This post talks a little more about Ransomware Attacks & other FAQ.
I hope the post was easy to follow, and you could resolve the problem with File associations. If the virus was not a problem, then either a software installation or manual intervention must have caused it and you may be required to use Reset This PC option.