Windows Security includes a virus and threat protection feature that helps scan your computer for threats. Microsoft provides this feature as part of its security tool to prevent malicious programs from being installed on your computer. Now that we know how valuable this feature is, what would happen if we lost access to it? The security of your system will not be ensured against malicious technology and unauthorized access. This is the same problem users are currently facing and are seeking to fix it. Many users have complained that their Virus and threat protection is not working in Windows 11. In case you're having the same problem on your Windows device, this guide may help you.
Unexpected error, Sorry we ran into a problem, Please try again.
Virus and threat protection not working on Windows 11/10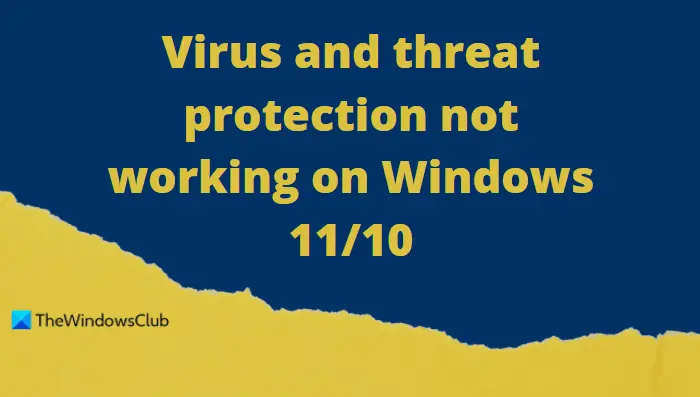 If virus and threat protection not working on your Windows, follow the below suggestions:
Run SFC and DISM
Repair & Reset Windows Security
Restart Windows Security Service
Check your Date and Time settings
Turn on Virus and threat protection settings
Now let's look at them in more detail:
1] Run System File Checker and DISM tool
Sometimes the corrupted or faulty system files could also cause this issue. In such a case, you should scan the protected Windows files and replace any faulty files.
To do so, follow the below steps:
Run Command Prompt as an administrator. For this, you first need to open the Run dialog box using the Windows+R keys. Then type cmd in the text box and press Ctrl+Shift+Enter to open the Command Prompt with admin access.
Once it opens, type the following text line –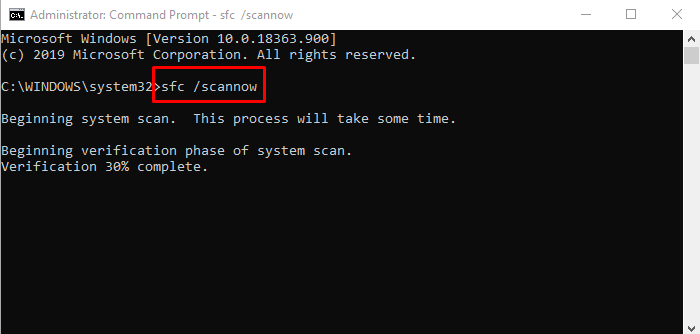 sfc /scannow
Press the Enter key so that the SFC scan can begin
After that, copy and paste the following command in the elevated Command Prompt window:

DISM.exe /Online /Cleanup-image /Restorehealth
As soon as it is complete, restart your device and see if it resolves the issue.
Read: Your Virus and threat protection is managed by your organization
2] Repair & Reset Windows Security
This solution requires you to repair and reset the Windows Security.
Press the Windows key + X to open the power user menu.
From the menu list, select Apps and Features.
In the right pane, scroll down to Windows Security.
Then click on three dots and select Advanced options.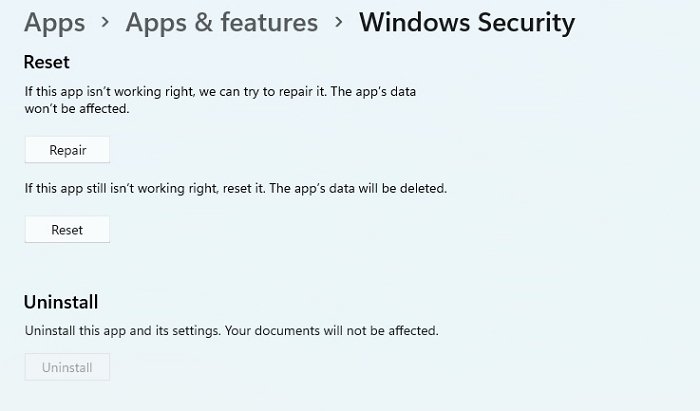 Scroll down to the Reset section, then click the Repair button.
If that does not help, click the Reset button, as shown in the image above.
Fix: Windows Security is disabled.
3] Restart Windows Security Service
Next, you can try restarting the Windows Security Service and see if it helps. To do so, you can use the below steps:
Open the Services window. In order to do this, click the Start button, type Services, and press Enter.
Scroll down until you find Windows Security Service and double-click on it.
If the Service status is Stopped, click on the Start button.
If the service is already running, stop it and then restart it.
Read: List of Microsoft Defender error codes and solutions
4] Check your Date and Time settings
In the next method, you should verify that your data and time are correct. Here's how you do it:
Go to the taskbar at the bottom right corner of your computer screen.
Right-click on Date and Time and select Adjust date and time.
On the right page, go to the Additional settings and click on the Sync now button.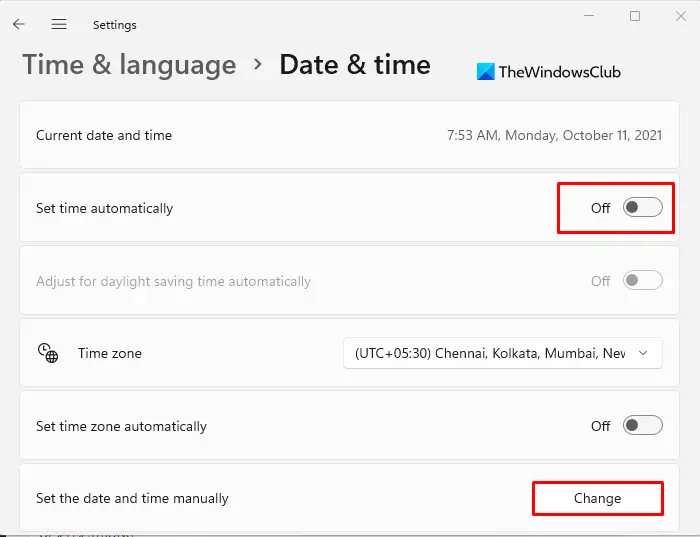 Furthermore, the date and time can also be set manually. To do so, you first need to turn off the toggle next to Set time automatically.
Then click on the Change button next to the Set the date and time manually section.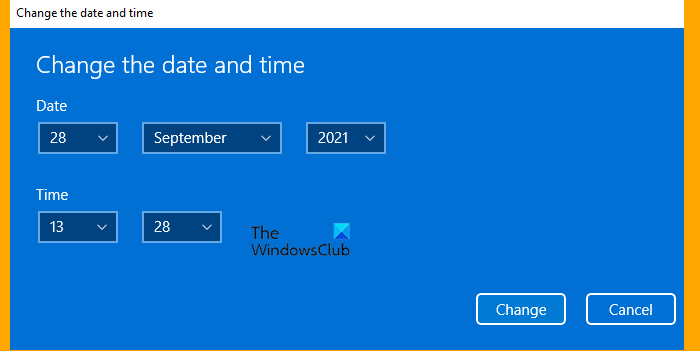 On the next page, adjust the date & time and then click on the Change button.
Related: Virus & threat protection Engine unavailable
5] Turn on Virus and threat protection settings
Open Windows Settings and ensure that Virus and threat protection settings is enabled. The steps are as follows: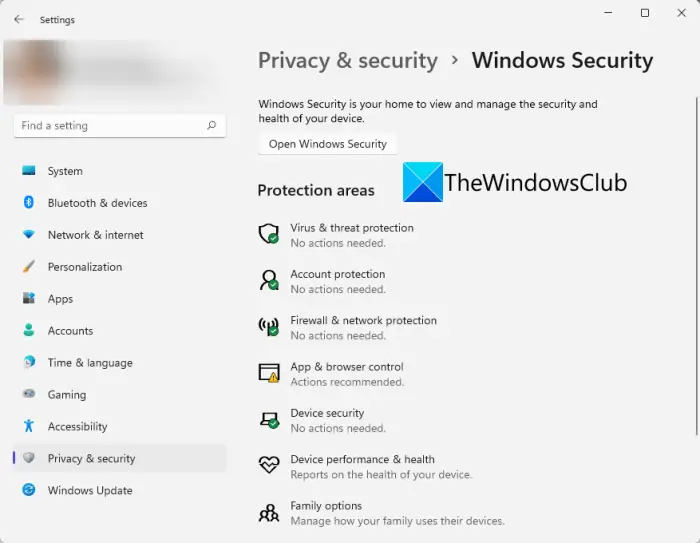 Go to Privacy & security > Windows Security > Virus & threat protection.
Under Virus & threat protection settings, click on the Manage settings link.
On the next page, turn on the toggle next to Real-time protection.
I hope this post helped you to figure out how to fix the problem if your virus and threat protection on Windows 11/10 does not work. If none of these solutions work, you can always contact the Microsoft Support team, and they will assist you in resolving the problem.
Related: What is Virus and Threat Protection and how to hide this section
How secure is my PC with Windows Security?
Windows Security is an antivirus program that lets you manage the tools to protect your device and your data. The program prevents malware and ransomware from affecting your PC. It offers many useful features that you would have to pay for if you purchased another protection program.
What causes Windows Security to keep closing?
If Windows Security keeps closing on your Windows 11/10 computer, there could be several reasons behind this. A corrupted or damaged system file, a third-party antivirus, or any other cause can be responsible for this. If you encounter this problem, you can try the solutions outlined above in this guide.
Related: Troubleshoot Definition update issues for Microsoft Defender in Windows 11/10.