Virtual Desktops allow us to segregate our work. It has a lot of advantages, such as decluttered workspace, multitasking capabilities, and more. However, some users complain that Virtual Desktop is not working on their Windows 11/10 computers. In some scenarios, Virtual Desktop was working perfectly, but an update broke it. In this post, we will discuss this issue and see what should be done to get the Virtual Desktop up and running.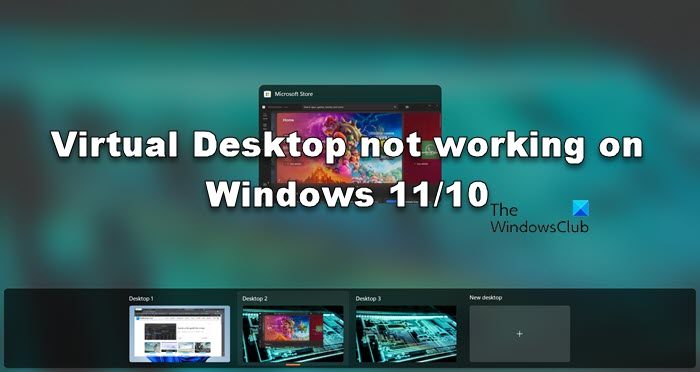 Fix Virtual Desktop is not working on Windows 11/10
Many reasons can trigger this issue. Since, in some cases, VD stopped working after an update, we can say that a bug in the OS's code is one of the reasons. One will also experience this issue due to conflicting UDP protocol. Whatever the reason, if Virtual Desktop is not working on your Windows 11/10 computer, follow the solutions mentioned below to resolve the issue.
Disable UDP from Registry
Update your computer as well as your drivers
Run Windows Defender antivirus Full Scan
See if Virtual Desktop shortcuts work
Check in Clean Boot State
Use Reset This PC.
Let's get started.
1] Disable UDP from Registry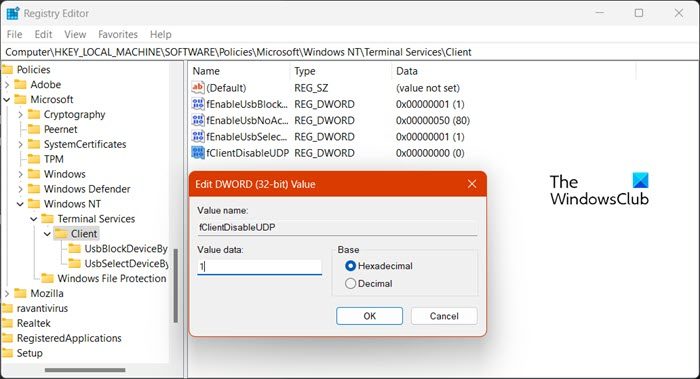 One of the most common reasons why Virtual Desktop is not working on your computer is conflicting UDP.  UDP or User Datagram Protocol is a Transport Layer protocol that assists the computer in building a connection with the server. We will disable it as it conflicts with other protocols and does not allow Virtual Desktop to work. To do the same, follow the prescribed steps.
Open Registry Editor from the Start Menu.
Now, navigate to the following location.

Computer\HKEY_LOCAL_MACHINE\SOFTWARE\Policies\Microsoft\Windows NT\Terminal Services

Click on the Client folder.
Right-click on the blank space present in the left panel and select New > DWORD (32-bit) Value.
Name the newly created key fClientDisableUDP.
Double-click on fClientDisableUDP, change its Value data to 1, and click OK.
After making the changes, restart your computer and check if the issue is resolved.
Read: Virtual Desktop Tips and Tricks.
2] Update your computer as well as your drivers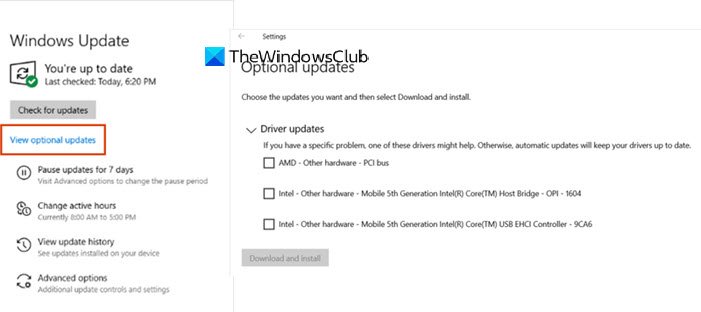 You can face this error due to a bug. Since we are not developers or testers at Microsoft, our best option to resolve a bug is by updating the system. So, go ahead and check for updates. Also, check for Optional updates and install the driver updates that may be offered to your system.
Once your system is updated, check if the Virtual Desktop is working.
3] Run Windows Defender antivirus Full Scan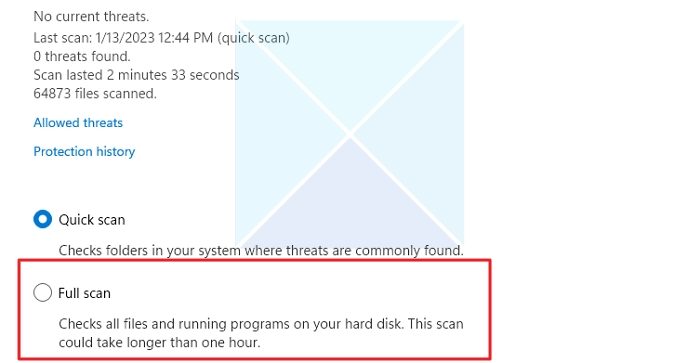 If the system becomes a virus or malware infected then the virtual desktop will stop working. Therefore, it is advisable to run Windows Defender antivirus or any third-party antivirus. It will scan all files and programs which is running on your computer. If it detects any virus or malware on the computer, it removes all those glitches. We are going to use the built-in Windows Security Scan, but you can use any other antivirus. Follow the steps given below to do the same.
Press Windows + I key to open the Settings app.
On the left side of the screen, click on Privacy & Security.
Then move to the right side of the screen, and click on Windows Security > Open Windows Security.
Now, click on Virus & threat protection.
Here, click on the Scan options.
Select the Full scan option and click on the Scan now button.
It will take some time to complete the full scan.
If the antivirus finds any malicious file on your computer, it removes the malicious file.
4] Use Virtual Desktop keyboard shortcuts
See if these Virtual Desktop keyboard shortcuts work:
WIN+CTRL+D: Create a new desktop
WIN+CTRL+F4: Close the current desktop
WIN+CTRL+LEFT/RIGHT: Switch to the previous or next desktop
5] Check in Clean Boot State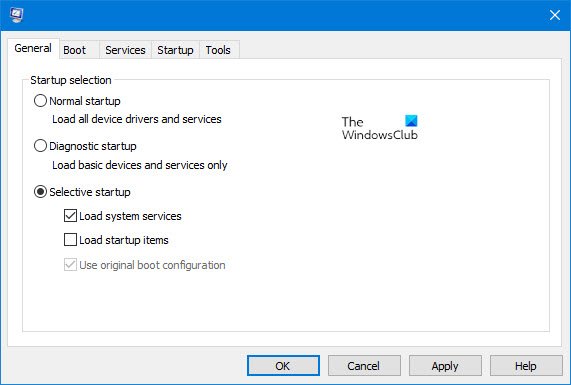 Perform Clean Boot and see if the problem is replicated or resolved. If Virtual Desktop works, then you need to manually identify the offending process and disable it.
6] Use Reset This PC
Use Reset This PC, ensuring that you opt to keep your existing files, apps and data. This is very likely to help you resolve the problem.
We hope that you can resolve the issue using the solutions mentioned in this article.
Is Virtual Desktop compatible with Windows 11?
Yes, Virtual Desktop is compatible with Windows 11. The feature is one of the selling points of Windows 11. One can easily manage their workspace using these desktops and ensure their desktop is decluttered.
Read: How to Create, Delete, Use Virtual Desktops in Windows 11.
Why is Remote Desktop not working on Windows 11?
If the Remote Desktop is not working on your computer, check the network connection of not just your end but the system you are trying to connect. Poor network connectivity is one of my biggest pet peeves regarding poor experience when using Remote Desktops.