If you are unable to attach files in Gmail, you can go through these solutions to get rid of this problem. There are countless things responsible for this error. Therefore, the solution depends on the situation you are in. However, here we have mentioned some of the most common reasons and solutions so that you can troubleshoot the issue irrespective of the browser and condition.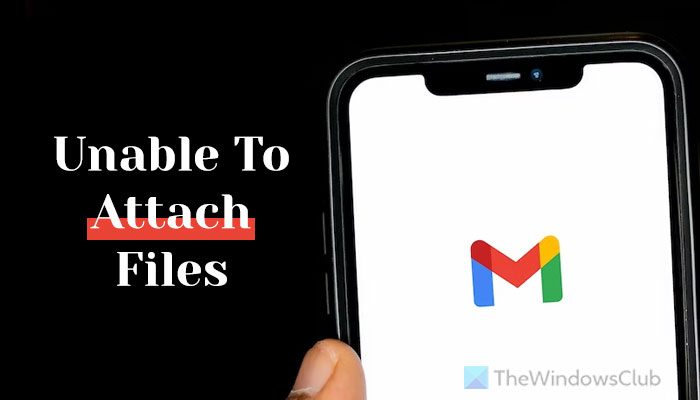 Before getting started, it is highly recommended to check if there are some issues at their end or not. There is an interface called Google Workspace Status Dashboard, which shows the current status of various services provided by Google. Therefore, head to the google.com/appsstatus to check if Gmail is up and running or not.
Unable to attach files in Gmail
If you cannot attach a file or send attachments in Gmail, use these working suggestions to attach or upload and send files via Gmail on any browser.
Check the internet connection and upload speed
Verify file extension
Try incognito mode
Check file size
Verify free space on Gmail
Try different browser
Delete cache and cookies
Disable installed extensions
To know more about these tips and tricks, continue reading.
1] Check the internet connection and upload speed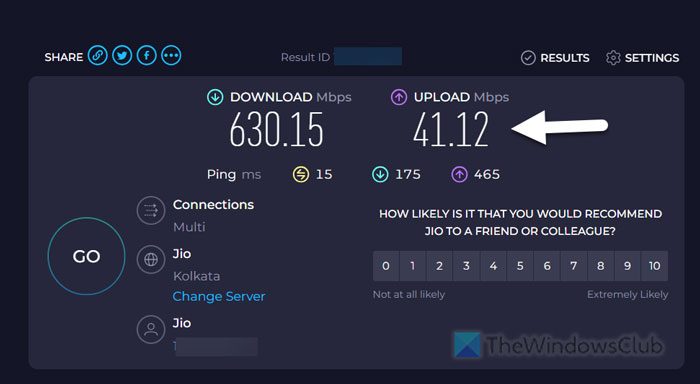 It is the very first thing you need to check when you are unable to upload files and send them via Gmail. If you have a big file but you don't have a good internet speed, you might encounter this issue while uploading it. At times, you might have a valid internet connection, but the upload speed has some issues. In that case, you will still face the same problem.
That is why it is suggested to check the upload speed. There are so many online and desktop apps to check internet upload and download speeds. However, speedtest.net is one of the best options in the market. Therefore, follow these steps to check upload speed:
Open your browser and enter speedtest.net in the address bar.
Click the GO button.
Give it some time to check the speed.
Once done, check the UPLOAD speed.
If it shows a positive result, you can go ahead and try uploading files. However, if it is not up to the mark, you need to contact your ISP.
2] Verify file extension
Gmail doesn't allow users to send just any type of file. Although you can send images, documents, PDF, videos in standard formats, you cannot upload other files such as .apk, .lib, .jar, .cpl, .vb, .sys, etc. Such file formats are blocked by Gmail in order to protect your account from possible security threats. For your information, these file types are blocked by Gmail:

3] Try incognito mode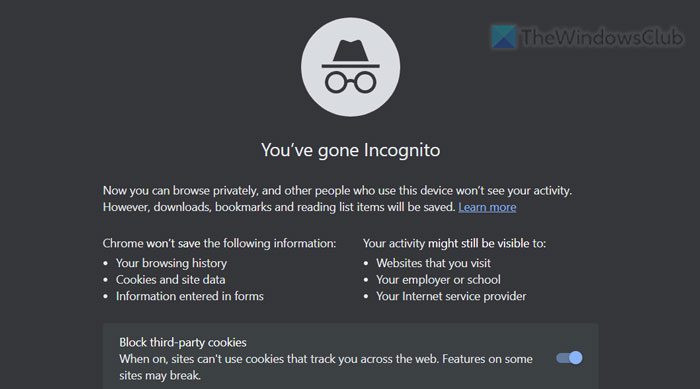 At times, there could be some issues with the normal browsing mode. No matter which browser you use, you can come across this problem now and then. Therefore, you can try the Incognito mode or the private browsing mode.
Read: How to send Large Files and Folders through Gmail
4] Check file size
It is one of the most important things you must keep in mind. Gmail doesn't allow users to send files more than 25 MB in size. Therefore, if you have a file, which is bigger than 25 MB, you need to take the help of Google Drive. In other words, you can upload the file to Google Drive and send a link to that file to the recipient.
Read: Attachment Size Limits for Outlook, Gmail, Yahoo, Hotmail
5] Verify free space on Gmail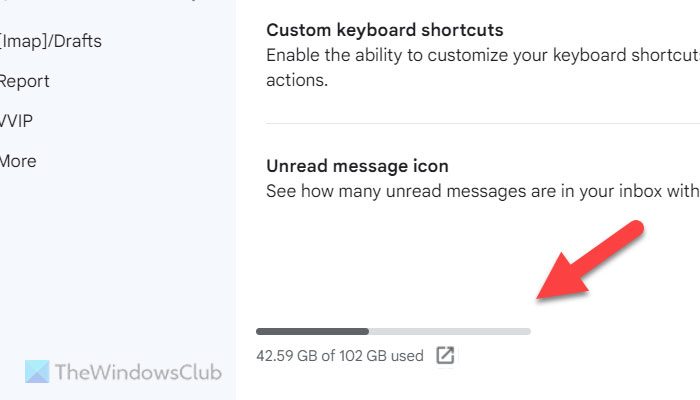 When you upload a file to send it to someone, it consumes your Gmail storage. By default, Gmail provides 15 GB of storage for free. If you have consumed it already, you cannot send or receive emails. There are two options – you can delete some emails containing large attachments or try deleting images and videos from Google Photos. Second, you can buy more storage.
To check how much storage has left on your Gmail account, follow these steps:
Click on the settings gear icon after opening Gmail.
Click the See all settings option.
Switch to the Advanced tab.
Find the storage information at the bottom.
Even if you have already purchased Google One subscription earlier, you can still face this problem once the issued storage has been consumed. At such a point, you need to buy more storage.
6] Try a different browser
If there are some issues with your browser, you may face the problem mentioned above. That is why it is suggested to try a different browser. For that, you need to sign into your Gmail account again.
7] Delete cache and cookies
If you can use Gmail normally on a different browser but not on the regular browser, it is time to delete the cache and cookies. First, you can try clearing the site data for Gmail only. If it doesn't help, you need to clear the entire cache and cookies for the browser.
8] Disable installed extensions
Browser extensions help you enrich your experience and improve your productivity by doing the things that the default options are unable to do. However, some extensions might be responsible for this error. If you have recently installed a new extension and the problem started after that, it is suggested to disable it temporarily and check if it resolves the issue or not.
If not, try disabling all of them at once and check the same. If you can use Gmail normally after deactivating them, enable one extension at a time to find the faulty one.
That's all! Hope it helped you.
Read: Cannot attach files to email in Outlook.com or Desktop app
Why can't I attach files on Gmail?
There could be numerous reasons why you can't attach files on Gmail. From the size limitations to file format or extension to cookies and cache, all these things could cause issues on your account. Apart from that, if you do not have the available free space on your Gmail account, you won't be able to attach files while sending emails.
How do I enable attachments in Gmail?
There is nothing you can do to enable or disable attachments in Gmail. The attachment functionality is already active when you create your account. Gmail doesn't offer any custom option to enable or disable attachments in your account. Each and every account can receive and send attachments as long as you meet some conditions.