Most of the anti-virus programs available these days are capable of performing the most basic function well i.e., scanning for virus and other malicious programs, but what they aren't capable of doing is undo the changes or damage done by these malicious programs. Ultra Virus Killer is a complete anti-malware toolkit that can come to your rescue here.
Ultra Virus Killer for Windows PC
There are scores of programs that capable of performing this function, but they do it individually. Ultra Virus Killer on the other hand consolidates them all into one handy tool. It is a complete anti-malware toolkit that features a multitude of services and tools centered around scanning for viruses and monitoring malicious activity on your Windows PC.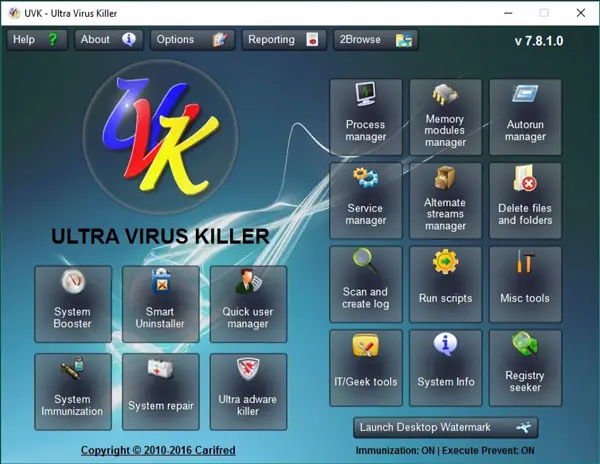 When you launch the program, you will be able to see that the program interface is module-based and each module is designed to perform a specific function based on your needs.
The tool includes the following modules:
System Booster
Smart Installer
Quick User manager
System Immunization
System repair
Ultra Adware killer
Process manager
Memory Manager
Autorun Manager
Service manager
Alternate Streams manager
Delete files & folders
Scan & Create log
Run scripts
Geek Tools
Misc Tools
System Info
Registry Seeker.
For instance, the Alternate Streams manager thoroughly searches for suspect NTFS streams. If you find them, there's a built-in solution to help you delete files or folders.
If you are interested in completely automating the working of most aspects of UVK, simply make use of the System Repair module.
Its Ultra Adware Killer can list down potential files or registry entries that could be Adware.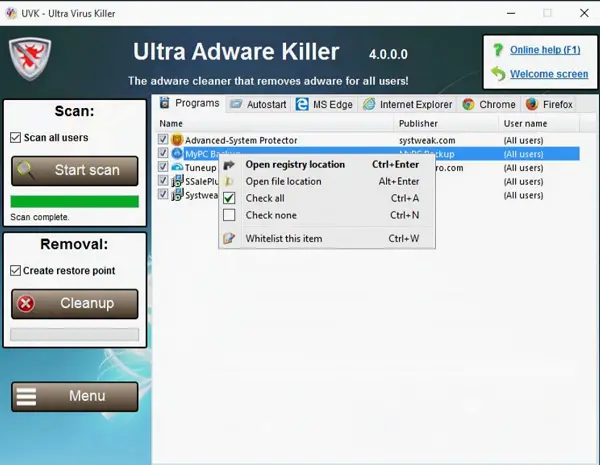 UVK mainly allows a user to control Windows Startup programs, Services, Drivers and more, but you have to be careful, you plan to disable anything. In essence, you should know what you are doing. For instance, if the program resets the Registry permissions or re-registers the DLLs, it might create some other issue. At worse, it may seriously damage your PC as UVK houses several components which may have adverse effects – if wrongly used.
That said, it has some benefits up its sleeves like, acting as a one-stop solution for repairing damage caused by malware, or seeking it out manually and deleting it when primary antivirus solutions fail. Moreover, the application offers access to every tool from a single menu of options.
Which software tries to remove virus and malware from computer and protect it?
There are tons of tools that remove virus and malware from computer and protect it accordingly. For example, you can use the in-built security shield, Windows Security. On the other hand, you can opt for third-party tools, such as Kaspersky Free Antivirus, Avast Antivirus Free, Bitdefender, etc. However, if you need a portable tool, you can certainly check out Ultra Virus Killer.
You can download it from here. UVK is available in both, portable and an installed version, both free. The program also includes a nice Help button which can guide you all the way. Most of the features are free – but it offers a paid version too, with some additional features.
A word of caution here: This isn't a program to use unless you know what you're doing, and always have a full system backup on hand.
You might want to take a look at Ultra Adware Killer too.