Recently, I was trying to update one of my older laptops. After downloading the feature update, it displayed a message – We're having trouble restarting to finish the install. The status message says:
The latest feature update is ready to install. It's been waiting for you to kick it off. These improvements help Windows run smoothly and securely.
Followed by:
We're having trouble restarting to finish the install, Error 0x8024a11a, 0x8024a112, 0x80070005 or 0x80070032
In this post, we are offering possible solutions that might help you resolve this issue.
We're having trouble restarting to finish the install, Error 0x8024a11a or 0x8024a112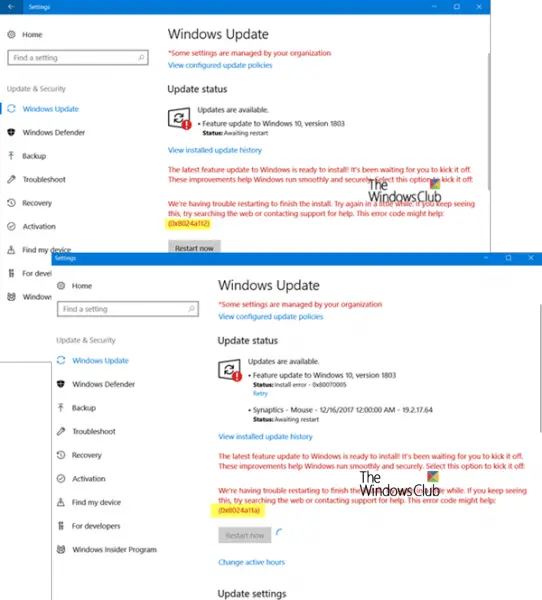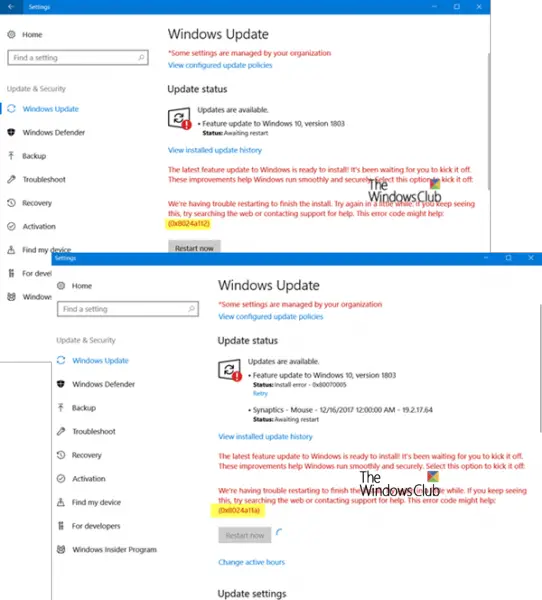 1] Try Restarting Multiple Times
The best solution is to restart your PC multiple times. Sometimes the update process is stuck for a minor thing, and restarting always helps in most of the cases. Click on the Restart now button.
If it does not somehow work, use the Power buttons from the Start Menu or WinX Menu. In case your power buttons, i.e., Restart and Shutdown are missing, use ALT+CTRL+DEL and then restart your PC.
We will also recommend you to directly restart PC in Safe Mode or even in Clean Boot State. Once there, restart your PC back in normal mode. This will ensure that any 3rd-party processes will not be able to obstruct the smooth functioning of Windows Updates.
2] Run Windows Module Installer
The Windows Module Installer is a built-in Windows OS service.  You have to make sure that it is Started and its Startup type is set to Automatic. You may do it via the Services Manager or by executing the following command in an elevated CMD–
SC config trustedinstaller start=auto
Once successfully executed, you should see [SC] ChangeServiceConfig SUCCESS displayed within the Command Prompt console.
Now try and update and see if that helps.
3] Run DISM Tool
When you run DISM (Deployment Imaging and Servicing Managemen) tool, it will repair Windows System Image and Windows Component Store in Windows 10. All of the system inconsistencies and corruptions should be fixed. You can either use Powershell or command prompt to execute this command.
4] Run System File Checker
This will repair corrupted or damaged Windows files. You will need to run this command from elevated CMD, i.e., command prompt launched with admin privileges.
5] Run Windows Update Troubleshooter
Run this inbuilt Windows Update troubleshooter to fix most common Update problems on Windows 10. It will clear the Windows Update related temporary files, clear the contents of the SoftwareDistribution folder, check the status of Windows Update-related Services, repair and reset Windows Update components, check for pending updates and more.
Let us know if this guide helped you solve the We're having trouble restarting to finish the install error.