If the Power Options like Shutdown, Restart, Sleep, Hibernate have gone missing from Start Menu, then this post will be able to help you fix the problem. This can happen after a Windows Upgrade process or after the installation of an Update. When the Power Options go missing, then clicking on the icon will display a message – There are currently no power options available.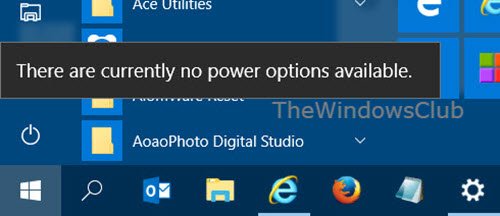 In my case, the WinX Menu offered only the Sign out option.

Why does my Windows show no Power Options available?
The cause for missing Power Options in Windows Start Menu could be corrupted system files or a change in Power settings – maybe after a Windows Update. But worry not, you can fix it!
How do I restore Power Options?
To restore missing Power Options from Windows Start Menu, run System File Checker and see. If that does not help, tweak the Registry or use change this Group Policy setting – Remove and prevent access to the Shut Down, Restart, Sleep, and Hibernate commands. This post explains it all.
Here are a few things you need to check up on to fix the problem.
Power Options missing in Windows 11/10
You can use Group Policy Editor, Registry Editor, System Restore, Fix Corrupt Files, to fix the problem.
Fix via Group Policy Editor
Type gpedit.msc in Start search and hit Enter to open the Group Policy Editor. Navigate to the following settings and double-click on it to open its configuration box:
User Configuration > Administrative Templates > Start Menu and Taskbar
Double-click on Remove and prevent access to the Shut Down, Restart, Sleep, and Hibernate commands.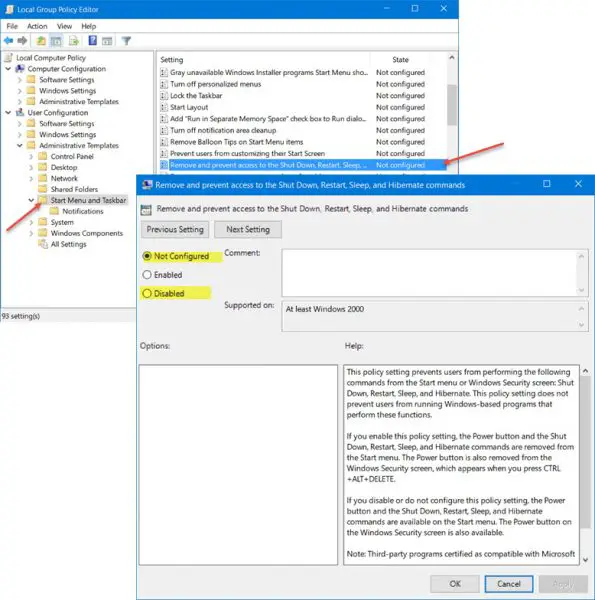 This policy setting prevents users from performing the following commands from the Start menu or Windows Security screen: Shut Down, Restart, Sleep, and Hibernate. This policy setting does not prevent users from running Windows-based programs that perform these functions. If you enable this policy setting, the Power button, and the Shut Down, Restart, Sleep, and Hibernate commands are removed from the Start menu. The Power button is also removed from the Windows Security screen, which appears when you press CTRL+ALT+DELETE. If you disable or do not configure this policy setting, the Power button, and the Shut Down, Restart, Sleep, and Hibernate commands are available on the Start menu. The Power button on the Windows Security screen is also available.
Ensure that Not Configured or Disabled is selected, click Apply, and exit.
UPDATE: George Ivanov suggests in the comments section below the following:
Open GPEDIT.msc, and navigate to the following setting:
Computer Configuration > Windows Settings > Security Settings > Local Policies > User Rights Assignment.
Then in the Shutdown the system rule, grant your domain users that permission.
There are currently no power options available
The Group Policy Editor is available in Windows 11/10 Pro, Windows 10 Enterprise, and Windows 10 Education editions only and not in Windows 10 Home. If your Windows 10 does not ship with GPEDIT, Run regedit to open the Registry Editor and navigate to the following registry key:
HKEY_CURRENT_USER\Software\Microsoft\Windows\CurrentVersion\Policies\Explorer
Now on the right side, check if a value named NoClose exists, and if it does, its value should be 0.
Restart your computer and see. The Power Options should appear.
If this does not help, there is another thing you can try.
Open Registry Editor and navigate to the following key:
HKEY_LOCAL_MACHINE\SYSTEM\CurrentControlSet\Control\Power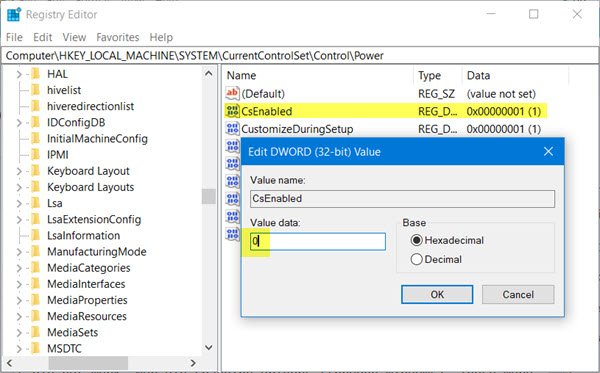 Change the value of CsEnabled from 1 to 0.
Restart your computer and check.
Incidentally, you can also use our freeware Ultimate Windows Tweaker to make Windows show Power Options.
You will get the tweak under Customization > Windows 10. Uncheck/Check the Power Options Menu, click Apply Tweaks and restart your computer and see.
To show the Hibernate option, you will have to ensure that Hibernate is enabled by running the following command in an elevated Command Prompt window:
Powercfg /hibernate on
SFC & DISM Scans
System File Checker and DISM tools can fix any corrupt system file on Windows and replace them with a new one. If this is the reason why Power Options are not showing up, then use these tools to resolve the problem. Run the following commands on an elevated command prompt:
sfc /scannow
DISM /Online /Cleanup-Image /RestoreHealth
Follow our guide on which of these tools you can use it.
System Restore
If nothing works, and you had the option earlier, you can choose to restore the PC to an earlier point. You can search for the tool in the Start menu and then follow the wizard to select what may work best for you. That said, it is equally important that you keep creating one restore point every day and have at least 2-3 previous backups. Follow our detailed guide on how you can use the restore point.
Other things you could try:
What is causing the 'No Power Options available' error in Windows Power Options?
Apart from the Windows update, which had a bug, there are other reasons for this to happen. The reasons include corrupt system files, the current user not having enough permission, corrupt registry entries. If one of these happens, then OS will not be able to read the required file to bring up the menu, or if it finds the permission is not adequate, it doesn't display them.
How do I restart my computer without power options?
There are multiple ways to restart a PC, and they are much faster than the traditional menus. When on Desktop and no window open, use ALT + F4 to bring up the shutdown menu box. Here you can select Shutdown and press the Ok button to shutdown the PC.
How do you get hidden power plans?
You can use powercfg -restoredefaultschemes in an elevated Windows Terminal to restore or enable the hidden power plans. PowerCFG is a command-line tool that allows you to configure Power Settings on a PC or Laptop and get a battery health report.
I hope this helps!