Wireless technologies are finally taking over their wired counterparts. Gone are the days when you would plug in your USB cable to transfer some data between your mobile and PC. In the same context, we have covered a method to transfer data between your Android Phone and Windows PC using ES File Explorer and FileZilla, a popular file explorer for Android and an outstanding free FTP client respectively.
Transfer data between Android & Windows PC
ES File Explorer is a free-to-use file manager for Android. It is a very popular application and comes with a lot of features apart from simple file management. And one of these features is the ability to start an FTP server on your mobile. We would be leveraging this feature to transfer files between your Windows computer and Android Phone or Tablet. Before you move on, make sure your computer and mobile are connected to the same network via Wi-Fi or LAN.
If you do not have Wi-Fi at home, you can turn on Mobile Hotspot on your Windows Computer and connect your mobile to it.
Step 1: You need to install ES File Explorer on your Android device. Head over to Google Play Store and install the application on your Phone/Tablet.
Step 2: Open the application and grant storage permissions when prompted.
Step 3: Click on three bars in the upper left corner. Scroll down and tap on Network. Now tap on View on PC. Tap on TURN ON button to start a local FTP server on your phone.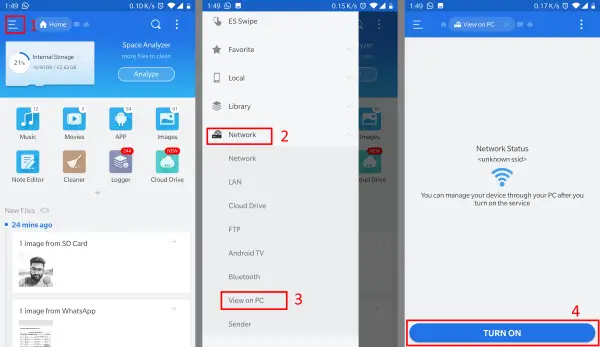 Step 4: The server is running now. You need an FTP client to view its contents and interact with it. We recommend using FileZilla. It is a free and open-source FTP client that is easy to use. You can use any other FTP client at your convenience.
Step 5: Install and open FileZilla client on your computer. In the host, textbox enter the IP address and port as displayed on ES File Explorer on your mobile phone. Click on Quickconnect button.
Now you must be connected to your mobile phone's FTP server. On the right side of the FileZilla window, you can browse the contents of your phone. And on the left side, you can browse the contents of your computer. To download anything from your phone, right click it and select Download. Similarly, if you want to upload anything to your phone, right-click any file/folder on the local side and select Upload. This is how you can establish wireless data transfer between your Android Phone and Windows computer.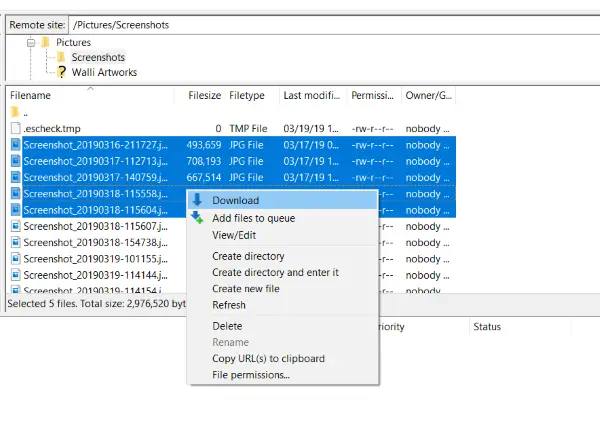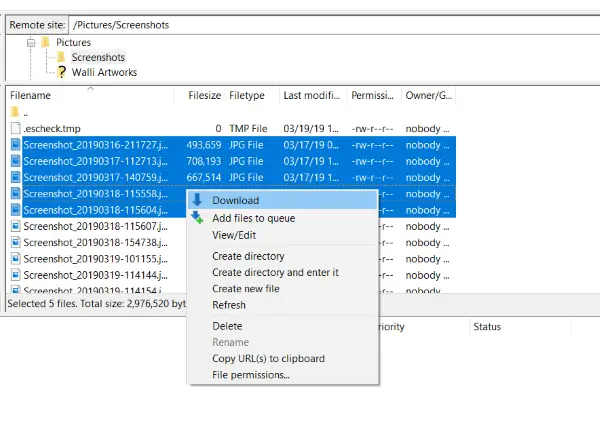 Apart from simple upload and download, you can also browse contents, rename files and folders and do even more. You can also directly view the files without downloading them to your computer. All FTP operations are possible if you are using a reliable FTP client such as FileZilla.
Another approach to wireless data transfer would be starting an FTP server on your computer and then connecting it from ES File Explorer. Once the server is created, you can head over to the FTP section in ES File Explorer and enter the IP address and port to your computer and start transferring data.
ES File Explorer and FileZilla both are outstanding tools. I prefer this combination over other applications that allow wireless data transfer because FTP is fast, more reliable. Plus, FileZilla gives you complete control over your files on both devices.
Hope you can get it to work for you.