I have a confession to make. While most computer users adopt popular applications on impulse, I scout for the underdogs. Last month, I went in search of PDF readers to avoid using the obvious Adobe Reader, and the popular alternative Foxit Reader.
The past weekend, I did the same for FTP applications. I wanted to dig deep into the world of freeware file transfer applications that compete with the popular, open-source application – FileZilla. In the past, I've used FileZilla as well, and also a couple of paid FTP applications. Incidentally, the freeware options that I've explored almost compete head-to-head with the $30-50 priced paid applications, which in most cases is bizarre.
Free FTP Client software for Windows 11/10
I explored five free FTP clients for Windows 11/10-
WinSCP,
Core FTP Lite,
FileZilla,
CyberDuck and
CoffeeCup Free FTP.
In terms of file transfers, including a sample 650 MB file and a 1.5 GB folder, the three performed okay, with no stability issues or application freezing. All the three applications don't offer a scheduler, one of the important features in my wish-list (Pro tip: You can always use the Task Scheduler in Windows to set up your file transfers). WinSCP is open-source, while Core FTP Lite and CoffeeCup Free FTP are freeware application with paid, feature-rich upgrades available.
1] WinSCP
WinSCP is a light-weight, open-source file transfer application that uses Secure Shell (SSH) technology to enable the safe copying of files between a local and a remote PC using the File Transfer Protocol (FTP), SSH FTP, or SCP (Secure Copy) protocols.
The WinSCP installer offers a choice of interface styles – Commander interface with panels for local and remote directories and Explorer interface that only accesses remote directories. WinSCP is a very simple, but useful, application. It does offer basic file-management features, the ability to select between SFTP, SCP, and FTP transfers, and a choice of several languages. It also allows a single-click export of application settings and preferences.
2] Core FTP Lite
Core FTP Lite is probably the most advanced of the three FTP applications I tested. An uncluttered layout and stable transfers (In the previous releases, Core FTP suffered from stability issues during large transfers) make it the best of the crop.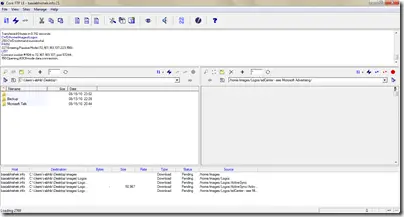 Core FTP includes useful features like a Site Manager for maintaining connection information and Quick Reconnect. Once connected with the remote site, the file-management features are very intuitive. Core FTP allows multiple transfers, secure protocols, configurable ASCII uploading for specified file types, browser integration, and many more essential FTP features.
3] CoffeeCup Free FTP
CoffeeCup Free FTP is the best of the lot in terms of the intuitive and neat UI. Slight annoyances are the advertising banners and non-working features that are available in the paid upgrade.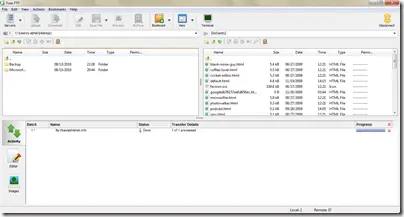 Apart from the slick interface, Free FTP is a quirky application. Connecting to the remote site/server is not very intuitive and once during file transfers, the program does not ask whether or not you want to overwrite files and does so automatically. I checked twice to make sure I wasn't missing something here since this was very odd.
4] FileZilla
FileZilla is among the best FTP client to this date. It is free, open-source, simple to use and clean. There are a lot of handy features available here and there which improves the overall experience. Both FTP and FileZilla are quite old, and this is what makes them reliable. Also, the modern variations of FTP (SFTP, FTP over SSL/TLS) are more secure and supported by FileZilla.
5] CyberDuck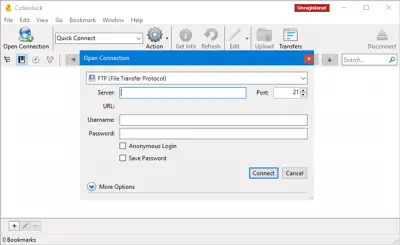 CyberDuck is completely free, but if you want to synchronize your opened connections across multiple devices, you can make a donation to obtain a registration key. This tool can help you when your hosting doesn't come with a cPanel or if you want to download large files from your web server. You can use Cyberduck as an FTP client to upload and download files to or from your server.
Have a look at these Free SSH Clients for Windows too.