The Transcribe option is a Word feature that allows users to convert speech to text. One can record directly in Word, or upload an already-recorded audio and turn it into text. Some users have reported that the Transcribe option is either missing or not working in Word. Transcribe used to be available only in Word online, but now it is available in Word for Windows too. This article will tell you what to do if Transcribe option is missing or not working in Word – Online and Microsoft 365.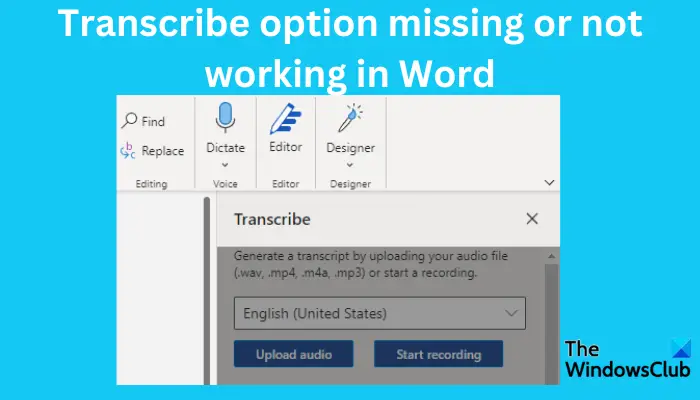 Normally, when you go to Home > Dictate, you will see two options; Dictate and Transcribe. Some users report that they can only see Dictate; Transcribe is missing. Some other users can see both options but Transcibe is not working at some stage. Either the Upload audio or Start recording button is not working or once you upload the audio, there is no output. In some cases, the Transcribe option is grayed out.
NOTE: Transcribe option is only available to Microsoft 365 subscribers. Ensure you are using the right account before you proceed with the solutions in this post.
Fix Transcribe option missing or not working in Word
If Transcribe option is missing or not working in Word Online or Microsoft 365. follow these suggestions to fix the issue:
Use a different browser
Clear browser cache
Use InPrivate or Incognito mode
Update your browser
Use a supported language
Let us go through these methods one by one.
1] Use a different browser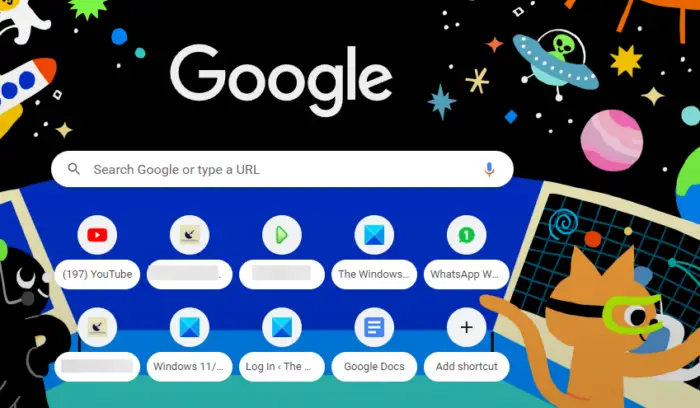 Your browser might have issues causing Transcribe to disappear or not work in Word Online. Using a browser like Edge, Chrome, etc., can fix the issue and help you enjoy transcribing speech in Word. Your browser might have loading issues or glitches that make some online apps not work properly.
2] Clear browser cache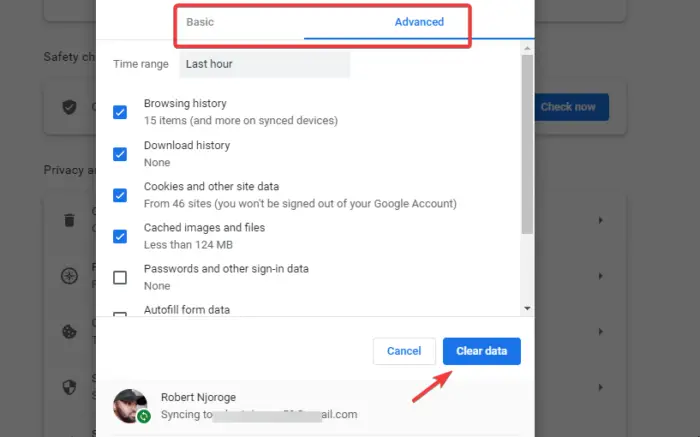 Sometimes, browsers use older files even after updating your apps or websites. These old files may cause delays or loading issues.
To fix this, you need to clear your browser cache to ensure that it registers the latest updates. For example, if you have been using Word before the Transcribe feature updates, your browser might not load the feature; hence it's missing. Remember you don't lose data, but you might need to sign in again to some websites, especially if you have not synchronized your account.
3] Use InPrivate or Incognito mode
If you use InPrivate or Incognito window in your browser, you are forced to sign in again to Word online. This ensures that you access the online app as new, and the latest updates will appear in your account. It also ensures that extensions are deactivated automatically, which may be causing the problem of Transcribe option missing or not working in Word.
To access the Incognito window in Chrome click the three vertical dots on the top-right side and select New Incognito window. To browse in InPrivate mode in Edge, go to the browser menu and select New InPrivate window.
4] Update your browser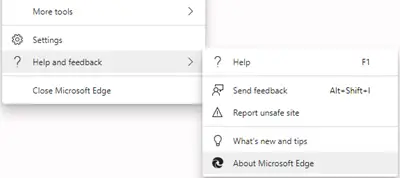 Updating your browser to the most recent version ensure that all issues that were in the previous version are fixed. For example, if there we bugs or security issues, they will be resolved by an update. Ensure your browser is up-to-date and try to access Word online. If the browser is outdated, there will always be a notification in its notification bar asking you to update. Check for updates regularly, even if you have enabled automatic updates on your computer.
5] Use a supported language
Check the language settings in which you want to transcribe your audio. Ensure the language you want to use is supported in the Word Transcribe feature. English US is the default Transcribe language, and maybe you can first test with that before selecting any other language. If you choose unsupported language, Transcribe option will not work in Word.
Read: Word icon is not showing on .doc & .docx document files
What is the keyboard shortcut for Transcribe option in Word?
When you open your Word document, press the Alt button + Windows key + H, D, T, and then S. The Transcribe window will open. Press the Tab key until you the New transcription voice. Press the Tab key several times until you reach the OK key; press Enter after that. To start a new recording you need to press Enter on your keyboard.
Fix: Microsoft Word won't open on Windows PC
Is there a Transcribe function in Word?
Yes. The Transcribe option is available in Word. It was first launched and available in Word online for Microsoft 365 clients but it's not available in Word. However, in early 2023, it was only available for Windows Insider Program users but we hope it will be available to other clients in Word for Windows.