If you are using Windows 11/10/8/7 and you have recently received an error while starting Windows Defender – This program's service has stopped, then you need to solve this problem as soon as possible since your PC is now in vulnerable state. This particular error message can also occur if Windows Defender stops running smoothly. The full message is-
Windows Defender: This program's service has stopped. You can start the service manually or restart your computer, which will start the service. (Error Code: 0x800106ba)
If you are using an older version of Windows, you may see another wording, but the problem is the same–
This program is turned off. If you are using another program that checks for harmful or unwanted software, use the Action Center to check that program's status.
You may be offered an option to turn it ON. However, in most cases, the issue persists even after turning on Windows Defender manually or restarting the computer.
This program's service has stopped
You may try these troubleshooting suggestions and see if any of them help you this Microsoft Defender error–
1] Disable third-party anti-malware
This problem mainly occurs when you install another anti-malware software on your computer. Although Windows Defender stops itself after getting a signal from the other anti-malware, sometimes, this problem can occur due to some internal error. In this case, you should disable the other third-party app and check whether the problem persists or not. If the problem gets solved by doing that, you may need to reinstall the third-party anti-malware software.
2] Turn on Windows Defender service
According to the error message, the Windows Defender service has been stopped. So you need to turn it on using Windows Services Manager. To do so, type "services.msc" in the Taskbar search box and hit Enter to open it.
Now find out the status of these following services-
Windows Defender Advanced Threat Protection Service
Windows Defender Antivirus Network Inspection Service
Windows Defender Antivirus Service
Windows Defender Security Center Service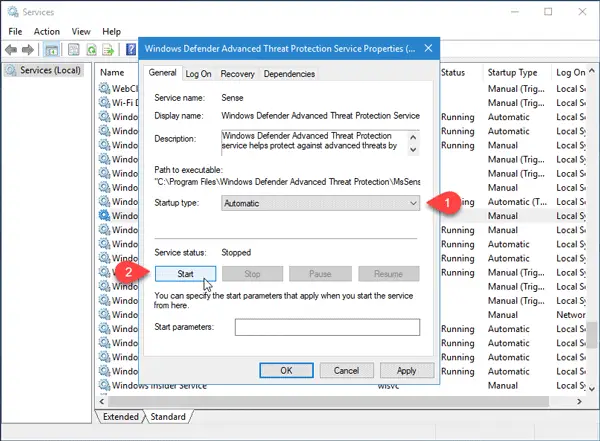 The Startup type for all these should be set Automatic – and the Services should be started,
If it is otherwise, you need to turn that Service on. To do that, double-click on the respective service, and select "Automatic" as Startup type. Next click on the "Start" button under "Service status" label. Finally, click on Apply.
3] Re-register Windows Defender DLL files
Sometimes, re-registering the concerned DLL files can help solve this issue. To get started, open Command Prompt with administrator privilege, and run these following commands one by one:.
regsvr32  atl.dll
regsvr32  wuapi.dll
regsvr32  softpub.dll
regsvr32  mssip32.dll
After this, open Windows Defender and check whether the problem still exists or not.
4] Verify Group Policy Editor settings

Check if you have mistakenly turned off Windows Defender using Group Policy Editor. Some malware can change this security feature as well. To verify that, type gpedit.msc in Start search and hit Enter to open the Local Group Policy Editor. Next, navigate to this path-
Computer Configuration > Administrator Templates > Windows Components > Windows Defender Antivirus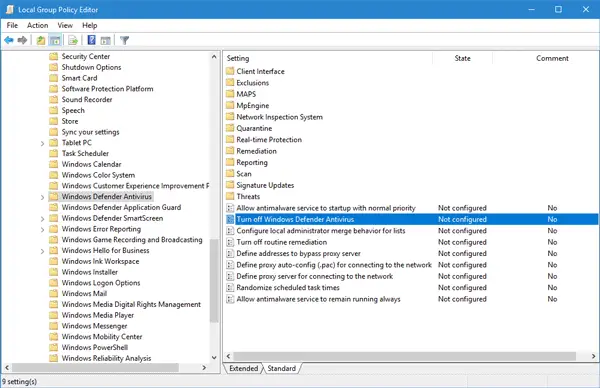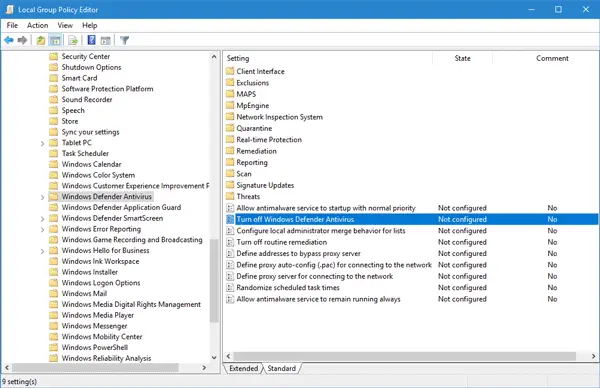 On the right-hand side, you should find an option called Turn off Windows Defender Antivirus. Double-click on it and check if it is set to "Not Configured" or not. If this is set to "Enabled," you need to change it to Not Configured.
5] Verify Registry Editor setting

If any malware has made a change to a particular Registry key, you need to either change or delete it completely to fix this problem. Open Registry Editor and head over to this location-
HKey_Local_Machine\Software\Policies\Microsoft\Windows Defender
On the right-hand side, if you find any key called DisableAntiSpyware. You may either delete it or set its value to 0 (zero).
Hope something here help you.
See this post if Windows Defender is turned off completely.