Windows 10 comes with an inbuilt feature where it can complete an upgrade without prompting you for a password. However, at times, it may get stuck on the Windows 10 login screen with an error message being displayed – The user name or password is incorrect. If you face this issue, then this post may help you.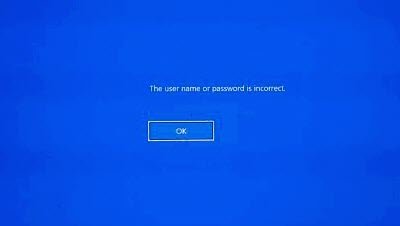 The user name or password is incorrect
If you are stuck on the login screen with error The user name or password is incorrect during Windows 10 startup, then follow these instructions to fix the problem. There are two ways of doing it:
Disable automatic sign-in for device setup
Uncheck automatic login option
Both the options are similar, so use it wisely.
1] Disable automatic sign-in for device setup
Open Settings > Sign-in Options and scroll to the Privacy section.
Here, turn off the option that says – Use my sign-in info to automatically finish setting up my device and reopen my apps after an update or restart.
Once you do this, then the next time it happens, Windows upgrade will get stuck on the login screen, and unless you log in manually, the upgrade process will not finish.
Troubleshoot: Cannot log on to Windows 10.
2] Remove password from the account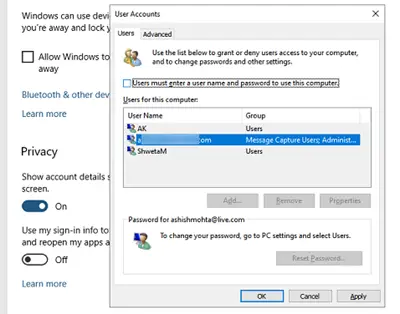 The second option to remove the option where the users must enter a username/password to use the computer.
To do this, in the Run Prompt, type netplwiz, and hit Enter. The User Accounts setting.
Select the username for which you are facing a problem.
Uncheck the box which says – Users must enter a username and password to use this computer and click on Apply. You will be prompted to enter your password twice.
Once Windows validates the request, select OK, and then close the User Accounts window.
Now the next time the computer boots, you will have to manually login to the computer.
Related read: That password is incorrect message during Windows 10 sign in.