When we open the User Accounts window by typing netplwiz.exe or control userpasswords2 using the Run command (Win+R) box, we can the 'Users must enter a user name and password to use this computer' option.
If this option is unchecked for a particular user account, then that user automatically logs in to his account without entering a username and password. If that option is checked, the user has to enter login credentials. If for some reason, that option is missing in your User Accounts window, then you can fix this issue.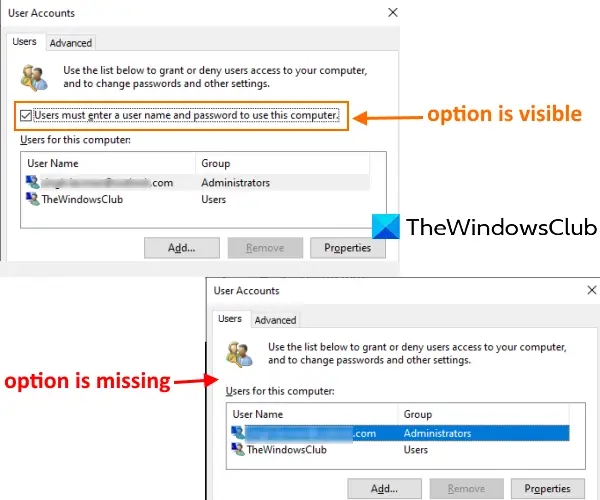 User must enter a username and password to use this computer
This problem may have occurred after you've configured Windows Hello and allow only Windows Hello sign-in feature is turned on. You just need to disable that feature to solve this problem using any of these two options:
Using the Settings app
Using Registry Editor window.
Remove Password from Windows
1] Using Settings app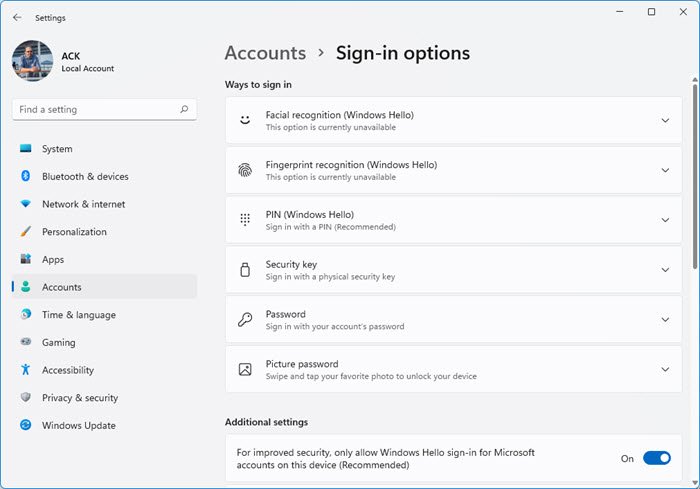 [Windows 11]
Use the hotkey Win+I to open the Settings app
Access Accounts category
Access Sign-in options page.
There is a section named Require Windows Hello sign-in for Microsoft accounts as visible in the above screenshot.
Under this section, you need to turn off the 'For improved security, only allow Windows Hello sign-in for Microsoft accounts on this device' option.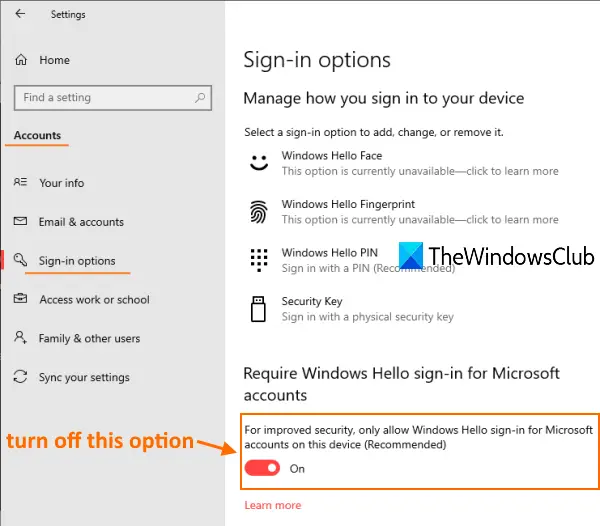 [Windows 10]
Now access the User Accounts window. That option should visible now.
Read: Duplicate username at Login or Sign In screen in Windows.
2] Using Registry Editor
If the above method doesn't work, then use REGEDIT or Registry Editor to bring back that missing option. The steps are as follows:
Open Registry Editor
Access Device key
Set Value date of DevicePasswordLessBuildVersion to 0.
Open REGEDIT and then go to the Device key. Here is the path to access that key:
HKEY_LOCAL_MACHINE\SOFTWARE\Microsoft\Windows NT\CurrentVersion\PasswordLess\Device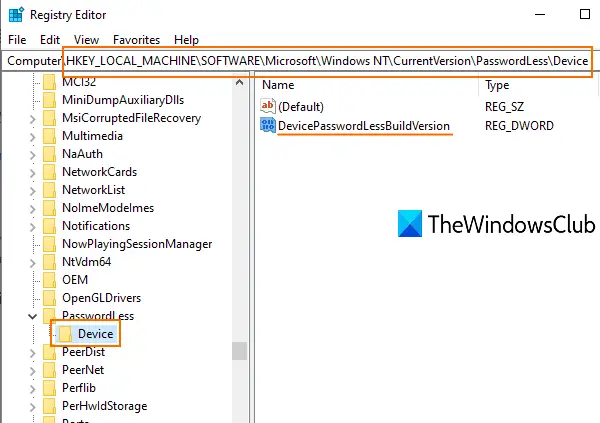 On the right-hand section of that key, you will see a DevicePasswordLessBuildViersion DWORD value with 2 as value data. That means allow only Windows Hello sign-in feature is turned on.
Double-click on that value and a small box will visible. There add 0 in the Value data field and use the OK button.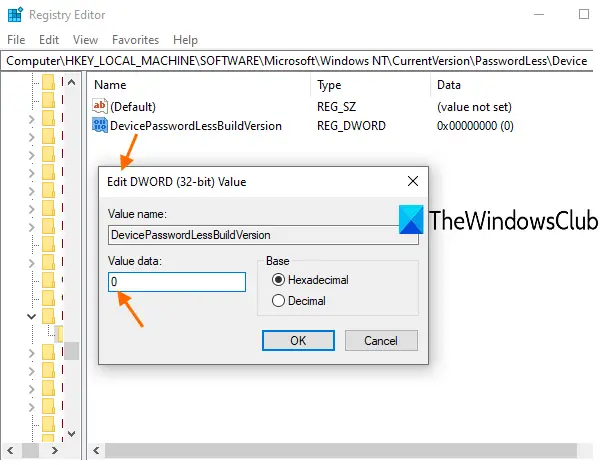 This will turn off that Windows Hello feature and the 'users must enter username and password' option will visible again.
Related read: Windows 11/10 auto-login is not working.
Hope this post is helpful in getting back that missing feature in the User Accounts window.