The Device is being used by another application error on Windows pertains to your device having audio or video problems, and they have something to do with an HDMI connection, more often than not. A High-Definition Multimedia Interface allows users to connect multimedia interfaces to stream TV or gameplay over a much bigger monitor. Other causes include corrupt drivers or files being installed incorrectly. In this article, we look at how this error can be fixed in Windows 11/10.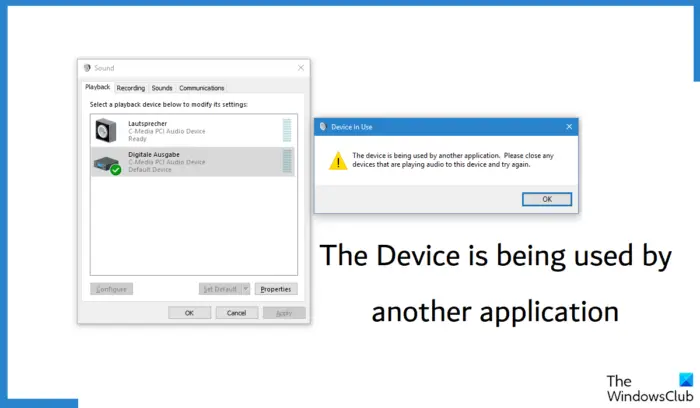 Fix The device is being used by another application error
If the sound on Windows 11/10 is not working and you're facing The device is being used by another application error, here are some suggestions to help you:
Disable Allow apps to take exclusive control of the sound options
Restart your computer's audio service
Check for an audio driver update
Run an SFC scan to repair system files
Roll back your present drivers
1] Disable Allow apps to take exclusive control of the sound options
As the error states, it is caused by the device being used by other applications. A solution to that is to close any apps that you suspect are using the sound settings and then provide exclusive control to them, to avoid facing this issue in the future.
Press the 'Win + R' key combination to open the Run command
Type 'sndvol' and press enter to open the Volume Mixer. This could, alternatively, be accessed from the System Tray
Here, you'll find all the applications and windows that are currently using sound. You can then open the Task Manager and end tasks that you think are conflicting and causing this error to occur
Now it's time for you to change the sound settings. For that, right-click on the Sound icon in the System Tray and select Sound Settings. Alternatively, you could open Windows Settings > System > Sound
Scroll down and under the Advanced section, select More sound settings
Select the speakers that are working as the current sound output device on your PC and click on Properties
Click on the Advanced tab and disable the 'Allow applications to take exclusive control of this device' option
Click on Ok and then Apply to make this setting change take effect and restart your computer. Check if the issue persists.
2] Restart your computer's audio service
Restarting the audio services is another quick fix for the issue. The audio service takes care of the audio in all Windows-based programs. Stopping it would then stop any dependent service from functioning.
Open the Run box with the 'Win + R' key combination and enter 'services.msc' to open the Service Manager
Scroll down and locate a service named "Windows Audio"
Right-click on it and further select Restart
The process will take a while to go through, after which you can close the Services window and restart your PC
Once the PC has rebooted, check if the issue has been resolved or not.
Read: Sound is missing or not working on Windows 11
3] Check for an audio driver update
You should also make sure that there isn't an update for a fresh set of audio/sound drivers. Incompatible drivers can cause all kinds of errors.
Open Windows Settings by searching for it from the search menu or pressing the 'Win + I' key combination
Select the Windows Update tab
If there are any relevant, Optional driver updates available, they'll show up here.
You can then download and install them
Most updates ask for your PC to reboot, so do that and this should bring an end to the error in question.
4] Run an SFC scan to repair system files
To ensure that the audio services run smoothly, Windows requires certain files and folders to be running properly. If that is not the case, then you can encounter the error under discussion. Windows has two built-in file repair utilities namely SFC AND DISM, and you can run them to ensure that your system files are in order.
Search for the Command Prompt from the Search menu and click to run it as an administrator
Type the following command and press enter
sfc /scannow
The process will take a while after which, if there are any corrupt files, then you'll be notified of the same
Alternatively, you can run the DISM utility too. Read on here about how you can do so.
5] Roll back your present drivers
Lastly, you can roll back drivers as well. This error can have been caused by some newly installed drivers, that may have an unresolved bug causing compatibility issues. A drawback with this solution is that it's not something you can go through with every time, depending on the driver.
Open the Run command with the 'Win + R' key combination
Type 'devmgmt.msc' and press enter
Locate 'Audio inputs and outputs and expand that option to find your speakers
Right-click and select Properties. This will open a separate dialog box
Click on the Driver tab and further select the 'Roll back driver…' option
If the Roll Back Driver option is greyed out, then it means that this option isn't exercisable with the said driver.
Fix: Sound and Audio problems and issues in Windows 11
How can I tell which app is using my speakers?
A common confusion with speakers is to find what all apps are using them simultaneously. The origin of an audio sound is ambiguous if too many apps are using the speaker at the same time. For this, you can take the help of the volume mixer. Type sndvol command in Start search and hit Enter or use the sound icon on the system tray to open the volume mixer, and it will show to you all the apps that are using your speakers.
Read:
What app is using my microphone right now?
Similarly, you can wonder what apps are using your microphone or have access to it. The system tray displays the icons for all the apps that are currently connected to your microphone and you can use the sound settings to see and change the apps that have permission to use it.
We hope that you find this to be helpful.