Windows comes with an inbuilt backup solution, but if it fails due to an internal error you will see a message which says – The backup application could not start due to an internal error, Server execution failed (0x80080005).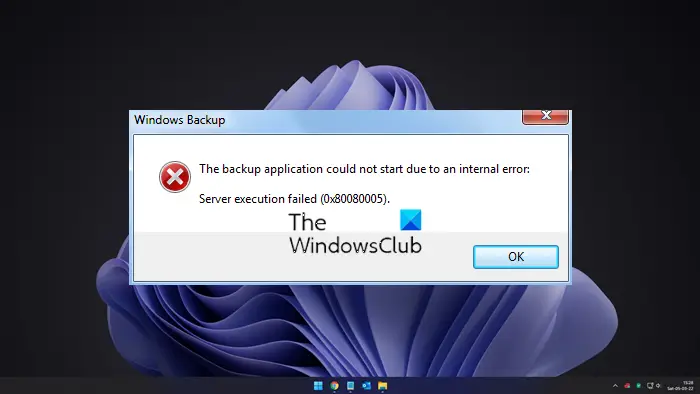 This error simply means that it did not start, and the process failed with a Server execution error. In this post, we will share how you can resolve this issue on your Windows computer.
Windows Backup Server execution failed (0x80080005)
Windows Backup service is an excellent feature of Windows and works only on NTFS file system. If you want to use this, make sure you have formatted your files system to NTFS.  It is performed by Volume Shadow Copy. Right-click on any folder, and if you have an option – Previous versions, this means a backup process runs from time to time and can bring back old files when needed.
In any case, we have two suggestions to make.
1] Volume Shadow Copy Service should be running
Click on Start; in the start search type cmd.
Right-click on cmd.exe and choose to "Run as administrator".
Type the following command and press Enter.
net stop sdrsvc
Then again, start the service back on:
net start sdrsvc
You can also restart the service by opening the Windows Services Manager, and then finding the Volume Shadow Service (sdrsv) from the list, and restart it. By default, its Startup type should be set to Manual.
If you don't see any error while turning it on, re-run the backup service, and see if the backup process goes through smoothly.
2] Try running the Backup in Clean Boot State
If it still keeps failing even though the service is running, try running the Windows Backup in Clean Boot State. If it works fine, then the problem is resolved.
If you want to start fresh with the backup solution, you can delete all the files in the backup solution.
Go to " C:\System Volume Information\Windows Backup\", and Take ownership of the folder. Then delete all the files inside it. Make sure to stop the VSS Service before doing it, and also start it back after deleting all the files.
If nothing works for you, check out these free backup software for Windows.
Related: