There might be many reasons for Temporary files not deleting in Windows 11/10. Windows creates temporary files for many things. It can be browsing, downloading Windows updates, and so on. Temporary files can consume hundreds of gigabytes of your computer's memory, making the situation quite complex. Occasionally, temporary files should be removed; otherwise, they unnecessarily burden your computer storage, lowering your system's overall performance. However, many have reported issues when removing the temporary files.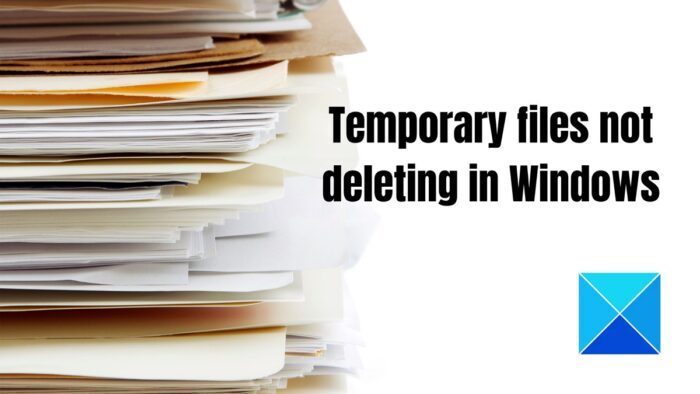 There are different ways to delete Temporary Files on Windows. One quick way to resolve this is by going to Settings (Win + I) > System and toggling on the Storage Sense settings that say Keep Windows running smoothly by automatically cleaning up the temporary system and app files option. You can also try the Disk Cleanup Tool; if none of these work, follow the suggestion below.
Temporary files not deleting in Windows 11/10
If you cannot remove the temporary files using built-in tools in Windows, one has to manually delete the files to get rid of them from the system successfully. Here is the list of methods you can try if temporary files are not deleted in Windows.
Manually delete files
Remove the temporary files from Safe Mode
Edit the Registry
Force Delete Command on PowerShell
You will need admin permission to execute some of these suggestions.
1] Manually delete files
Windows is known to store temporary files in specific locations in the system. You can go to these locations and remove the files. Press the delete key after selecting everything (Ctrl + A), and the files will directly move to the recycle bin. To permanently delete the files, use Shift + Delete. Given below are the locations where you can find these temporary files:
Clear Temporary Folder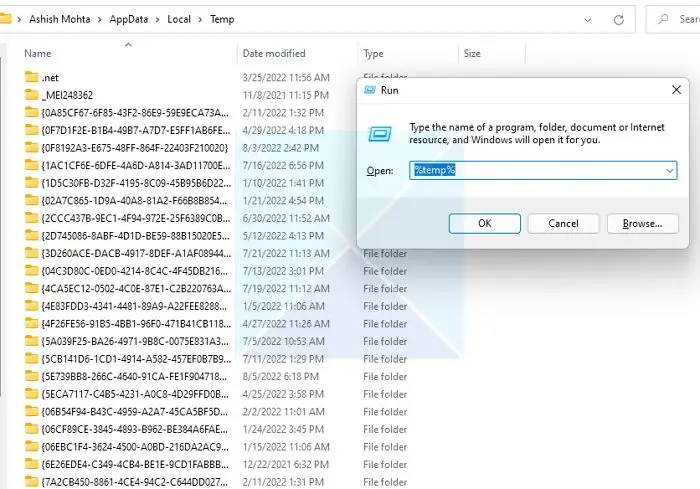 Press Windows + R.
Type 'temp' and click OK.
Press Ctrl + A to select all files.
Click Delete.
Press Windows + R.
Type %temp% and click OK.
Press Ctrl+ A to select all files.
Click Delete.
While using the delete option, you can press Shift + Del instead of the standard delete button to permanently delete files and not just transfer them to the recycle bin. Try the next step to delete files as well manually.
Clear the Software Distribution Folder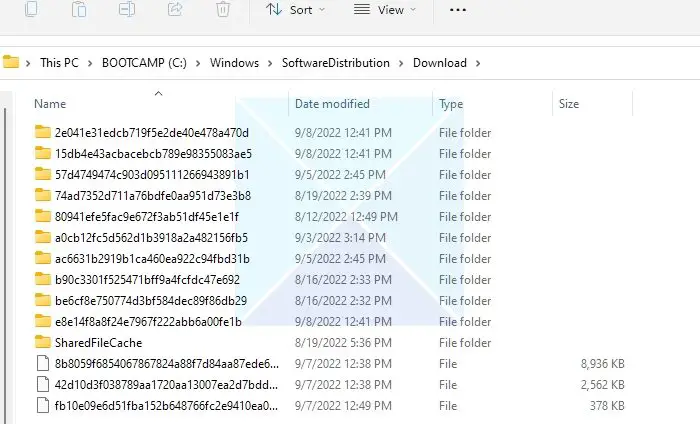 Windows Update downloads all updated files into the Software Distribution folder before installing them in the system. If the update is stuck and you have deleted all the files inside the folder. It will then force the Windows Update service will start downloading it again. However, disable related Windows services before deleting. Once deleted, restart the service.
Go to the following location C:\Windows\SoftwareDistribution\Download\ using File Explore, and delete all the files.
Clear the Windows Old Folder 
Windows.old folder(C:\Windows.old\) is a folder in the primary drive that stores the program files from earlier versions of Windows and all of the user's data. It is generated following a Windows operating system upgrade and kept if the user wants to return to the previous version of Windows.
You can go to the System Drive or C Drive, select this folder, and delete it.
Clear the Prefetch Folder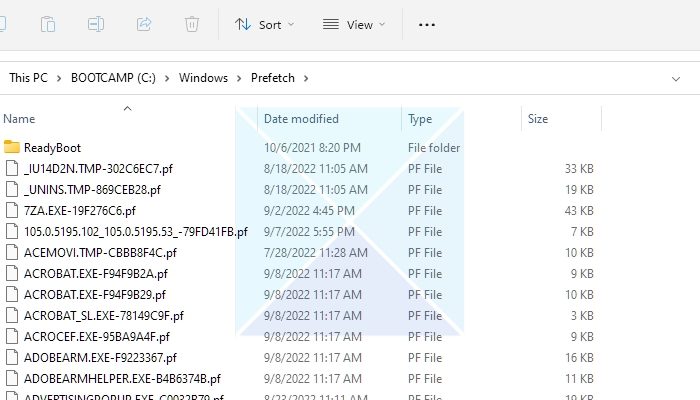 Every time an app is activated for the first time, the operating system creates a prefetch. They are made to speed up their opening and take up little disk space. These files can also be deleted without harming your system if you run low on storage.
You can access the Prefetch folder by going to This PC > Local Disk (C:\Windows\Prefetch) to locate the prefetch files. You can also press Win + R, type prefetch, and then press OK.
There is no harm in deleting these folders. A new prefetch file will be created when a program is launched the next time.
2] Remove the temporary files from Safe Mode
You might want to try deleting temporary files in Safe Mode if you're experiencing issues with them in the default Windows login. Do the following to enter Safe Mode: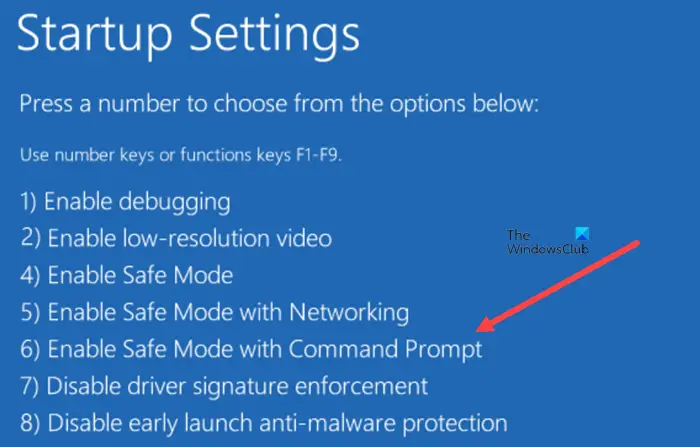 Click on the Start button on your PC.
Click the Power button and press and hold the Shift key—select Restart from the menu.
Select Troubleshoot > Advanced option > Startup Settings
Click Restart button
You'll be given choices after your PC restarts. Press the corresponding key to choose any Safe Mode option.
After starting your computer in Safe Mode, you should have no trouble deleting temporary files.
3] Edit the Registry
You should know that Windows does not delete the temporary (.tmp) files in the %WinDir%\Temp folder and in other folders that have been created or accessed in the last 7 days. But you an make Disk Cleanup Tool delete ALL temporary files by editing the Registry.
4]  Force Delete Command on PowerShell
According to users, you might be able to clear temporary files using Command Prompt if you can't otherwise. To accomplish it, take the steps listed below.
Open the Windows menu by pressing Win + X.
Select Windows PowerShell (Admin) or Windows Terminal (Admin) from the choices.
To execute this command, type del /q/f/s%TEMP%* and then press the Enter key.
Windows will forcefully delete all the files in the TEMP folder.
You can run this command on any folder which holds temporary files. It comes in handy when the OS doesn't allow the deletion of those files.
From this article, you can understand why you might want to delete these temporary files, and once the process of deletion is finished, most of the temporary files are automatically deleted. When you manually delete the temporary files in your computer, you don't have to worry about your computer having any side effects, as clearing the software distribution folder, the prefetch folder, and the old folder is completely safe. You can apply any of these steps, whichever you feel comfortable with and easy, to remove the temporary files and make more storage space in your computer. I hope it works!
How to automatically delete Temporary Files in Windows?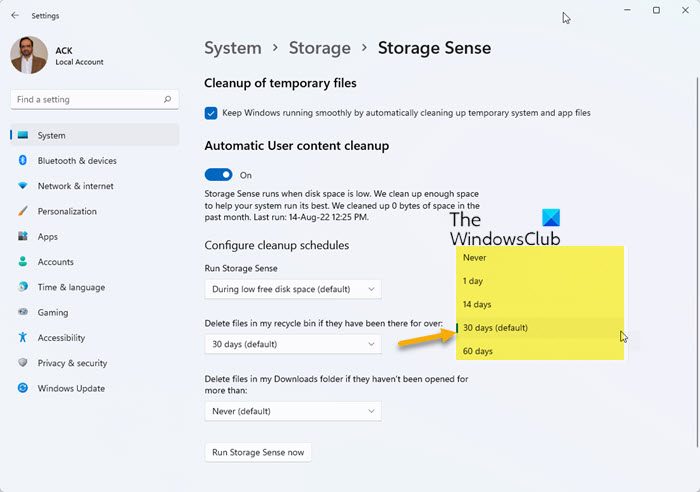 Microsoft added a new option in Storage Sense, allowing users to automatically delete unneeded temporary files. This feature removes transient and untouched files from the Downloads folder or Recycle Bin after 30 days.
You can start by opening the Settings app (Win +I) and then navigate to the System > Storage menu. Toggle on the Storage sense feature. Select the Changing how we free up space link. Ensure you have enabled the Storage sense feature described in the first step. Windows will be ready to delete temporary files automatically.
Read: How to clear the Cache in Windows 11
Why do TMP files keep appearing?
You gradually accumulate large or many small Temporary files in your profile. Different programs frequently generate temporary files and occupy much room in your profile. Applications create temporary files automatically when they are launched, storing them on a PC.