If you are receiving too many reminder emails about your Calendar events in Outlook, you might want to disable these Calendar Email Notifications in Outlook on your Windows PC. This post will show you how you can turn off Outlook Calendar reminders and popup notifications and stop the birthday email notifications about your Calendar birthdays or events in your Outlook Mail client. The emails received are usually in this format:

Stop Outlook Calendar email notifications
To stop receiving emails from Outlook Calendar, open your Microsoft Outlook email client and click on the File tab in the top left corner. Click on the Options link next, to open the following Outlook Options box.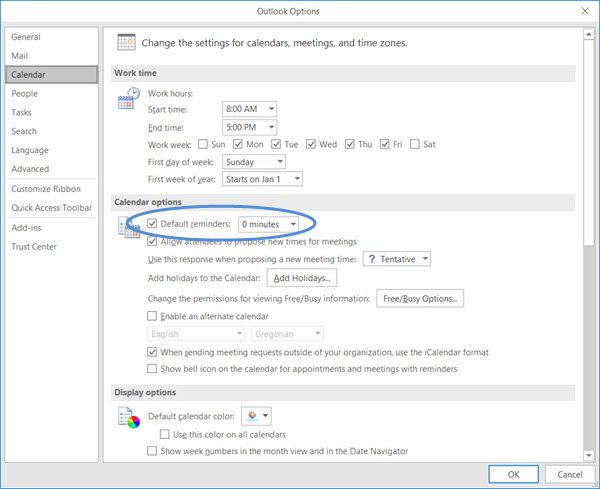 Now from the left side select the Calendar tab. Under Calendar options, you will see a Default reminders checkbox. Uncheck the checkbox and click on OK.
Next, click on the Advanced tab, and uncheck Show reminders. Click OK.
Restart Outlook for the settings to take effect.
If you receive a daily email agenda for calendars and task do the following.
Click here to visit the Calendar settings in your Outlook.com web app.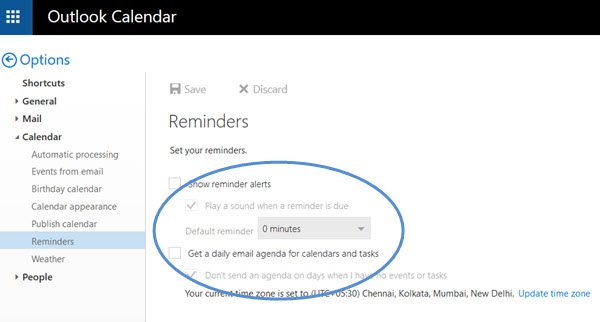 Under Options > Calendar > Reminders, you will see a checkbox against Get a daily email agenda for calendars and task. Make sure that this check box is unchecked. Save and exit.
If you wish, you can turn off  Birthday Calendar as follows.
Hope this works for you.
Where are Outlook calendar settings?
For the Outlook desktop client, you can open Outlook Options window, and select the Calendar section to access and set the available Calendar options or settings. And for Outlook Web App, first, sign in to your Outlook account and open the Settings pane using the Settings icon. After that, Click on the View all Outlook settings option present in the bottom part of the Settings pane. Select Calendar from the left section and then use View, Events and invitations, Shared calendars, and other categories to adjust calendar options.
Why am I getting someone else's Outlook calendar notifications?
This problem occurs when you are using Outlook desktop client and Exchange and the person (say a co-worker) who has shared his/her calendar with you has set you as delegate. If the Delegate receives copies of meeting-related messages sent to me option is checked under Delegate Permissions, you will receive an email whenever he/she accepts meeting invitation. So, you should ask the person to uncheck that option and update the delegate setting.
If you open your Calendar app, and you would find it cluttered with many events and birthdays – and you do not want them displayed, then this post will show you how to remove Facebook Contacts & Birthdays from Calendar in Windows 11/10.