Although there are so many free calendar apps for Windows PC, most people use Microsoft Calendar because this is free, easy to use, and has very useful features. Whenever you need to schedule your meeting or set a task reminder, you can open the built-in Calendar app and start using it accordingly. Today we will look at the web version of the Calendar app, which is a part of Office Online.
Microsoft Calendar Tips and Tricks for the web version
The following tips and tricks are based on the web version of Microsoft Calendar, and some of them may not work on the Windows Calendar app.
1] Set multiple locations for weather forecast
If you are going somewhere and want to know the weather forecast, Calendar can help you find the weather report. The best part is that you can set multiple locations to check the forecast.
To edit the current location or set multiple locations, do the following. Click on the weather logo (cloud, sun or something similar) > Edit Locations > Click on "Add another location" > Enter location > Search for the location and choose one from the search result.
Read more: Make Windows Calendar App display daily weather info for you
2] Prevent Calendar from adding events from mail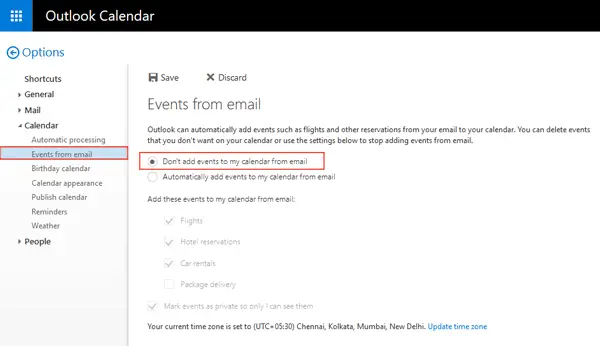 Like Gmail and Google Calendar, Microsoft Calendar also adds events from Outlook emails. For example, if you have booked a hotel and the confirmation email is in your Inbox, you can find an event in the Calendar. This feature helps in reminding users.
However, if you do not like this function of Microsoft Calendar, you can prevent Calendar from doing so. Click on Settings gear button > select Options > Events from email > select Don't add events to my calendar from email and save your change.
3] Change Calendar theme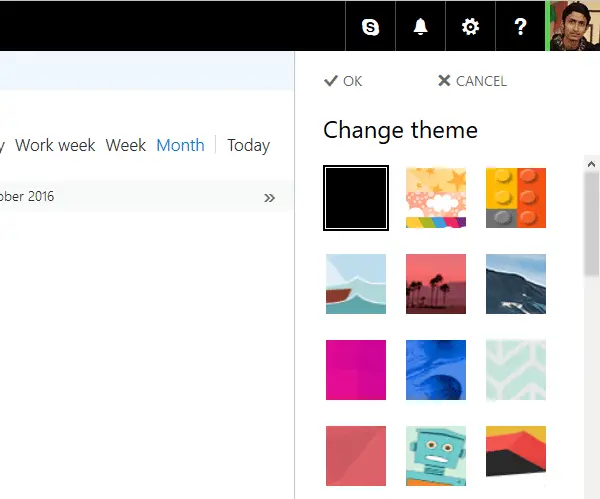 The default theme of Microsoft Calendar is neat and clean and white in color, which makes everything easy to find. However, if you do not like the default white theme of Calendar and want to change it, click on the Setting gear button > Select Change theme > Select a theme and hit the OK button. It will take effect immediately.
Read: How to remove Facebook Contacts & Birthdays from the Calendar app.
4] Print Calendar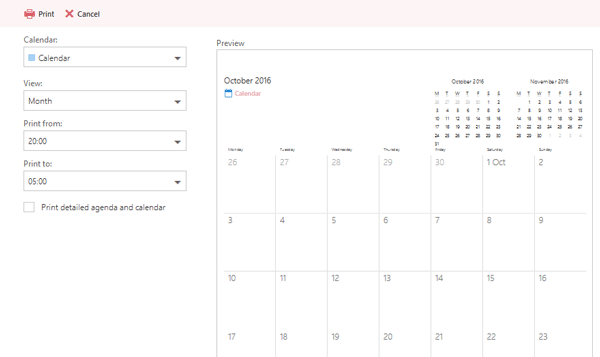 If you want to make a hard copy of your schedules and tasks with the Microsoft Calendar, you can print it without using any third-party software. Calendar allows users to print the agenda for a particular day, week or month. It is also possible to print a specific calendar if you have added more than one. To do so, click on the
It is also possible to print a specific calendar if you have added more than one. To do so, click on the Print button visible on the top menu bar > Select calendar that you want to print > Select Day/week/month, time, etc. You can also print the detailed agenda along with the calendar – just select the checkbox labeled Prilabeledled agenda and calendar. and hit the Print button.
5] Add third-party calendar from the internet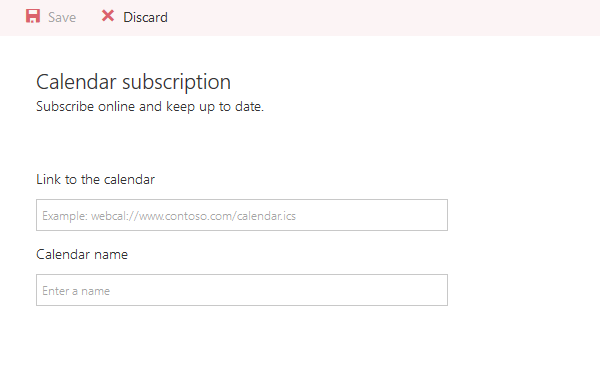 Suppose you want to add all the holidays in a particular country. It is possible to add a third-party calendar to the Microsoft Calendar and check all the important dates right from that screen. To do so, click on
To do so, click on Add Calendar > From Internet > Enter the URL of the calendar that has .ics extension > Enter a name for the calendar and click the Save button.
6] Enable Dark mode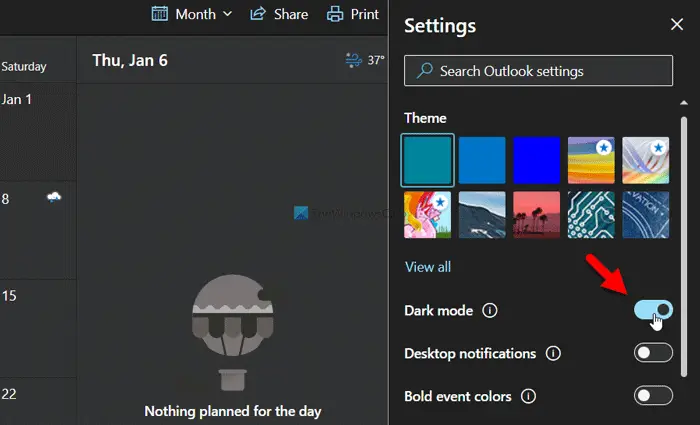 If you use Outlook Calendar frequently, it is recommended to turn on dark mode so that you can get a soothing environment and do not get eye strain. Even if you use a browser extension to enable dark mode, you can use the in-built option to get a better user experience. To enable dark mode in Outlook Calendar, click on the settings gear icon and toggle the Dark mode button.
7] Set a reminder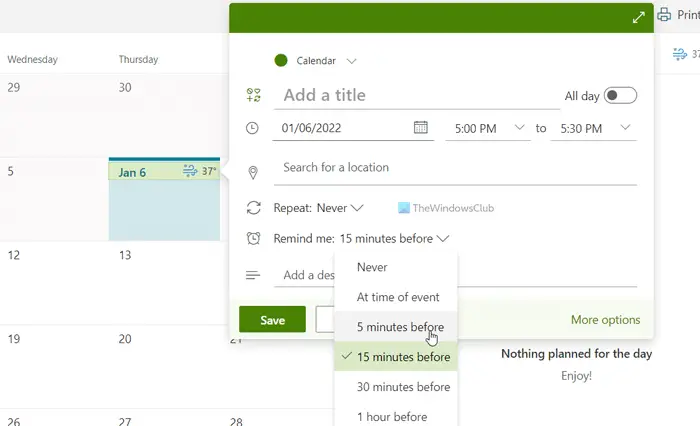 It is possible to set a reminder for your events so that you can get notified and be prepared for the event. By default, it shows a 15-minute reminder. However, if you want, you can change the timing as per your requirements. For that, you need to click on the Remind me option and select a time that fulfills your demands.
8] Install add-ins
Whether it is your web browser or Outlook Calendar, you can install add-ins to enhance the features and user experience. To install a Calendar add-in, you need to click on the expand button while creating an event. Following that, click on the Get Add-ins button and select an add-in your want to install. Once found, click on the Add button to start the installation process.
9] Add and use templates
It is possible to create and use templates to fill up the empty boxes quickly. Let's assume that you want to create similar events multiple times. Instead of filling in the entire form each time, you can use a template to get the job done quickly. You need to expand the compose new event window and click on the My Templates button. Following that, you can create a new template or use the existing templates as per your requirements.
Note: Get Add-ins, and My Templates option might not be visible all the time. If you can't find them, click on the settings gear icon and click the View all Outlook settings button. Then, switch to the Customize actions tab and tick the My Templates and Get Add-ins checkboxes.
What is the best way to use Microsoft Calendar?
Some of the best ways to use Outlook Calendar are mentioned in this article. It is recommended to follow all the tips and tricks to get started with this online tool, which helps you manage your schedules and appointments. For example, you can set multiple locations for weather forecasts, prevent Calendar from adding events from email automatically, etc.
How do I customize my Microsoft Calendar?
There are mainly two options to customize Microsoft Calendar or Outlook Calendar on the browser. You can turn on or off dark mode and use a customized theme that suits your needs. For your information, both guides are mentioned in this article so that you can follow them to customize the Outlook Calendar app on the website.
See this post if you want to stop Outlook Calendar email notifications.
Hope this short tutorial is enough to get you started.