Windows 10 brings with it a new and improved version of the Calendar App. The good part is when you set up your accounts for the Mail app, the information is automatically shared to the Calendar app, so all your accounts are already connected, and you are good to go.
The app is already pinned to your Start Menu. Simply press the Windows button on the bottom-left corner of your screen to open the Start Menu and look for the Calendar app. Once there, you can set the app to display for you a five-day weather forecast of the location of your choice. So, here's how to set Windows 10 Calendar App to display daily weather info for you in Windows 10.
Display Daily Weather forecast in Windows 10 Calendar App
In the empty field adjacent to the Start menu of Windows 10, type location settings to access the settings inside the app.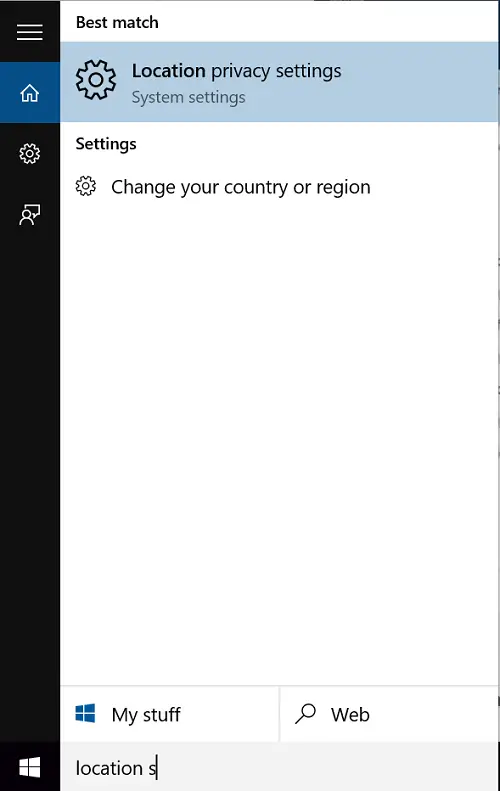 Then, enable Location for the Weather & Calendar Apps.
Once done, inside the Location settings, scroll your mouse cursor down until you find the area called "Choose apps that can use your location". Upon seeing this option, enable the location toggles for both Mail and Calendar and MSN Weather or Weather as shown in the screenshot below.
The changes won't take effect immediately since the process requires a restart. So, perform a restart. Why this is essential? Because in some cases it was found despite enabling both the toggles for Mail and calendar and Weather app, the app plainly refused to display the weather forecast it was programmed for.
Restart your computer and this should be up and running.
The room to accommodate such changes is indicative of the fact that Microsoft is actively working on the feedback given by customers to make Windows 10 a more genuine product for its users.
Read next: How to add Weather to Lock Screen, Desktop and Taskbar.