If you are using a Microsoft Account to sign in to your Windows PC and you have the Facebook app installed on your Windows 11/10 PC, then if you open the Calendar app, you will find it cluttered with events and birthdays every day. Now, this makes no real sense to me, as almost every day, I had a blue dot informing me that it was either someone's birthday or some event taking place. This happens because we have many Facebook Friends, and as a result, we end up with many birthdays. Plus, I did not like the fact that the Contact details of my Facebook Friends were cluttering up my list.
If you want to remove Facebook Contacts & clean up your Windows Calendar app and remove Facebook Birthdays from the Calendar app, then this post is sure to help you.
Remove Facebook birthdays from Calendar app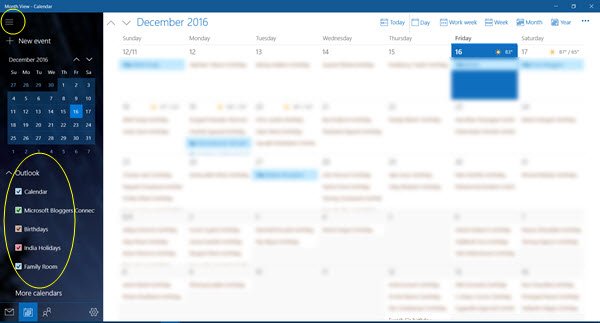 If you want to remove the Facebook birthdays from the Calendar app on your Windows 11/10 PC:
Type Calendar in Start Search, and hit Enter to launch the app.
Click on the 3 lines in the top left corner to expand the panel.
Here, under Outlook, you will see options like Calendar, Holidays, Family Room, Birthdays, etc.
Uncheck Birthdays and you will see all the imported Facebook Friends birthdays disappear.
That's it!
Remove Facebook Contacts from Windows devices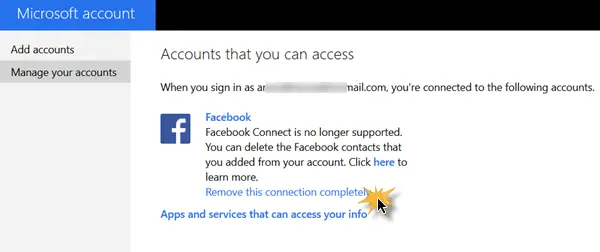 If you do not want the telephone numbers and contact details of your Facebook Friends being displayed on your Windows device, you can remove the Facebook Contacts. Visit your Microsoft Account, sign in and click the Remove this connection completely link. When you do this, all Facebook data syncing with your Windows 10 device is stopped.
I hope this works for you!