If when you run the Microsoft Sticky Notes app in Windows 10, you receive a message Check your account, Sticky Notes is currently not available to you, then this post may be able to help you fix the problem and get Sticky Notes working on your Windows 10 PC.

Sticky Notes is currently not available to you
You may try these suggestions and see which of them help you.
Reset the Sticky Notes App
Open Settings > Apps > Apps & features. Locate Sticky Notes > Click Advanced Options.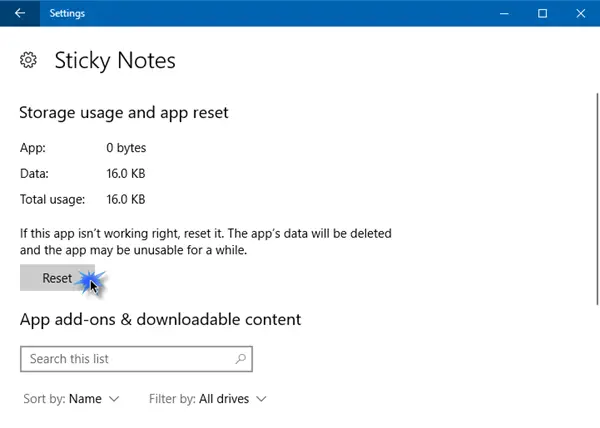 Click the Reset button and see if that makes the app work.
Run the Windows Apps Troubleshooter
Running the Windows Store Apps Troubleshooter will help you find or pinpoint the primary cause of the error. If the troubleshooter lists 'Windows Store cache' as the probable cause, it is advisable to manually clear and reset the Windows Store cache, and then try to run Sticky Notes and see.
To do so, open Run by pressing Win+R. Type WSReset.exe, and then click OK.
If this does not help, you may need to reinstall the Sticky Notes App.
Reinstall Sticky Notes App
Since Microsoft Sticky Notes App is a native app, there is no direct way to uninstall a built-in Windows Universal App, but we can certainly do it manually via PowerShell. Open an elevated PowerShell prompt and run the following command:
Get-AppxPackage Microsoft.MicrosoftStickyNotes | Remove-AppxPackage
Once the process is completed, visit the Microsoft Store and reinstall the Microsoft Sticky Notes App.
Hope this helps!