The SPECIAL POOL DETECTED MEMORY CORRUPTION bug check with a value of 0x000000C1 occurs due to a problem with the hardware, with the prime suspect being the physical RAM.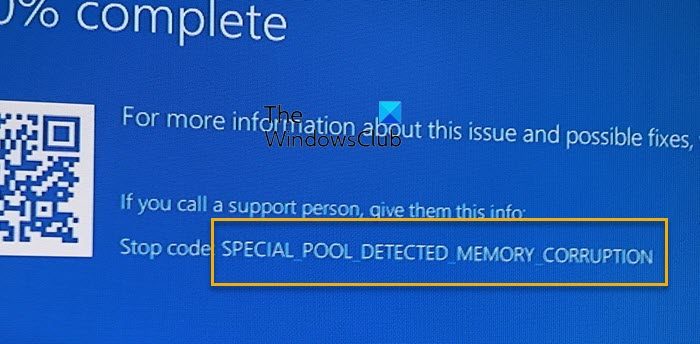 It could be caused due to some error in the Realtek driver for Wireless USB 2.0, corruption of files inside of the RAM, etc. might also be a cause for this issue occurring. This indicates that the driver wrote to an invalid section of the special pool. There are chances that this Blue Screen error could be triggered by rtwlanu.sys or even the nvlddmkm.sys system files.
SPECIAL_POOL_DETECTED_MEMORY_CORRUPTION
We suggest that you first create a System Restore point so that you can try to undo any modifications on your computer. It is also recommended that you carry out these in Safe Mode. We will be carrying out the following potential fixes:
Update, Rollback or Disable the responsible Drivers.
Use the Online Blue Screen Troubleshooter.
Use Windows Memory Diagnostics.
Run Chkdsk utility.
Delete Driver Verifier Manager settings.
1] Update, Rollback or Disable the responsible Drivers
The main drivers that might be a cause for this particular file will be listed under the section of Realtek Wireless USB 2.0 adapter inside of the Device Manager. So if you recently updated these drivers, roll back and see. If you did not, then we suggest you Update these drivers.
2] Using the online Bluescreen Troubleshooter
You can also use the online Bluescreen Troubleshooter to automatically find and fix the root cause of your system crashes.
3] Using Windows Memory Diagnostics
Now, in order to fix any issues with your RAM, follow the following steps.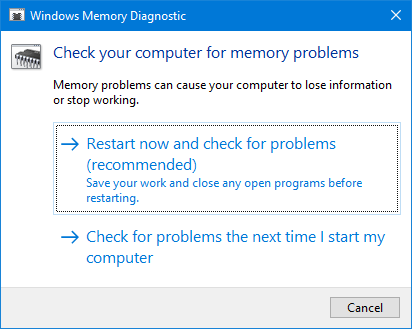 Run the Memory Check on your computer. Start by hitting the WINKEY + R button combination to launch the Run utility. Then type in, mdsched.exe and then hit Enter. It will launch the Windows Memory Diagnostic Tool and will give out two options-
Restart now and check for problems (Recommended)
Check for problems the next time I start my computer
Now, according to the option selected by you, the computer will restart and check for memory based problems. If you get any issues there, it will fix it automatically else if no issues are detected, this is probably not the cause of the issue.
4] Run the Chkdsk utility
To run ChkDsk, open This PC. Right click on your Operating System Partition for Windows.
Click on Properties. Now, navigate to the tab labeled as Tools. Under the section for Error Checking, click on Check.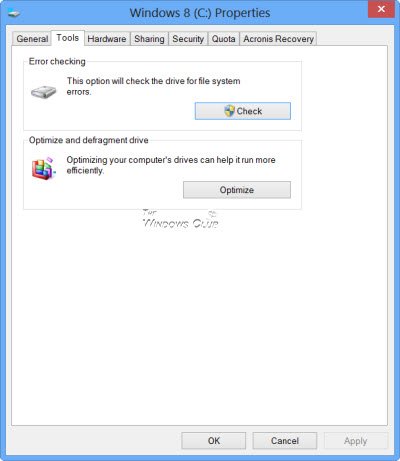 A new mini window will now pop up. Click on Scan drive.
Let it scan your disk drive partition and after that reboot your computer for the changes to take effect.
5] Delete Driver Verifier Manager settings
Using Start search, open Driver Verifier Manager.
Here, select Delete existing settings, click Finish, restart your computer and see if it has helped. If not you may reverse the changes made.
All the best!