If your Windows computer supports Dolby Atmos, and you want to use it on the Home Theater, a few settings have to be changed. However, if you get an error Spatial sound isn't working, Something went wrong while trying to turn on Spatial Sound, we will help you to fix this solution.
Just before we go ahead for the solution, you will need to have the latest Dolby Atmos installed on your computer. Once installed, you will have to choose Dolby Atmos for your headphone or home theater from the option. This is where the problem occurs.
Something went wrong while trying to turn on Spatial Sound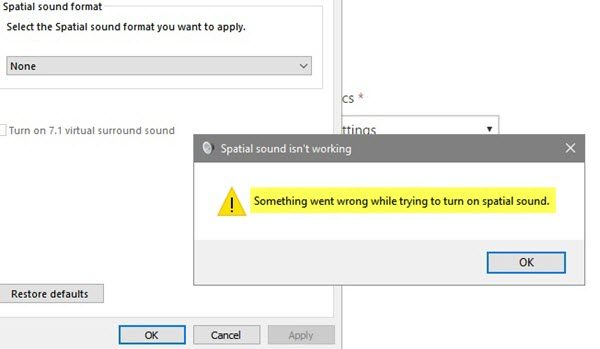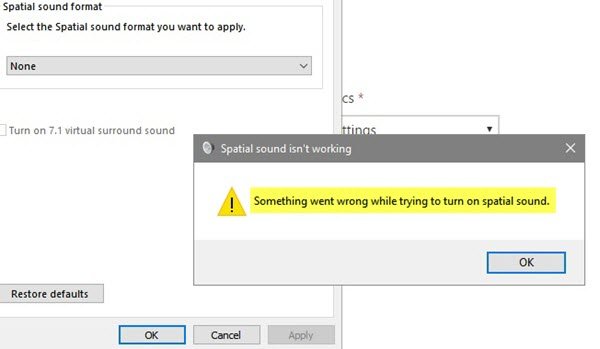 There are multiple scenarios where it may happen.
When you select "Dolby Atmos for Home Theater", you will receive the error "Something went wrong while trying to turn on spatial sounds". Post this, the settings will revert back to "off".
You connect to the Soundbar using an HDMI cable from PC to screen. You get the same error as above when you switch but when you chose for Headphones, it works just fine. This happens even when you have the wiring correct i.e. the HDMI is connected on PC  to the soundbar, then soundbar connected to HDMI screen.
Solutions to fix Spatial Sound issue with Home Theater
1] Turn off Mono Audio
Go to Windows Settings > Ease of Access >  Audio
Turn off Mono Audio.
2] Update Audio Drivers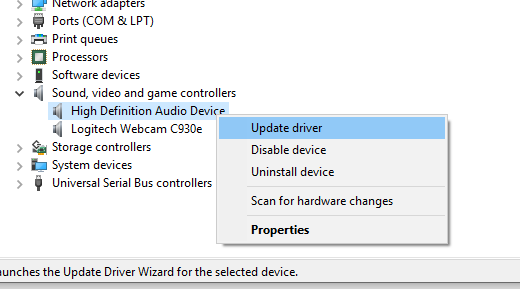 Make sure HDMI & AVR connection is live.
Open Device Manager > Sound, video &  game controllers.
Right-click and choose to Update Intel Audio driver > select Browse on the computer.
Pick "High definition audio device" from the list instead of default intel display audio.
Click Next
However, the installation will fail, with the message " it's not the recommended driver".
However, it will lead to Atmos back working again.
3] Use the Right HDMI Cable
Make sure you have the right HDMI cable which supports Dolby ATMOS. You will need High-Speed data for the same. So check before buying it.
One of these solutions should resolve your issue with Spatial Sound. Do make sure you select Dolby Atmos for Home Theater if you are using AVR system.
Read: Spatial Sound keeps switching to Windows Sonic
How do I enable Spatial Audio?
Enabling the Spatial Sound or Windows Sonic for Headphones is easy. Open Windows 11 Settings and go to "System > Sound." Now, expand the "Choose where to play sound" tab under the Output section and select your speaker. Scroll down and select Windows Sonic for Headphones in the drop-down next to Spatial audio.
How do I use Spatial Audio with Dolby Atmos?
The Dolby Access app lets you set up Spatial Audio with Dolby Atmos. The app is available in Microsoft Store. Do note that, the Dolby Access app is available for a trial period. You can download and use it for free until your trial period expires. After that, you have to purchase it.
That's it. I hope this helps.