Staring at a screen brighter than the brightness to which our eyes are adapted can put unwanted strain on our eyes. The Adaptive Brightness feature found in Windows 10 keeps this strain to a minimum. Also, there are a good number of free software like SunsetScreen, f.lux, and more, that can help manage the screen color temperature. We have made one more addition to this list, today – ScreenTemperature.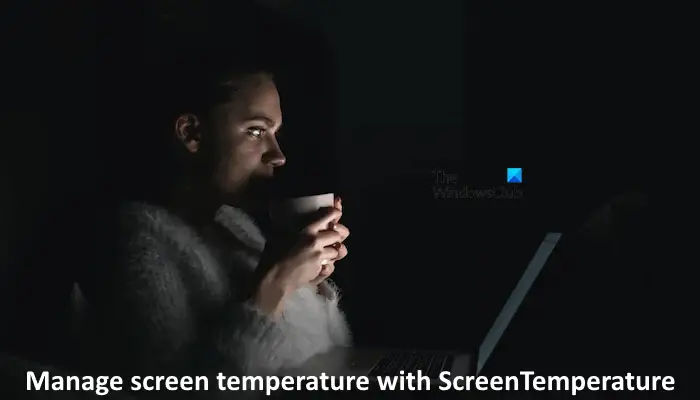 Reduce screen color temperature on PC
This app comes in a small 1.6 MB package, which you can install easily as a portable application. No additional drivers/software are required.
Once installed, the app minimizes to System Tray and resides there silently, until invoked. It becomes visible as an 'Eye' icon.
When accessed, the main window of the app allows you to configure various options. By default, it offers users to use either:
Tanner Helland's algorithm
Custom Color.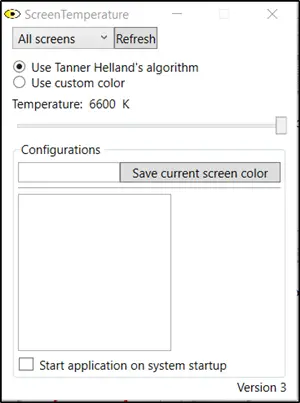 The latter option lets you select a color of your choice from either the 'Standard' or 'Advanced' tab.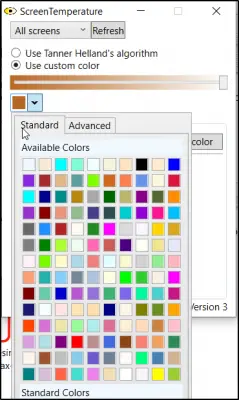 When selected, it can be saved under a 'Configuration'. As you can see in the screenshot below, I tried a combination of colors and saved it under 'Configuration' as my name. You can create any number of configurations this way.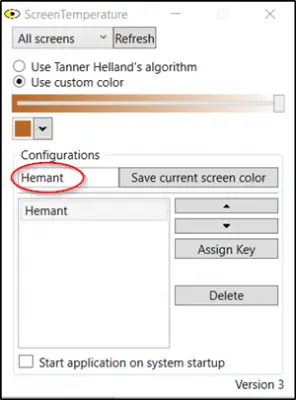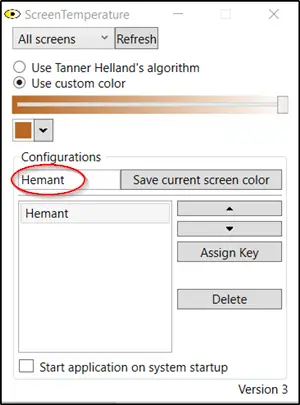 A slider is available under the 'Advanced' tab of 'Custom Color' to set the correct temperature you want for your PC screen.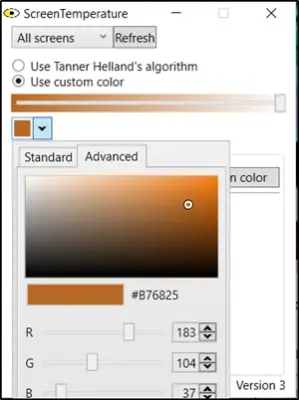 Functions like 'Refresh' and 'Assign key' make this app a great all-around system utility.
Features of ScreenTemperature utility in a nutshell:
Instant color modification
Ability to create and save multiple configurations
Unlike f.lux supports multiple profiles and key bindings
Easy to understand and use interface
Multi-screen support
Scope to change each screen individually
Custom color gradient setting
Lastly, if you would like to configure the app to run during the startup, simply check the 'Start application on system startup' box. The option is visible at the bottom of the 'ScreenTemperature' main window.
Download ScreenTemperature
Download ScreenTemperature freeware from Github repository page.
How do I change the temperature of my screen color?
You can use third-party software to change the color temperature of your screen on a Windows computer. Windows 11/10 also has a built-in feature called Night Light. You can turn it on to use warmer colors and block blue light. Apart from that, you can also calibrate your display color to adjust Gamma. To use it, type Calibrate display color in Windows 11/10 Search and select the required result from the search results.
What is the Color temperature of a monitor?
Color Temperature is a numerical system that is used to measure the color of a display on a warm-to-cool spectrum. Its unit is Kelvin (K) and the standard color temperature for monitors is 6500K. The color temperatures below 6500K are warm and the color temperatures more than 6500K are cool.
That's it.
Read next: Best Brightness Control Software for Windows 11/10.