Eye strain is a common problem for those who are constantly hooked to desktop screens, smartphones, and other digital devices. A poorly adjusted screen brightness on a desktop can cause eye strain and mental fatigue. This article rounds up some of the best brightness control software for Windows 11 and Windows 10.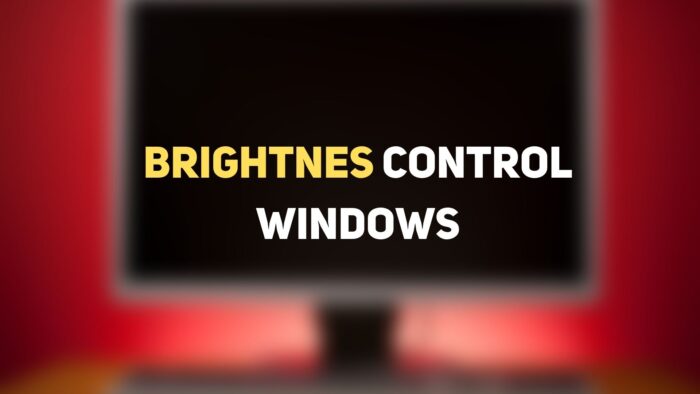 Why do you need to control the brightness?
Researchers have proven that looking at the screens for a prolonged duration can have an adverse effect on one's health. This worsens if you are staring into the bright screens at night or in the low light setup. The electronic screens use blue light that aids to view digital screens under bright solar lights, but It is a proven fact that spending a lot of time looking at screens in a low light set up exposes one to blue light, which can confuse your brain cells, cause mental fatigue and deprives your sleep cycles.
That being said, a well-configured desktop with proper screen brightness can help you create a conducive atmosphere for using desktop monitors for prolonged periods.  While you can customize the computer's brightness via a slider in the Windows power plan settings, many computers don't provide external brightness control.
Some computers do not have shortcut keys like a dedicated Fn key whose combination allows to adjust the screen brightness easily. Thankfully, many brightness control software allows users to control easily and adjust the screen brightness and contrast according to the lighting conditions to create an ambient setting for using a computer for a long period.
Brightness control software for Windows PC
1] RedShiftGUI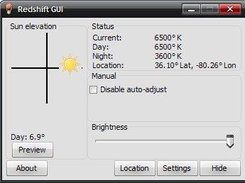 RedShiftGUI is a free program that lets you easily control brightness and color temperature. In addition to manual settings, it automatically adjusts the brightness and color temperature based on the lighting conditions. The program is way more efficient when it comes to screen brightness management, and it works both in Windows a well as Linux. Download this software github.com.
2] Desktop Lighter
Desktop Lighter is a straightforward application that allows you to adjust the brightness of your screen quickly. Upon installation, the application is added to your system tray. You can adjust the brightness settings by moving the slider or using keyboard shortcut keys like Ctrl +> and Ctrl +<. You can quickly increase the screen brightness using the key combination Ctrl+> and decrease the screen brightness using Ctrl+<. The program is lightweight and doesn't drain your system's memory. Download this program here.
3] CareUEyes
CareUEyes is a simple, lightweight software that lets you easily control the brightness of the computer screen. It has some great features that protect your eyes while on a computer for a long period. The software automatically filters the blue light to create a relaxed setting for using computers for a long period in a low light setup. It allows you to adjust the color temperature and brightness according to the lighting conditions.
The software screen dimmer feature automatically controls the brightness of the computer screen to best suit your environment. It also notifies you to take regular breaks when you are hooked to the screen for too long. The software is designed by considering the need to protect your eyes while using a computer and create warmer screens that will eventually increase your productivity.
4] iBrightness Tray
iBrightness is a brightness control utility that allows you to adjust the brightness quickly. The application gets added to your task menu on download, wherein you can adjust the slider to control the brightness. The software is lightweight and doesn't consume much of your resources. Additionally, the program lets you turn off the screen completely and change the default screensaver with a single click. Download this software here.
Read: How to enable and change RGB Control in Windows 11
5] Gamma Panel
Gamma Panel is a simple application that lets you customize the screen brightness, contrast, and gamma settings in a single click. It is ideal if you are looking out for some real-time advanced settings in screen brightness and display. It also allows you to adjust the RGB  combination. One feature that distinguishes this software from others is that it lets you create your color profiles with appropriate Gamma, brightness, and contrast setting and allows you to assign a combination of Hot-keys or shortcut keys to activate them. To apply the color profile, you can press the assigned hot-key combination. The application is free to download. Get this software here.
TIP: Eyes Relax, DimScreen, f.lux, ClearMonitorDDC, Le Dimmer and Pause4Relax are similar tools you may want to take a look at.
6] PangoBright
PangoBright is a free brightness control utility for Windows that requires no installation. Once the download is complete, it gets added to the system tray at the bottom of your Windows screen. It lets you quickly adjust the brightness according to your lighting conditions. This software is recommended if you mostly work in the dark setup. If you are using multiple desktops, the utility allows you to set brightness for each monitor. Download the software here.
You might want to also take a look at these Multi-Monitor Brightness Control software.
What is the shortcut key for brightness on PC?
There is no direct shortcut to reduce or increase brightness unless the OEMs offer it directly on the laptop or keyboard. Look at the keys and see if you can identify them. For example on Dell, it could be Fn+F11 or F12. If you don't have either, you can Win + A to open the Action Center, and then use the brightness slider to control it.
What screen brightness is best for the eyes?
If you are working in a dark environment, then it's best to reduce the brightness to an extent that it doesn't hurt your eyes or strain them. If that doesn't work, then we suggest putting a light with medium brightness at the back of the monitor or laptop. This will reduce the strain by a great margin.
How do I make two screens the same brightness?
While the best way to do it is when you have the same monitor, but if you have two different monitors, then you need to use the Calibrate display feature to bring it as close as possible.
Open the Start menu, type Calibrate display, and click on it the link as it appears. It will then start the Display Color Calibration wizard. You will have to repeat this for each monitor.
We hope you find the post useful.