This post goes out to all you rigorous PC and laptop users, including me (big time!).  And by rigorous users, I mean especially software developers, writers, bloggers, researchers, graphic & web designers, and all those of you who are simply addicted to this wonderful machine. It's been rightly said that technology takes more! Overuse of computers causes some physical afflictions, such as eye strain, Scoliosis, vision abnormalities, Carpal Tunnel Syndrome, headache, and backache – especially if you are over 40. They can damage the mental health of an individual too.
Give your eyes a break from the computer
I know how hard it is to actually take a break and give our poor eyes a well-deserved break from the computer screen. Little do we realize how harmful these monitor waves are for the eyes and that over-exerting them can lead to health issues like headaches, dry/burning/red eyes, sensitivity to light, facing difficulty in differentiating between paper and monitor (this happens to me sometimes :( )and blurred or double vision. Precisely, if we don't take small, frequent breaks from the monitor, our eyes are doomed, we owe it to them!

Pause4Relax A must-download for all PC users
So, here's a simple, yet super-effective tool, which can help us curb eye damage further ahead. Pause4Relax is ideal for people who cannot resist looking and working on the computer and keep torturing their eyes for hours at a stretch. And honestly, the timing of coming across this application couldn't be more right as these days I'm straining my eyes to no limit!
How Pause4Relax works
While DimScreen simply darkens the screen. Pause4Relax is like a reminder from the computer, which activates after every 30 minutes, lowers the brightness of the monitor, and gives you few minutes (5, by default) to relax your eyes. The software gives the user flexibility to customize the settings, best suitable to them. So, if you feel you can take a break after 45-60 minutes, change settings accordingly. The application also gives you the option to skip the relaxation time and add more minutes if all you need is to relax more. While playing games or watching movies, you can disable the application and then resume later.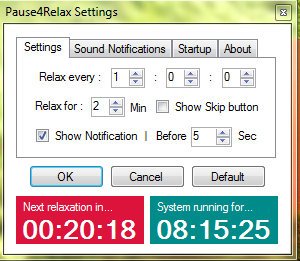 Pause4Relax is an extremely light application and can run on minimum system configuration. It's a portable application; therefore there is no need of installing it, simply double click to execute the application on your PC or laptop. Users of Windows 7 and above can change their system's startup settings in order to load the application while logging in to their system.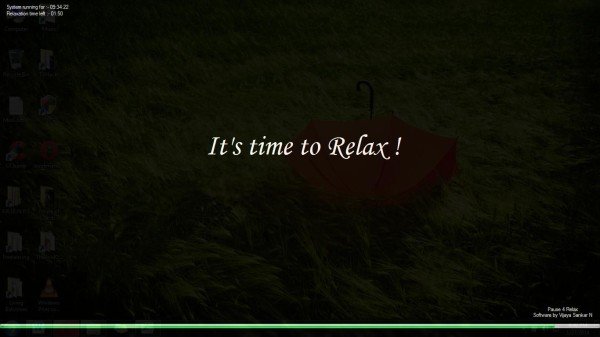 You may call it a reminder, a compulsion or an order from the computer, but when Pause4Relax becomes active, just forget everything else because "It's time to Relax!"
Pause4Relax free download
And if our eyes feel a lot better and relaxed after using this wonderful application, do share your views with us. You can download Pause4Relax from here.
WorkRave is another free software that you may want to check out. It assists in the recovery and prevention of Repetitive Strain Injury (RSI) like the Carpal Tunnel Syndrome. The program frequently alerts you to take micro-pauses, rest breaks and restricts you to your daily limit.
Take a look at these brightness control software too.