Dimming the light on your computer is an easy task, but what happens when you want to dim the light on multiple monitors? Windows has its tool for adjusting the brightness, but it isn't capable of doing so on more than a single monitor. Now, you can use the physical button on the monitor itself to get the job done, but there are several Multi-Monitor brightness software that lets you do the job easily.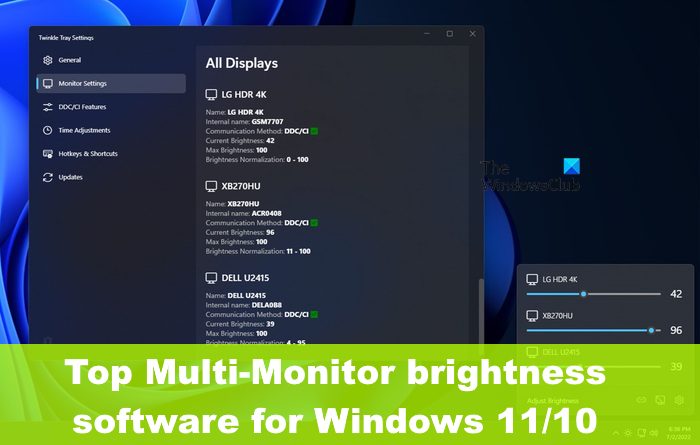 Best Multi-Monitor Brightness Control software for Windows 11/10
These free Multi-Monitor brightness control apps will let you control the brightness of individual screens on a dual-monitor setup easily:
Monitorian
Twinkle Tray Brightness Slider
Dimmer
BrightnessSlider
PangoBright
1] Monitorian
What we have here is a brightness control software designed to adjust display brightness on a Windows 11/10 operating system.
It's not hard to use this application. Just download and install the file to your computer, and right away, it will automatically detect both displays that are connected to your personal computer. This app will allow users to change the brightness on each monitor individually or in unison.
Bear in mind that while Monitorian is free, there are a few advanced features that are locked behind a paywall. You see, if you have more than four monitors connected to your computer, then consider paying for the premium features.
Download Monitorian from its official website for free.
2] Twinkle Tray Brightness Slider
Another great option here is a tool known as Twinkle Tray. It is one of the best it is due to the design and its support for DDC/CI for external displays.
The app makes it possible for users to adjust the display brightness of more than a single monitor that is currently connected to the PC. If you enable the Link Level feature, you'll be able to control the brightness for all monitors in unison. Additionally, you can turn off all displays when moving away from the system.
One of the cool features of this application is its support for hotkeys and shortcuts. Furthermore, folks can turn on Idle detection to reduce brightness after a set period.
Unlike Monitorian, there are no in-app purchases, nor does it come with advertisements. Download Twinkle Tray Brightness Slider from the official website.
3] Dimmer
Dimmer is a neat brightness control application designed for Windows computers. It is designed to be portable, which means, no need to install it. However, you can configure it to auto-run after boot, just like an installed app.
Dimmer is great because it can detect all monitors linked to your system. It also assigns a brightness slider to each, and you can either adjust the brightness in unison or individually, which is similar to the others above.
The app doesn't have many features, but it is fine for what it can do, and that's OK from our point of view.
Download Dimmer from the official website right now for free.
4] BrightnessSlider
For people not interested in customization features and just want a lightweight brightness control app, then Windows BrightnessSlider is perfect. It is a portable tool that stays in the system tray after launch. Unfortunately, it does not have the unison feature, so if that is important to you, then use one of the others mentioned on this list.
Download Win10 BrightnessSlider for free via the official website.
5] PangoBright
The final tool on this list we want to talk about is PangoBright. It stays in the system tray at all times, and instead of a slider, you are presented with percentages. It comes packed with the same features found in Dimmer, but it differs due to the ability for users to change the tint color.
For example, you might want to have a pink tint during the day and a green tint at night. You can accomplish all of that with just a few clicks of the mouse.
Download PangoBright from the official website for free.
READ: How to control Brightness of Multiple Monitors on Windows 11
Why can I only adjust the brightness on one monitor?
According to Microsoft, you can only control the brightness on monitors that have built-in hardware drivers. External displays such as projectors, TVs, etc, require the use of separate brightness adjustment buttons located on the side of the screen.
Is there an app to control the brightness of multiple monitors?
There are many apps designed for controlling the brightness on more than one monitor. But we believe Twinkle Tray and Monitorian are two of the best of the bunch, so give them a try.