A lot of users tend to make use of multiple monitors on Windows 11/10, but it's not easy to control the brightness of all of these monitors without performing multiple clicks. This is where an app known as Twinkle Tray comes into play. It allows the user to easily control the brightness of all individual monitors that are currently connected to your computer.
Control Brightness of Multiple Monitors on Windows 11/10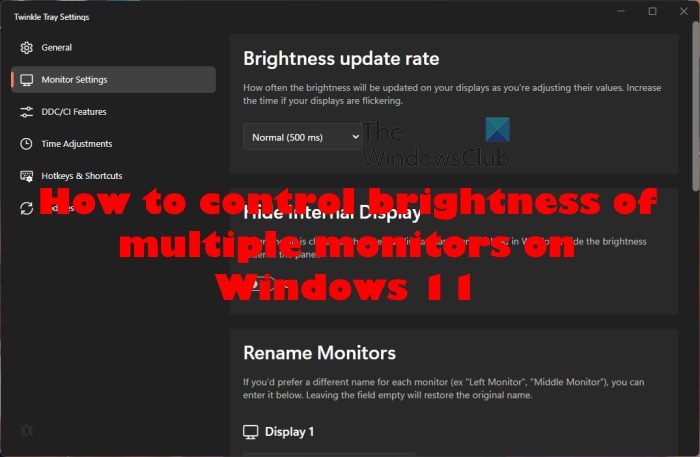 We should also point out that Twinkle Tray works just as well for single monitor computer systems, so don't be afraid to download it and give it a test drive right now.
OK, so Windows 11 and Windows 10 deliver basic controls for controlling brightness, and that's not ideal for some users. Therefore, we're going to discuss how to use Twinkle Tray to make life much easier, especially for multi-monitor users.
Install and open Twinkle Tray
Adjust the brightness
Turn off displays
Twinkle Tray settings
1] Install and open Twinkle Tray
First, you must download the Twinkle Tray app from the Microsoft Store to the official GitHub page.
After installation, click on the app icon via the tray to open it.
2] Adjust the brightness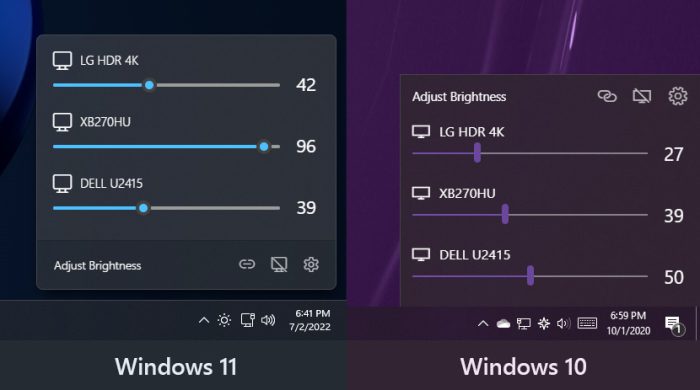 When it comes down to adjusting the brightness, this is very easy to accomplish.
After clicking on the icon, you should now see a small area for adjusting the brightness.
This area will showcase all connected monitors.
The monitors will be listed numerically. For example, Display 1, Display 2, Display 3, etc.
Drag the controls under each display to increase or decrease the brightness.
3] Turn off displays
Want to turn off all connected monitors? No problem at all.
Simply click on the Twinkle Tray icon.
From there, click the Turn off displays icon next to the gear icon.
4] Twinkle Tray settings
We like what the developers have done regarding the Settings area. It makes it possible for users to customize the app to their liking, and that is always a good thing.
In order to open the Settings menu, the user must click on the icon.
After that, click the Gear icon, and right away a new window will appear.
This area contains everything you need for customizing Twinkle Trays to your needs. Let us take a look at some of the features found within the Settings menu.
General: When it comes down to the General tab, it contains the ability to Apply brightness at Startup. This is also the section where users can change the language, theme, user interface, tray icon, and more.
Monitor Settings: From this tab, the user can change the update rate of the brightness. Not only that but if folks want to give their displays a unique name to differentiate them, then, by all means, go ahead and get it done. Additionally, one can also choose to reorder their monitors if that is something the user wants to do.
DDC/CI Features: From this tab, folks are given the ability to disable or enable DDC/CI features. However, it all depends on if the connected monitors support this feature. If not, the app will make this clear.
Time Adjustments: We like this feature very much. In fact, it is possible the best of what Twinkle Tray has to offer, well, from our point of view. You see, users can take advantage of the Time Adjustments feature to determine the level of brightness by time. For example, you can set the app to increase brightness during the day, and decrease said brightness during nighttime.
Hotkey and Shortcuts: Finally, we want to talk about Hotkeys and Shortcuts. This section, then, allows the user to set hotkeys for certain actions. For example, you can add a hotkey to increase and decrease the brightness of each monitor. Furthermore, hotkeys can be used to turn off all displays at once.
Updates: The update tab does nothing, so ignore it. If there are new updates, these will be downloaded and installed automatically.
Overall, we believe this is one of the best apps for Windows 11/10. We hope in the near future Microsoft will realize how important this tool is and update Windows with the ability to manage the brightness of multiple monitors with ease.
If not, then at least Twinkle Tray is available free of charge, well, at least for now because anything can change.
Download Twinkle Tray
Read: Prevent Windows from decreasing brightness when using Battery Saver
What is a Twinkle tray?
Twinkle Tray is a free app for Windows 11/10 that makes it possible for users to manage the brightness levels for one or more monitors connected to a computer. This app is required because Windows does not come with the ability for users to manage the brightness of multiple connected monitors.
What is DDC CI on or off?
DDC/CI stands for Display Data Channel/Command Interface, and if your monitor supports it, then ensure it is always on. It allows the monitor to be connected to your video card and send data on its specifications.