If you are a bit concerned about the safety of your eyes, then this article is for you, Windows 11/10/8/7 cares a lot about the health of its user, and Adaptive brightness is among one of many features it got. If you spend more than 4 hours daily on your PC, then you must care about the brightness, contrast, and color level of the display of your PC.
Adaptive Brightness in Windows 11/10
Adaptive brightness is a feature where Windows checks the lighting conditions of your computer's surroundings and adjusts the brightness and contrast level automatically.
The Adaptive Brightness feature is built on top of the Windows Sensor Platform. This feature will adjust the screen brightness according to the ambient light level. If the ambient light level gets darker, then the screen brightness will decrease if it increases, then the brightness increases.
To use adaptive brightness, you must have light sensors installed and enabled on your computer.
Turn Adaptive brightness on or off in Windows
1. Click Start and open Control Panel. Now select Power Options from the list.
2. Under any plan, click Change plan settings.
3. Click Change advanced power settings.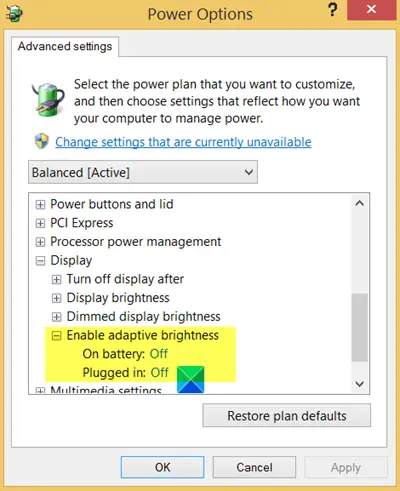 4. In the list, expand Display, and then expand Enable adaptive brightness.
To turn adaptive brightness on or off when your computer is running on battery power, click On Battery, and then, in the list, click On or Off.
To turn adaptive brightness on or off when your computer is plugged into an outlet, click Plugged in, and then, in the list, click On or Off.
5. If you don't see it, it means that Light Sensors may not be installed or that your computer does not support adaptive brightness
Go here and see if Light Sensors are installed: Control Panel > Hardware and Sound > Location and Other Sensors. Else press WinKey, type 'Sensors' and hit Enter to open it.
To find out if your laptop or computer monitor supports adaptive brightness, look for the Enable adaptive brightness setting in Power Options.
6. Click Apply. Click OK.
If this does not work for you, then you may have to disable the Sensor Monitoring Service (SensrSvc) from the Services Manager or services.msc. This Windows Service monitors various sensors and makes the system adapt to the user state.
If this service is disabled, the display brightness will not adapt to lighting conditions. It may even affect other functions of the system, as well.
Adaptive brightness is only available in select editions of Windows and on select laptop or desktop models.
See this post if your Windows laptop screen brightness is flickering.