If your laptop screen goes black when the charger is plugged or unplugged into your Windows 11 device, this post may help. This sudden blackout occurs when the power source is changed. Fortunately, you can follow some simple suggestions to fix the error.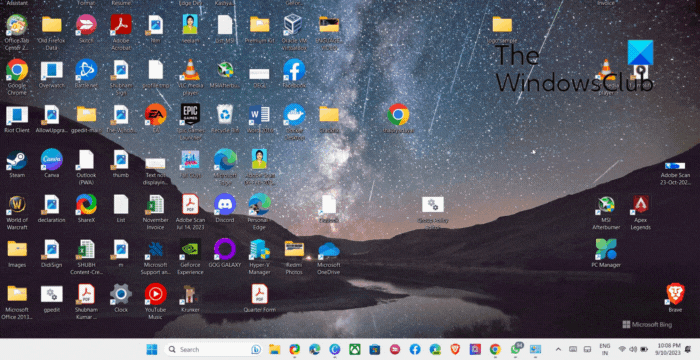 Why does my screen go black when I plug or unplug the charger?
If the power management settings are misconfigured, your screen can go black when plugging or unplugging the charger. However, several other reasons may cause this error. Some of them are:
Graphics driver issues
Hardware errors
Unexpected change in power source
Fix Screen goes black when charger plugged or unplugged in Windows 11
Follow these suggestions to fix the screen goes black when charger is plugged or unplugged in Windows devices:
Run Hardware and Devices Troubleshooter
Update Graphics Drivers
Configure Power Management Settings
Increase Display's Refresh Rate
Check Charger or Power Cable for Physical Changes
Boot device in Clean Boot Mode and check
Before we begin I wish to point out that sometimes third-party OEM power management software are known to cause power issues, and if you have one installed, you might want to consider uninstalling it at some point in time and see if that makes the issue go away.
1] Run Hardware and Devices Troubleshooter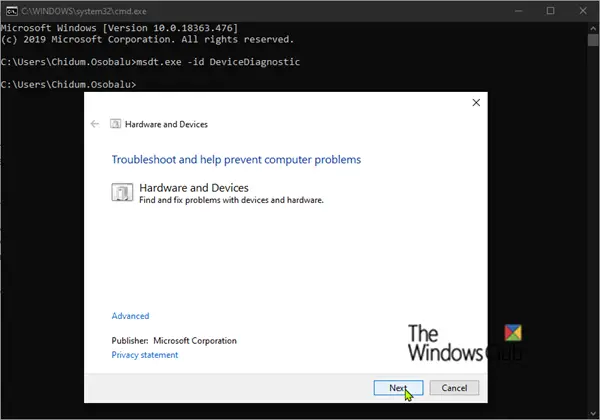 Running the Hardware and Devices Troubleshooter can diagnose and solve the problem quickly. It is an inbuilt function by Microsoft that automatically scans and fixes minor hardware-related bugs and errors. Here's how:
Click on the Start button, search for Command Prompt, and click Open.
Type the following command and hit Enter.

msdt.exe -id DeviceDiagnostic

The Hardware and Devices Troubleshooter will now open. Click on Next.
Once done, it automatically scans for errors and asks you to apply the fix.
2] Update Graphics Drivers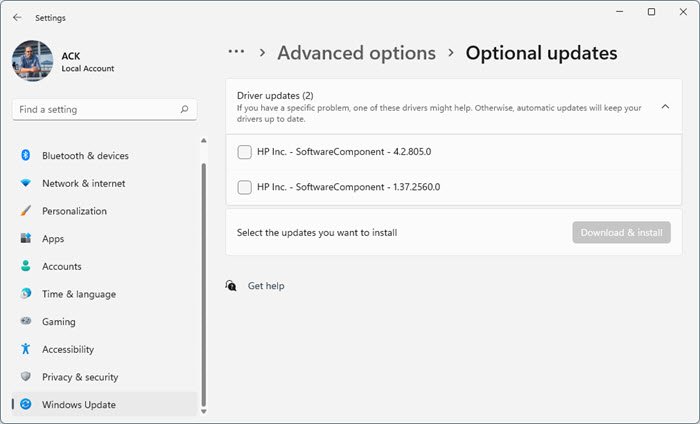 Next, check if the graphics drivers of your device are updated to the latest version available. The drivers can sometimes get corrupted, causing the screen to go black when the charger gets plugged or unplugged. Update the graphics drivers and see if it helps. Here's how:
Open Settings and navigate to Update & Security > Windows Update.
Right under it, look for a clickable link—View optional updates.
Under Driver Updates, a list of updates will be available, which you can choose to install if you are facing an issue manually.
You can manually download and install drivers on your computer manufacturer's website or use free Driver Update software tools like NV Updater, AMD Driver Autodetect, and Intel Driver Update Utility.
3] Configure Power Management Settings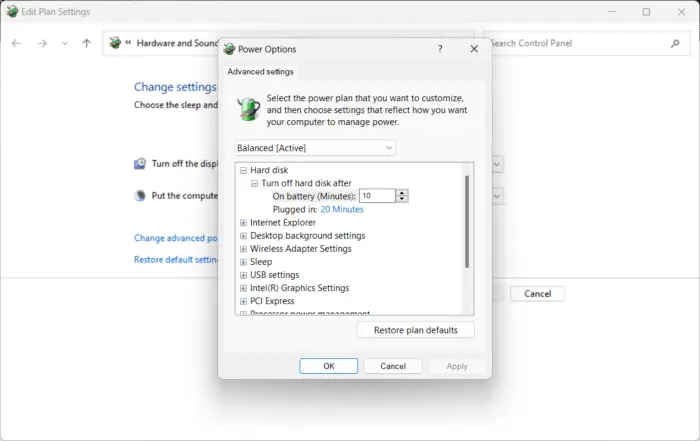 Power Management Settings control how Windows devices behave when the power source changes. If these settings are misconfigured, they can cause the screen to go black occasionally. Here's how:
Open the Control Panel and navigate to Hardware and Sound > Power Options > Edit Plan Settings
Here, click on Change advanced power settings.
Under Battery, Plugged in, and On battery, check settings for display brightness and sleep and ensure they are configured to your preference.
Click on Apply and then on OK to save the changes.
It might, instead, be a good idea to consider restoring Power defaults for the plan.
4] Increase Display's Refresh Rate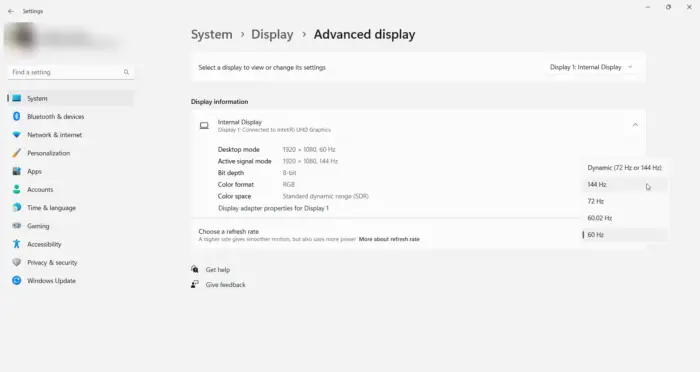 The higher the Refresh rate, the smoother the screen will appear to the human eye. If your device has an option to increase the refresh rate, increase it and see if the error's fixed. Here's how:
Open Settings and navigate to System > Display > Advanced display.
Click on Choose a refresh rate setting and select the one of your choice from the drop-down menu.
5] Check Charger or Power Cable for Physical Changes
Next, check your charger or power cable for any physical damage. If available, try connecting a different one and see if the error still occurs. If it does not, replace it with a new one.
6] Boot device in Clean Boot Mode & troubleshoot
Third-party apps and programs installed can cause errors in Windows devices. Try booting your device in Clean Boot State, so only required drivers and programs will run.
If the error doesn't appear in the Clean Boot State, you may need to manually enable one process after another and see who the culprit is. Once you've identified it, disable or uninstall the software.
Read: Computer screen goes black when HDMI plugged in
I hope these suggestions help you.
How do I fix my screen from blacking out Windows 11?
To fix a Windows black screen when logging in, boot your device into safe mode and update the graphics drivers. However, if that doesn't help, uninstall the recently installed Windows update, perform a full system scan and perform a system restore.
Why does my laptop black screen when I plug it in?
Your laptop's screen may turn black after plugging it in due to outdated or malfunctioning applications or drivers. Sometimes, it can also occur due to system glitches. To fix it, configure Power Management Settings and check the charger or power cable for physical damages.