You can now schedule your email to be sent later at any date or time using Outlook.com or Outlook On the Web. Microsoft started rolling out this feature a few months back and is now completely rolled out for all users worldwide.
The feature has already been there in the Outlook desktop app for both Windows and Mac, but is now available for Outlook.com too. It's a great feature for those who love to use the only Outlook on the Web.
Schedule an email in Outlook.com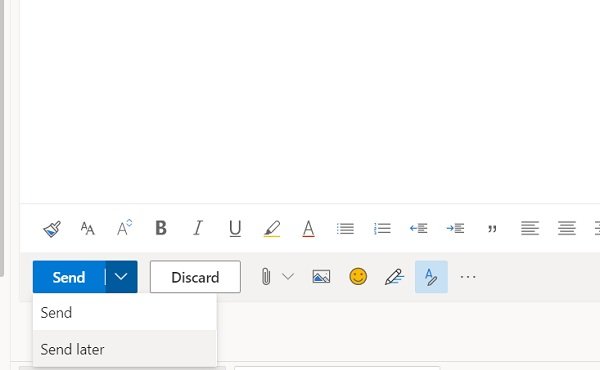 To delay sending an email or to schedule an email in Outlook On the Web, do the following:
Open Outlook.com and sign-in to your account.
Compose an email and go to the Send button.
Click on the small arrow and select Send Later from the dropdown.
Schedule your email for the preferred date and time and click on Send.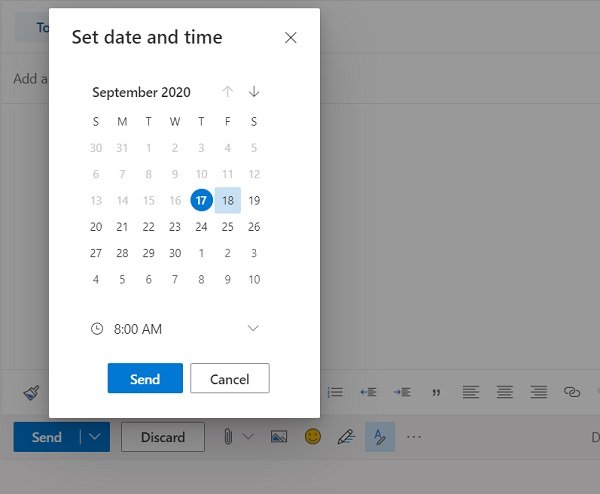 Cancel or Reschedule the Scheduled Outlook Email
Furthermore, if you have scheduled your email for a wrong date or time by mistake, you can always change or cancel it easily.

Go to the Drafts, open your wrongly scheduled email, and click on Cancel Send.
Schedule it again at the preferred date and time and click on Send. If you want to cancel the email, click on Discard button.
Outlook.com is known for its great features and support. It usually sends your emails in a flash but for those who don't know, there is also a feature to recall or delay your emails in Microsoft Outlook. You don't really need to install an add-in or extension for this feature but just need to create a rule which runs automatically in the background and delays sending your email. This feature is very useful in a case where if you often make mistakes and that is why you want to check your email even after sending it.
If you are an Outlook.com fan, you will surely love this feature. Do let us know how did you like the newly added feature.