Sometimes while receiving Outlook emails users just cannot see the linked image, attached along with the email. An error message flashes on the screen with the following line of description – The linked image cannot be displayed. The file may have been moved renamed or deleted.
Download the images and verify that the link points to the correct file and location. But even though you have the option – 'Don't Automatically Download Images' unchecked, the email just refuses to display the pictures. If you face this issue, here's how to fix the problem.
The linked image cannot be displayed in Outlook Mail
1] Disable Encrypted pages Setting
Go to IE Settings > Internet Options > Advanced tab. Here uncheck Do not save encrypted pages to disk and click on Apply.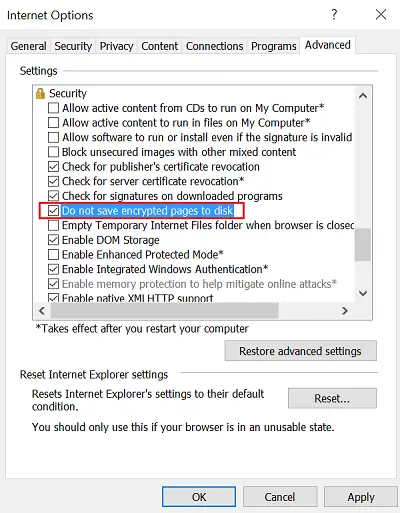 2] Repair Office Outlook app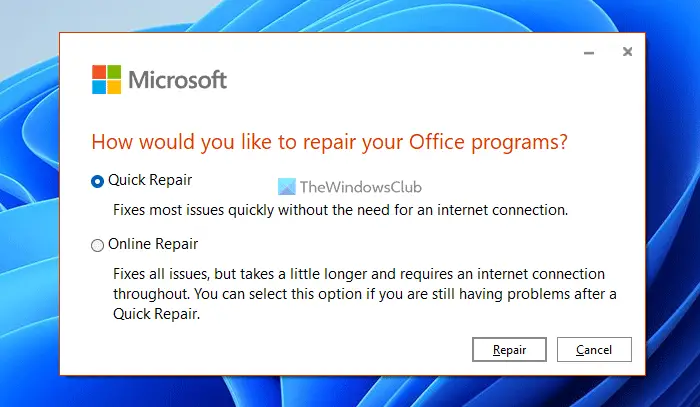 You will have to repair Microsoft Office. For this, press Win+X and select Control Panel. Then, open Programs & Features and select the Microsoft Office entry. Next, right-click on it and select Change. When the 'Change your installation for Microsoft Office' screen appears, select 'Repair' and confirm the action by selecting Repair.
3] Modify the registry entry
Before making changes to the registry, keep a backup of the data to avoid any untoward incident.
Press Windows Key+R to open a Run dialog box, and type regedit and hit the Enter button. Look for the following subkey:
HKEY_CURRENT_USER\Software\Microsoft\Office\x.0\Common
The DWORD BlockHTTPimages will have Value: 1
Right-click the BlockHTTPimages key > select the Delete option.
Exit the Registry Editor.
4] Empty the contents of Temporary Internet Files folder
You may delete your temporary internet files and see if that helps you. Use Disk Cleanup Tool or CCleaner to achieve this efficiently. At times, the Outlook secure temporary folder doesn't have enough free space to download the image, so clearing the Internet cache files may help.
Why are linked images not displaying in Outlook?
There could be various reasons why linked images are not displaying in Outlook. For example, if you have some issues with the internet connection, there is a chance of getting such an error. On the other hand, an incorrect setting also causes the same problem on your computer.
How do I get images to show in Outlook emails?
If Outlook is not showing images in the mails, you need to follow the aforementioned solutions one after one. However, first, check if you have a valid internet connection or not. Following that, disable the encrypted pages setting from the Internet Options panel. At last, you may need to repair the Microsoft Office app on your PC.
Let us know in the comments section below if any of these methods work for you.