In a previous tutorial, we explained to our readers how to enable Spotlight Feature. This is a new lock screen feature that displays some beautiful images from Bing.com and certain running Windows Apps. However, there seems to be no easy way to download and save the Windows Spotlight dynamic images and set them as your wallpaper or permanently as your Lock Screen.
In Windows 11 and Windows 10, the Wallpapers and Lock Screen images are stored in the C:\Windows\Web folder. But where are the Bing Spotlight images downloaded to? This post will answer this question and show you how to save the Spotlight Lock Screen images in Windows 11/10
How to find Windows Spotlight Lock Screen images
Open Windows File Explorer, switch to the 'View' tab, and check the box adjacent to the title 'Hidden Items' to force your Windows 10 OS to display all hidden files and folders.
Next, open up the 'C' drive (the location where usually your OS is installed) and navigate to the following address:
C:\Users\UserName\AppData\Local\Packages\ Microsoft.Windows.ContentDeliveryManager_cw5n1h2txyewy\LocalState\Asset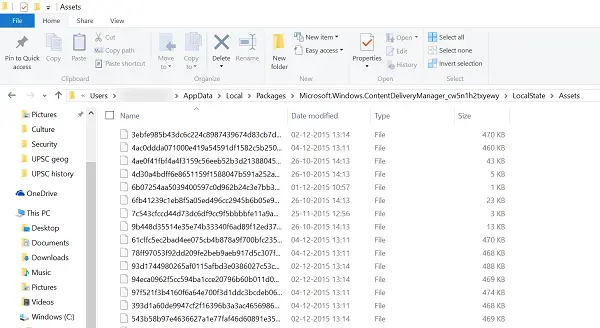 Kindly note that in the above path, in place of UserName type you own PC user name.
In the Assets folder, you will find a list of files.  Sort them by size as we will be needing the large files only. These files represent Windows Spotlight images downloaded from Bing.com. For viewing them, rename each file and use image formats such as .PNG or .JPG as an extension.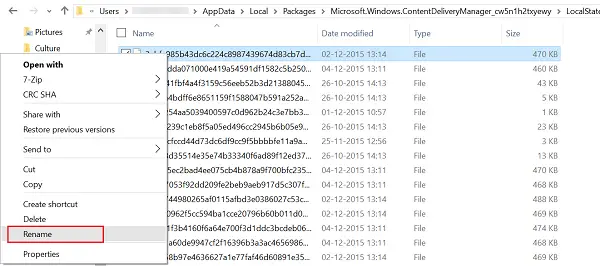 To do this, simply right-click on a file and select the Rename option and save them in JPG format. Proceeding in the same manner, you can rename all the files and when done, open them in the default Photos app.
Here you will be able to set it as a lock screen or your desktop wallpaper.
If you find renaming all the files manually a tedious job, this trick helps you batch rename files and file extensions.
You can use the Dynamic Theme app to set Bing and Spotlight images as background or lock screen in Windows 11/10, automatically.
Related read: Windows Spotlight Tool can help you save Spotlight Lock Screen images & use them as Wallpapers.