If you have a bunch of files in a folder which you want to name sequentially and convert to the same file type or format, how do you go about doing this? If it is just a few files, you can do it manually, but what if there are, say, 10-20 or even 100 files?
In this post, we will see how to batch rename files and change file extension for all files in a folder quickly & easily in Windows 11/10/8/7. This can be especially useful if you have multiple photographs or images of various names or file extensions, like .jpg, .png, etc., and you would like to rename them to India1.jpg, India2.jpg, etc. for the sake of convenience.
Change file extension for all files in a folder
For example, we assume that you have several files in a folder of varying names and different file formats or extensions, and we want to change all these images to the JPG file extension. To begin the process, open the folder, press Shift, and right-click in an empty spot inside the folder.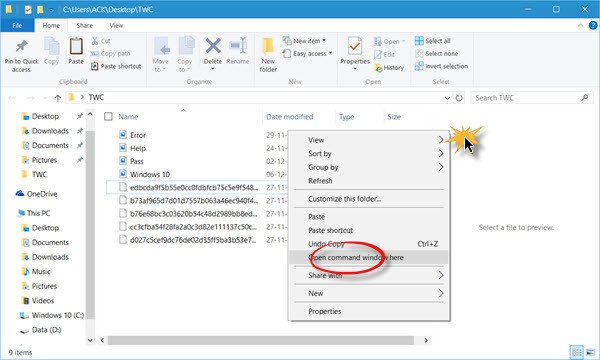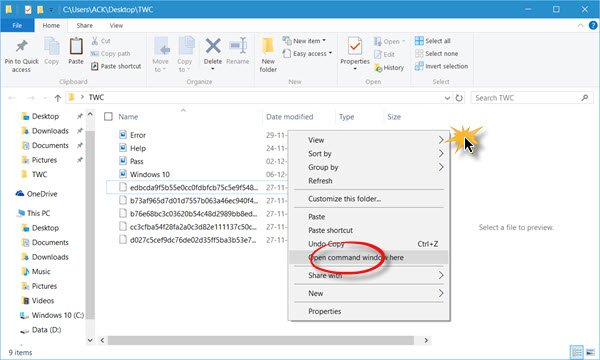 You will see an Open command prompt here context menu item. Click on it to open a command prompt window. Now type the following in it and hit Enter:
ren *.* *.jpg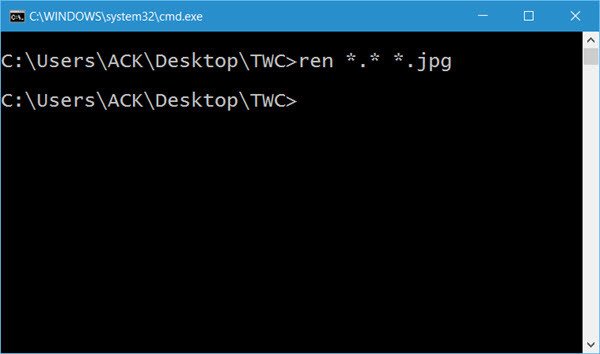 Here we are using a wildcard as we want any file extension to be changed to jpg. When you do this, you will see that all the files in the folder will get an extension of .jpg.
Related: How to rename all File Extensions in a Folder at once in Windows
Batch rename files
Now the next thing you want to do is to rename the files sequentially. To do this, press Ctrl+A to select all the files in that folder.
Now rename the first file. Here I have renamed it to BatchRename. Having done this, press Enter or click anywhere inside the folder.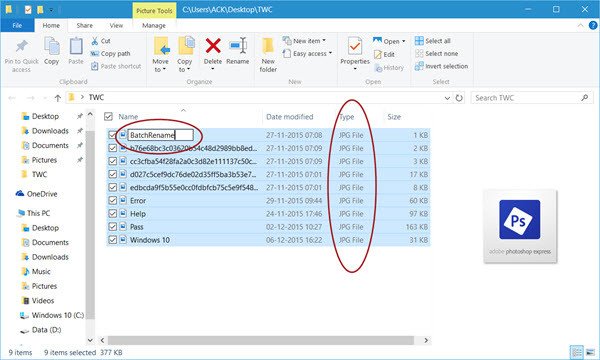 All the files will be renamed in a numerical sequence as BatchRename1, BatchRename2, etc.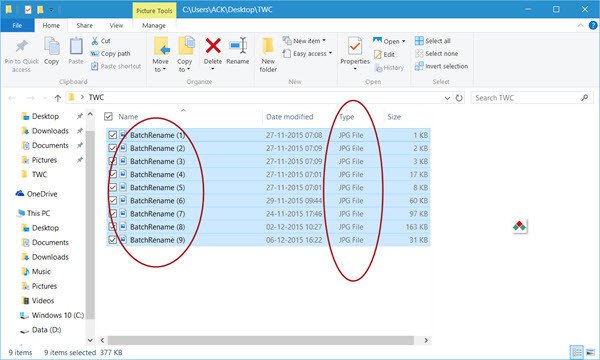 So, by following this tutorial, you will batch rename all the files sequentially numerically and also change the file extension for all files in the folder quickly & easily.
Similar to this tool is ContextReplace, which will help you rename multiple files or folders via the context menu.
TIP: In Windows, it's even easier to rename multiple files or folders. If you want to rename multiple files, tap the TAB button after renaming the first file, and you'll be moved on to the next in-line file or folder. You can thus immediately rename the following file.

Moreover, Windows also has one more nice feature. Even if the 'show file extension' feature is enabled, it does not highlight the file type extension while renaming. So you are safer, as you will not change or delete the extension by mistake while renaming.
These free File Renamer software may interest you.
What is the fastest way to rename files in bulk?
Windows PowerToys offers powerful renaming capabilities, making it the fastest and most efficient way to rename multiple files at once. With the PowerToys renaming feature, users can find and remove characters inside the name of a file while also changing the file name case and the extension if desired. In addition, users have the ability to rename using sequential numbers, allowing for a greater level of customization and improved organization of files and folders.
How do I rename multiple files sequentially in Windows?
Select the files you wish to rename multiple files in File Explorer. Then press F2 on your keyboard to select the last file in the list. You can then type in the desired name for all selected files and press Enter. All files will receive the same name, with successive numbers in parentheses to differentiate them. For example, if you selected three files and wanted to name them all "document", the files will be renamed to "document (1)", "document (2)", and "document (3)" respectively.