ChatGPT and AI chatbots have taken over the world by storm. Due to this, the world needed GTPT4All. The new version of the service allows you to communicate with your document. One of the best things about this version is that it can be accessed locally. So, in this post, we will learn how to run ChatGPT Clone locally on a computer using GPT4All.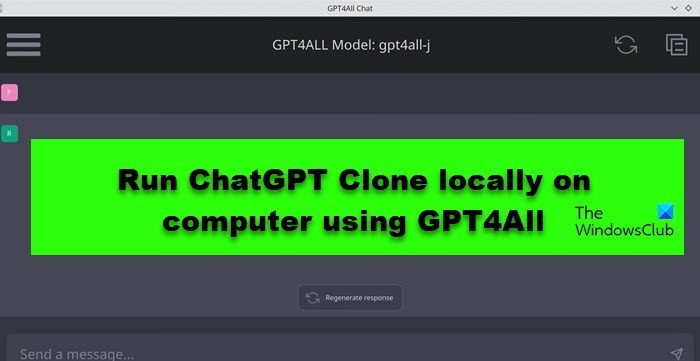 What is GPT4All?
GPT4All gives you an environment to train large language models and make changes to them. You can run it locally on your computer if your CPU supports AVX or AVX2 instructions. It is an offline tool, so, if you are in an area with no Internet, you can still make use of it. This has various perks primary one being data privacy. Since everything is offline, the developers won't have access to your data. This is very important as GPT4All is mostly used to communicate with a piece of document. And since by nature a lot of documents are confidential, you won't want some random developer to have their access Now that we know what GPT4All is, let us see how to run GTP4All locally on your system.
Read: How to opt out of your Data Collection on ChatGPT?
How to run ChatGPT Clone locally on a computer using GPT4All?
In order to run the ChatGPT clone locally on a computer using GPT4All, follow the prescribed steps.
Download GPT4All on your computer
Install GPT4All on your system
Communicate with your document using CPT4All
Let us talk about them in detail.
1] Download GPT4All on your computer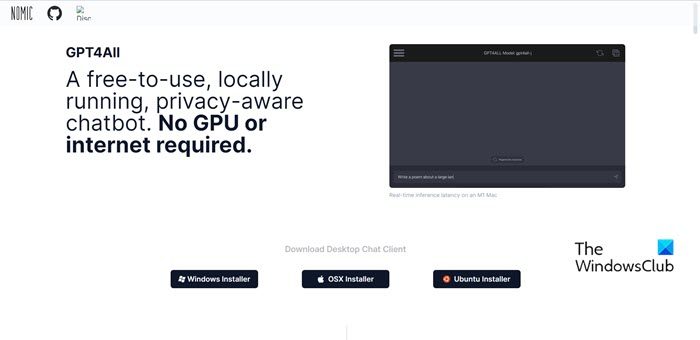 The very first thing you need to do is download GTP4All on your computer. It is an easy process, so, open any browser on your system and go to gpt4all.io. Now, click on Windows Installer, this will download the installation media required to install the tool. You can also find installers for macOS and Ubuntu on the same page, so, if you have a computer with an alternate operating system, you can download them as well.
Read: Best free ChatGPT extensions for Google Chrome.
2] Install GPT4All on your system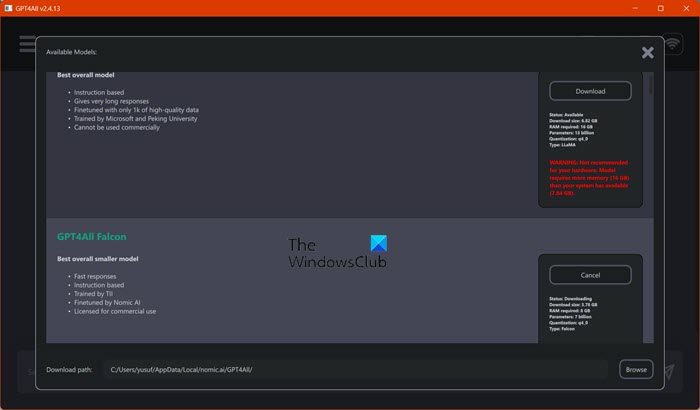 Now, once we have the installation media, the installation process will be simple. For that, open the File Explorer, go to the Download folder, navigate to the installation media, and double-click on it. Once the installation media is launched, follow the on-screen instructions to complete the installation process.
Now, launch the GPT4All application on your system. Once the GPT4All interface appears, you will see various models. You need to check their requirements and install the one that's compatible with your system.
3] Communicate with your document using CPT4All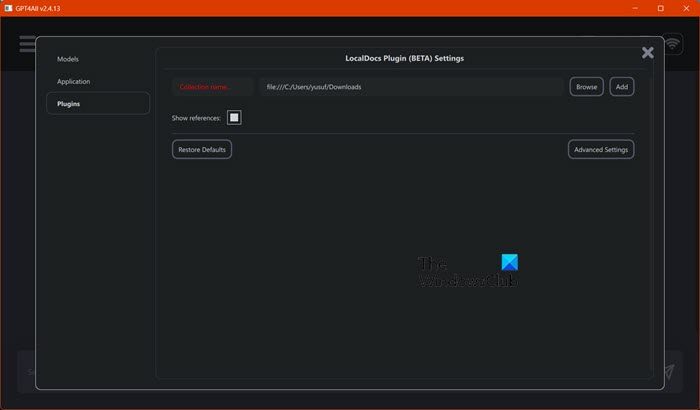 As mentioned earlier, one of the MSPs of this model is that it allows you to communicate with your document. So, in this section, we will learn how you can communicate with your document. However, before that, there are some things you need to do. First of all, move the document to a folder and make sure that it is in one of the universally compatible formats such as TXT, MD, Doc, etc. Once you have covered these bases, follow the steps given below to communicate with your doc.
Open the GTP4All app and click on the cog icon to open Settings.
Go to Plugin.
You will be brought to LocalDocs Plugin (Beta).
Click on Browse, go to the folder, select it, and add it.
 You can go to Advanced Settings to make the needful fortifications.
To manage external documents, click on the Database icon.
Finally, use the chatbot to communicate with them.
Hopefully, with the help of this guide, you are able to manage your documents locally using GPT4All.
TIPS: Things you can do with ChatGPT
Can I run ChatGPT on my computer?
To run ChatGPT on a computer, you need to download the ChatGPT desktop app. You can download the application from GitHub and keep it on your system. However, since you are not downloading the database, you would need to connect to the Internet to access the services. So, if you are interested check our guide to know how to download, install and use ChatGPT Desktop App.
Read: ChatGPT vs Bing vs Bard; What's the best AI chatbot?
Can I run ChatGPT offline?
You can not run the infamous ChatGPT on your computer offline. However, you can download GPT4All on your computer and access it offline. It lets you talk to an AI and receive responses even when your system is not connected to WiFi or has an Ethernet connection. If you want to know how to do the same, scroll up and read this guide.