Many a time when Windows Update fails, it tries to restore it to the previous version of Windows to give you back a working Windows 11/10 PC. While most of the time it works, sadly if it is either stuck on this screen or is in an endless reboot loop with the message as – 'Restoring your previous version of Windows', it's almost a nightmare for any Windows user. The worst part is restarting windows while it's restoring can cause a permanent breakdown of the PC. What I will always suggest is to wait for long (maybe 3-4 hours) to see if this sorts itself. Sometimes, the process gets stuck, but it works in the end. But if you have already waited long enough, let's take a look at your options.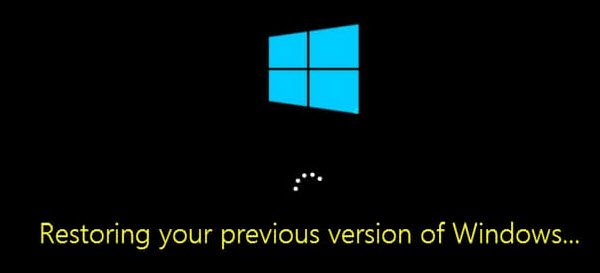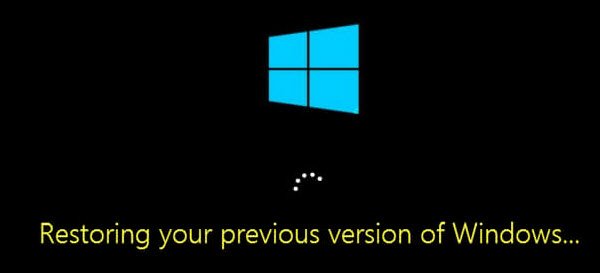 Restoring your previous version of Windows
We always suggest you have a Bootable USB drive handy for situations like this or at least add Safe Boot in your boot menu as an option. You will need a Bootable USB drive for troubleshooting this problem as there is no way to get into Repair mode from Login.
Windows 11/10 rollback stuck in a loop
Now since your PC is stuck in a loop, you will have to power down the PC and then start your PC. Hit F11 as soon as the computer powers on. This should get you to the Advanced Startup Options menu. Once there you can carry these steps out. If that does not work for you, you may boot Windows in Safe Mode and then follow our suggestions.
Boot into Recovery environment
While you need to follow the standard Windows Installation, you will get an option to repair the PC right on the install button screen. When in repair mode, you will have several options here including Reset, Advanced Options and so on. Reset option is our last option.
Fix MBR or Master Boot Record
During Windows 11/10 upgrade, the system edits the boot record so it knows from where to resume back in case of a restart. If it doesn't add an entry to upgrade, it will boot into the previous version of Windows. We can get rid of that, and send our PC straight back to the old installation.
Under the Advanced Startup option, we have the option to use the command prompt. You can then use the Bootrec.exe tool, and run the following commands one after the other to repair MBR and rebuild BCD.
bootrec

 /RebuildBcd
bootrec

 /

fixMbr
bootrec

 /

fixboot
Perform a System Restore or Startup Repair
Go into Advanced Startup Options. Here you can choose between two System Restore or Startup Repair. System restore will take back to the previous working state of Windows while Startup repair can resolve the issues like these which keep Windows from loading.
Reset Windows 11/10 PC
If nothing else works, choose to Reset this PC, and click on the get started button. This process will reinstall Windows completely but will offer you the option to keep your files. You will have reinstall apps and software after this. It's going to take some time reinstalling everything, but this is going to be much faster than a fresh install.
In case the Reset doesn't help i.e. things seem to be broken, you will have to reinstall Windows completely using the same USB drive.
PS: It is also possible to force the Windows 11/10 system to think something is wrong with the PC and initiate the Recovery. Just turn off your PC randomly like 3-4 times, and it will show up. We do not recommend it because we don't know how your hardware and the software will react to it. So be careful.
Related read: Windows 11/10 is stuck on loading some screen.