This post explains how to restore or backup Firefox bookmarks or Profile on a Windows 11/10 PC. Firefox allows you to export or back up your personal information such as your bookmarks, history, saved password, etc., using its export/import feature. This information is discrete to a user profile, which could either be the default profile that Firefox automatically creates for you when you use it for the first time or any other profile that you create for yourself or for someone else you share the PC with, using the Firefox Profile Manager.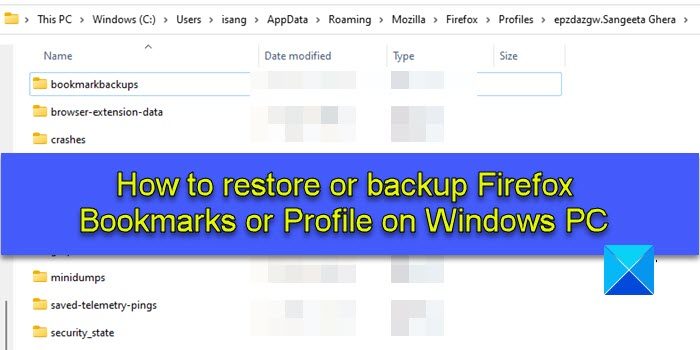 When you log in to Firefox with a user profile, you get the option to back up and restore personal information that belongs to that particular profile. So you can back up your Firefox bookmarks or restore Firefox bookmarks if you've deleted them by mistake, export or import Firefox browser history, or export logins and import passwords from a CSV file.
However, instead of backing up individual information, you can back up an entire profile in Firefox. Firefox safely keeps all these files in a folder called 'Profiles' on your PC. Whenever you need to restore these files to recover missing bookmarks and other data in your current or new profile, you can access the Profiles folder on your Windows 11/10 PC. In this post, we will show you how to manually back up or restore Firefox bookmarks or Profile using Windows 'copy-paste' feature.
How to restore or backup Firefox Bookmarks or Profile on Windows PC
To restore or backup Firefox bookmarks or Profile on a Windows 11/10 PC, follow these steps:
Access your Profiles folder.
Back up your bookmarks or Profile.
Restore your bookmarks or Profile.
Let us see this in detail.
1] Access your Profiles folder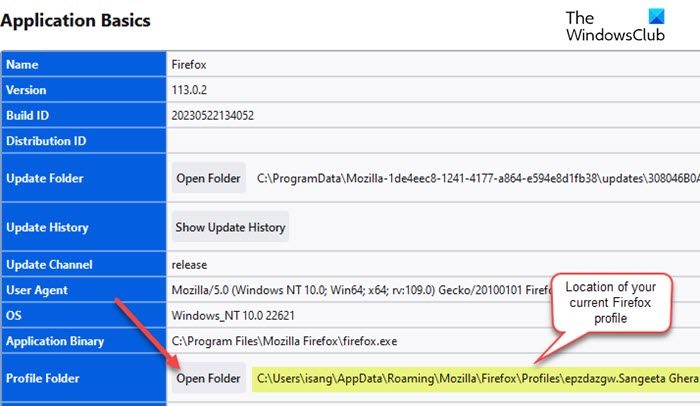 The backup of your profiles (user accounts) is stored in the AppData folder, which is a hidden folder by default. To view the AppData folder and its content, you may need to show hidden files and folders in Windows 11/10.
Once you've enabled the hidden files, you may follow these steps to access your Profiles folder:
Launch Firefox. Click on the hamburger icon (three horizontal bars) in the top-right corner. Select Help > More troubleshooting information.
Alternatively, you may type about:support in the address bar of your Firefox browser.
On the Troubleshooting Information page, navigate to the Profile Folder option under Application Basics. Then click on the Open Folder button next to the option.
This will open your current profile folder in the File Explorer window, where you may see subfolders carrying your bookmark files, extension data, and other user account information.
Go one step above in the folder hierarchy to access the Profiles folder. This folder stores data for all your Firefox browser profiles.
2] Back up your bookmarks or Profile
Note: Before taking a backup of any Firefox profile, make sure the Firefox browser is closed.
Go to the Profiles folder. Select the profile folder whose backup you want to take. Click on the Copy icon in the toolbar on top. This will copy the entire content of the folder (bookmarks, extensions, settings, etc.) to the clipboard.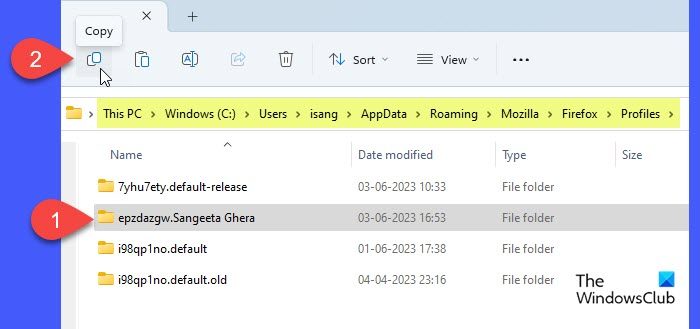 If you only want to back up your profile bookmarks, double-click on the profile folder to view its content. Double-click on the bookmarkbackups folder. You will see many JSON (.json) files. Click on the Date modified column to sort the files in descending order (recent first) and then copy the latest backup file. To restore corrupt files, you may copy the entire bookmarkbackups folder.

Go to the location where you want to create the backup (a different location on your PC or a USB flash drive or an external hard drive if you want to move your Firefox profile to another computer). Right-click the mouse and select Paste.
3] Restore your bookmarks or Profile

To restore your bookmarks or Profile backup, follow these steps:
Close Firefox (click on the hamburger icon and select Exit).
Open File Explorer and navigate to the folder where you've kept the backup of your Firefox bookmarks or Profile (a folder on your hard drive or the external USB).
Copy the entire content of the backup folder.
Navigate to the specific Firefox profile folder where you want to restore the backup.
Paste the copied content by right-clicking the mouse button. Allow overwriting of existing files. You may also delete old files in the folder if they are corrupt.
Launch Firefox to see the changes.
I hope these steps will help you back up or restore Firefox bookmarks or Profile on your Windows 11/10 PC.
Also Read: How to install and manage Themes in Firefox.
How do I restore Firefox bookmarks after resetting Windows?
If you've performed a factory reset of the Windows 11/10 OS, the Firefox backup on your system's hard drive would probably be lost. You can restore the bookmarks data only if you've taken a manual backup of the files on an external hard drive or USB drive prior to the factory reset. Or you may have to use a third-party file recovery software to restore the data if it is really important.
How do I Backup my Firefox bookmarks?
You can take a backup of your Firefox bookmarks either manually or using its export/import feature. The first method involves manually copying the bookmarks data from the Profiles folder and pasting it to a backup location on your PC, while the second method allows you to directly export bookmarks to an HTML file from the Firefox browser window.
Read Next: Create a desktop shortcut to a specific Firefox profile in Windows.