PC users, for example, can easily import favorites, and bookmarks into Edge from other browsers — but as there isn't any direct way to export browsing history from one browser to another, ergo switching from one web browser to another tends to be a hassle — especially when it comes to transferring browsing history. In this post, we will show you how to export or import Browsing History from Chrome, Edge, Firefox, and Brave.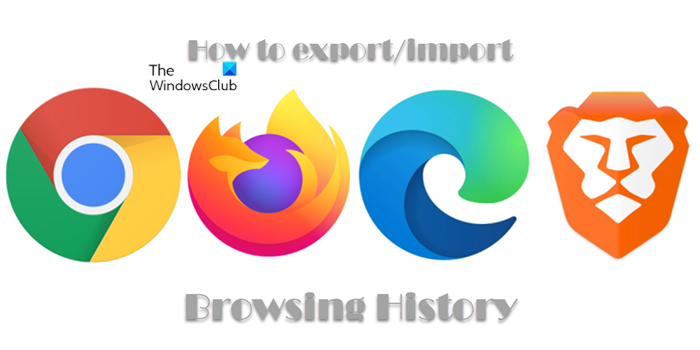 Export or Import History in Chrome, Edge, Firefox, Brave
Most users don't clear their browser history as they will always want to find or revisit webpages long forgotten in the chaos of the World Wide Web. For multiple PC users, even with the many cloud-based enhancements of today's world, browsing history is usually lost if connecting with a single account.
For one reason or another, you may need to export your browsing history. Take for example, if you use a computer in a library or another public location, once you end your session, all browsing data (including the history) will automatically be deleted. which can be extremely frustrating, especially when you have spent hours researching online and you have gone through some web pages whose names you will never be able to remember the not so 'friendly' URL unless in some cases where it's a vanity URL.
Another reason that comes to mind is to create a single document listing browsing information from multiple web browsers. So, if you want to export the browsing history from Chrome, Edge, Firefox, or Brave, you can do so using the following methods.
Get the browser history files
Use a desktop app
Use a browser extension
Manually export the browser history
Let's see these methods in detail. The Chrome, Edge, Firefox, and Brave history can be found at the following location in Windows 11/10:
Chrome
C:\Users\<username>\AppData\Local\Google\Chrome\User Data\Default
C:\Users\<username>\AppData\Local\Google\Chrome\User Data\Default\Cache
Edge
C:\Users\<username>\AppData\Local\Microsoft\Edge\User Data\Default
C:\Users\<username>\AppData\Local\Microsoft\Edge\User Data\Default\Cache
Firefox
C:\Users\<username>\AppData\Roaming\Mozilla\Firefox\Profiles\<profile folder>
C:\Users\<username>\AppData\Local\Mozilla\Firefox\Profiles\<profile folder>\cache2
Brave
C:\Users\<username>\AppData/Local/BraveSoftware/Brave-Browser/User Data/Default/
Read: Location of Cookies folder for Chrome, Edge, Firefox, Opera
1] Get the browser history files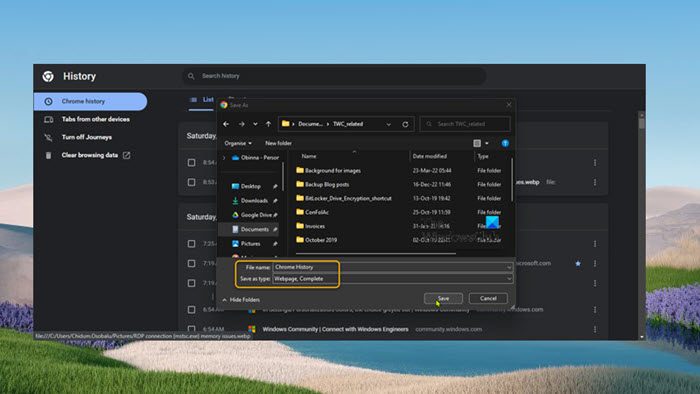 This method applies to Chrome as the browser's History page is formatted in HTML like any other page so you can actually save it as a file on your computer and then open it in any other web browser. The page will be a bit broken as it no longer contains the exact structure found in Chrome, but it is still very readable.
To save the history page in Chrome, follow these steps:
Launch Chrome.
Go to the History page by pressing Ctrl + H. Alternatively, open the menu and select History > History options.
Right-click on the page and select the Save As option.
Select the Webpage, Complete option in the Save as type field.
Click on Save after choosing a location to store the history file.
You can now copy the file to a USB flash drive if you want to access the file on other PCs. To read the HTML file, double-click on it and it will open with your default browser.
Read: How to backup Opera Bookmarks, Data, Passwords, History, and Extensions
2] Use a desktop app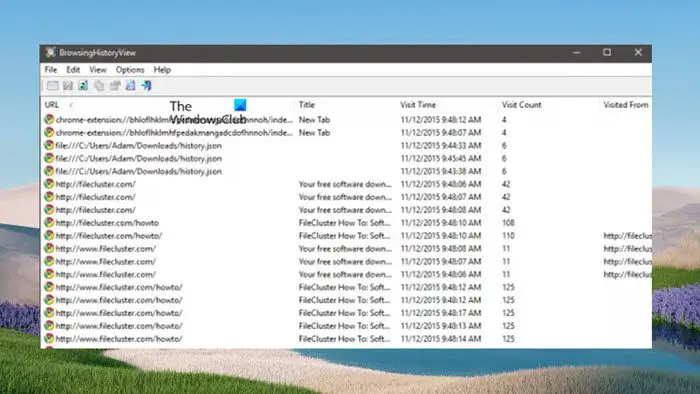 The BrowsingHistoryView is a very small utility that supports most modern browsers including Chrome, Opera, Firefox, Internet Explorer, Edge, and Safari. It allows you to read the browsing history of all supported browsers in a neat interface which you can then sort according to your needs and export to various supported file formats including plain text, CSV, XML, and HTML file types. If you select csv you can export the selection later on into Microsoft Excel or another spreadsheet application to process it there further.
A drawback of the application is that it does not support portable browsers in the sense that you can load a local history file directly, but if you use multiple web browsers you may need to repeat the process as the data is limited to that single file. To download and use this app, head over to nirsoft.net.
Read: How to import passwords from Chrome to Firefox
3] Use a browser extension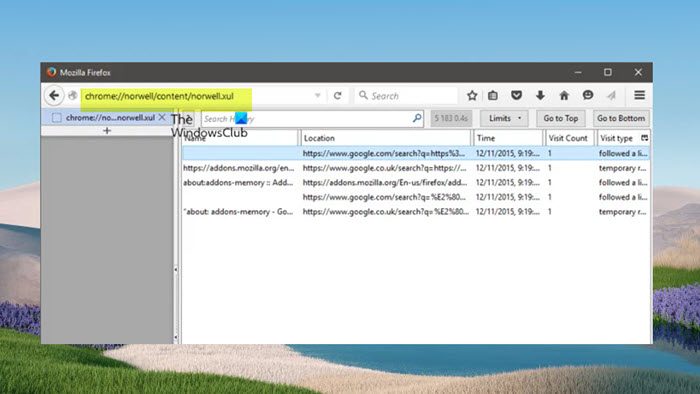 Both Firefox and Chrome have a range of extensions that can help you export your browser history. The seeming limitation to these tools is that they need to be installed in the browser itself, which may not be possible in some public computer environments. Besides that, the fact that they are integrated into the browser means you can access them easily and quickly at times you need them the most. The browser extensions in highlight are the Norwell History Tools for Firefox and Export History for Chrome.
Using the Norwell History Tools, after you add the extension to your browser and click on the prompt to restart Firefox, type or copy/paste the following into Firefox's address bar and hit Enter:
chrome://norwell/content/norwell.xul
In Norwell's advanced history page that opens, can view visited locations along with the time accessed, visit count, and more. The extension also allows you to import history files from Firefox and Chrome. For this, follow these steps:
Click on the question mark (?) icon at the top left corner.
Now, click on the Launch button.
Find and select the history files and the extension will do the rest.
The history files are well-hidden from the average user so to access them, you can open File Explorer and navigate to the paths mentioned above for the browsers. The places.sqlite file contains Firefox history. On Chrome, Export History is the only extension made specifically for this purpose. With the free version, users are only allowed to export history as a .json file which can be read as a regular webpage after installing the JSONView extension – you may need to go into the Extensions menu and enable the Allow access to file URLs option. For the paid version, you can export it as .csv.
Read: Update extensions, add-ons, and plug-ins in Chrome, Edge, and Firefox
4] Manually export the browser history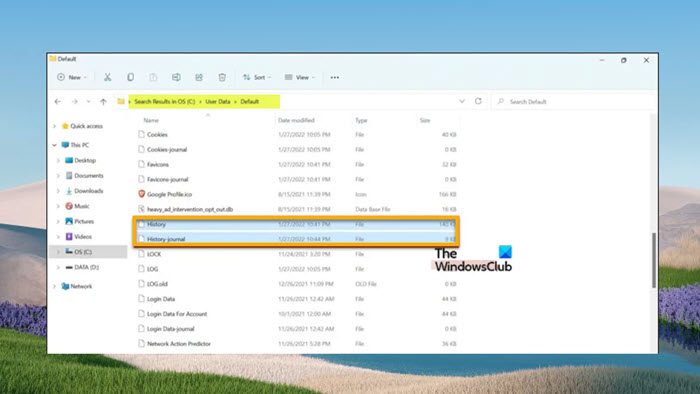 To manually export and import browsing history from Brave to Chrome, Edge, or any other Chromium-based browsers, you need to copy the data file.
Do the following:
Navigate to the browser User Data folder path mentioned above.
Open the Default folder.
Scroll down and copy the two files called History and History-Journal.
Next, navigate to the User Data folder of the browser if you want to copy the history to.
Click on the profile for which you want to import the browsing history.
Now, paste the copied History and History-Journal files into the profile folder.
Choose Replace when prompted.
Finally, open the browser, open the history page and you should be able to see the imported history.
The above steps apply to exporting Brave browser history to Chrome browser. Exporting Brave browser history to Firefox is a bit tricky since Firefox is not based on Chromium. But as you already have imported the browsing history to Chrome, you can quickly transfer it to Firefox by following the steps in the post on how to import Bookmarks into Firefox, from Edge and Chrome.
That's it on how to export/import Browsing History from Chrome, Edge, Firefox, and Brave!
Now read: Import History from default browser to Chrome on First Run
Can I import my Chrome data to Brave?
You can import Google Chrome data into your Brave browser profile including passwords, history entries, bookmarks, and extensions from your other browsers. To import the history, you can use any of the methods we presented above in this post. So, with that possibility, now you can switch from Google Chrome, Opera, Vivaldi, or Microsoft Edge to Brave without worrying about if you can bring your data along from the other browsers.
Read:
How do I export browser data from Edge?
To export browser data (history not included. See the methods mentioned above in this post for how to export the history) from Edge, do the following:
Open the Edge browser.
Click the menu.
Click Settings to open the Settings pane.
Under the Import favorites and other info section, select Import from another browser.
Under the Import or export a file section, click the Export to file button to open the Save as dialog.
I hope this helps.
Read: How to restore or backup Firefox Bookmarks or Profile on Windows PC.