This post covers how to install and manage Themes in Firefox. A theme or color scheme plays a major role in customizing the Firefox browser or some other browser. By default, the Firefox browser provides a light color scheme, a dark color scheme, and a System theme (the default color scheme) that follows Windows OS setting for Firefox menus, windows, and buttons. If you are bored with that, you can change Firefox's appearance as per your interest using different color schemes. Thousands of themes are available to choose from. You will also be able to enable or disable any color scheme, access saved themes, remove an installed theme from the Firefox browser, etc.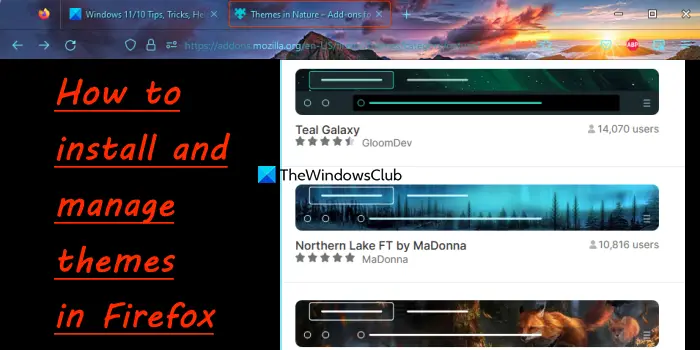 Here, do note that you can't remove the System theme, light theme, and dark theme that comes pre-installed with Firefox. Only the additional themes that you installed can be removed from the saved list as well as your Firefox browser.
How to install themes in Firefox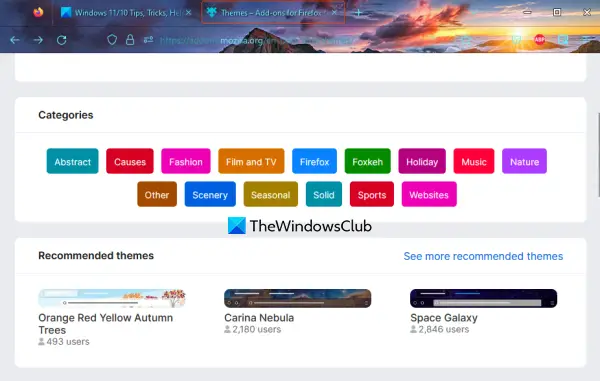 To install a theme in Firefox, follow these steps:
Access the Firefox Themes Store from addons.mozilla.org. There you will see Recommend themes, Trending themes, and Top-rated themes section. For each section, a See more option is there to check the whole list of available themes.
If you want, you can also filter themes by Categories. You can select Film and TV, Music, Holiday, Nature, Fashion, Solid, Scenery, and any other available category.
Now the color schemes will be visible based on the category selected by you.
Click on a theme to access its homepage and then use the Install Theme button.
As soon as you install a theme, it is applied to your Firefox browser. In this way, you can add more themes.
Manage themes in Firefox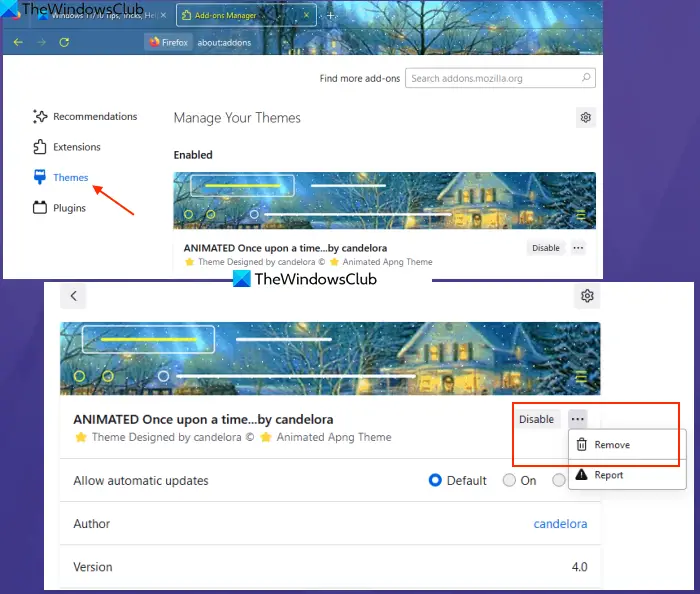 All the themes installed by you are stored in a separate Themes section in Firefox browser from where you can switch to some another theme, enable or disable a theme installed by you, and more. The steps to manage themes in Firefox are as follows:
Open the Firefox browser
Access the Application menu of Firefox by clicking on the hamburger icon (three horizontal bars) available in the top-right corner
Click on Add-ons and themes option in the Application menu. Alternatively, you can also use Ctrl+Shift+A hotkey for the same. This will open the Add-ons Manager page of Firefox
Select the Themes category from the left section
You will see a Manage Your Themes section. Here, you will see:

A Saved Themes section contains the theme(s) installed by you. For each theme, you will see an Enable button that you can use to apply that particular theme instantly
An Enabled section that shows the current color scheme applied to your Firefox browser. You can click on that theme to find more information such as author name, last updated, and version number. You can also use the available options which include setting automatic theme updates to On, Off, or Default, Disable the theme, and a three dots icon to Remove that particular theme. As soon as you remove a theme, the System theme is applied automatically and the removed theme is also deleted from the Saved Themes section
Recommended Themes section. It provides three different themes and an Install Theme button for each individual recommended theme.
Related: Firefox Theme keeps changing [Fixed]
Create a Custom Firefox Theme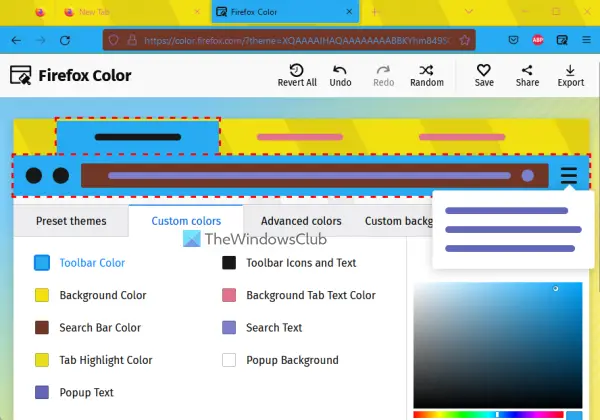 If you don't want to install themes from the Firefox Themes Store, then you can also create a custom Firefox theme of your choice. For this, you need to install a free Firefox Color add-on. Earlier, this add-on was part of experimental features, but now it is available to use directly from the Firefox Add-ons Store.
After installing the add-on, the Firefox Color page will open in a new tab. Here you will see different tabs for Preset themes, Custom colors, Advanced, colors, etc. Use the Custom colors tab and then you can set Tab Highlight Color, Search Text, Background Color, Toolbar Icons and Text, Toolbar Color, Popup Text, etc. As soon as you select an option, a color palette is opened on the right-hand section to help you choose a color of your choice. The selected color is applied in real-time on your browser.
When the theme is ready, you can save it, generate a sharing URL, and also export it in a ZIP file or as an XPI file. Once you are done, you can close the browser and the custom color scheme will remain saved.
A custom theme automatically replaces the installed theme (even if that theme is enabled), but you can always change it as well as remove the Firefox Color add-on anytime.
How do I download Firefox Themes?
If you want to download Firefox themes or add a custom Firefox theme, then you need to use a native Firefox add-on called Firefox Color. This add-on lets you create as many custom themes as your want. From pop-up text to Firefox toolbar, search text to the background color, etc., you can set a color of your choice and the changes are applied to Firefox in real-time. Finally, you can export a compressed version of your theme to submit it to the Firefox Add-ons Marketplace. You can also install various themes from the Firefox Themes Store if you like.
Is it safe to install Themes on Firefox?
Yes, it is safe to install themes on Firefox. No matter whether you use the stable or Beta version, you can certainly install and use themes on the Firefox browser. In case you don't know the process, you can follow this article to safely install themes on Firefox browser.
Read next: 10 Best Firefox themes to transform the default UI.