If you find that Quick Access is broken or not working in Windows 11/10, then this post may be able to help you fix the problem. Quick Access is a new feature in the Windows File Explorer navigation pane. This feature is useful, as it helps users quickly navigate to locations that are frequently used by you, as well as those, which were recently used by you. If you have no use for it, you can however always disable Quick Access in the Navigation Pane of File Explorer. You can also reset Quick Access using Registry & Explorer to resolve all its issues.
Quick Access in Windows is not working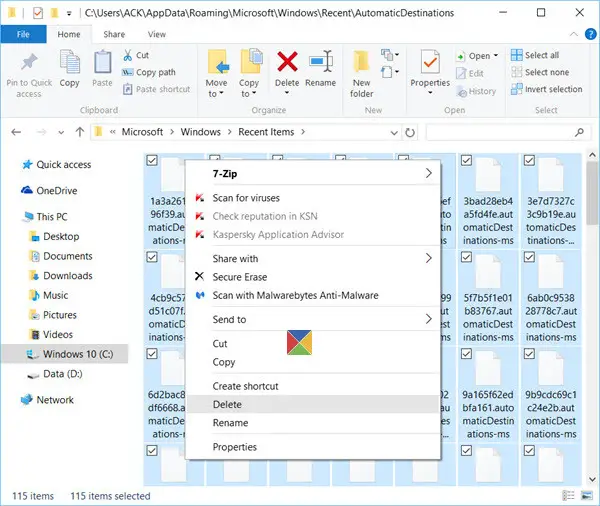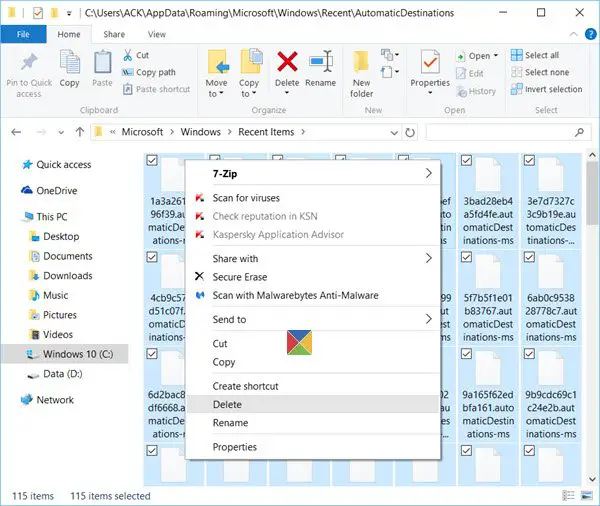 If Quick Access in Windows 11/10 is not working or slow to open, then you can reset Quick Access as follows:
Clear the Recent App Data in two folders
Reset Windows 11/0 Quick Access using Registry
Clear Quick Access folders using Command Prompt
Let us see how to do both of these. Before you begin, create a system restore point first.
1] Clear Recent App Data in two folders
First, disable Quick Access and then re-enable it and see if it helps.
If not, then open File Explorer and paste the following folder paths in the address bar and hit Enter to open Windows 10 Quick Access file locations:
%AppData%\Microsoft\Windows\Recent\AutomaticDestinations
%AppData%\Microsoft\Windows\Recent\CustomDestinations
Once the folder is opened, press Ctrl+A to select all its contents. Now, right-click and select Delete, to delete all the files in the folder.
Do the same for both the above-mentioned folders.
Restart your Windows computer and see if it has helped fix the problem.
This will also help you fix a broken Recent Items in Jump List problem.
If this does not help, you may need to do the following.
2] Reset Windows Quick Access using Registry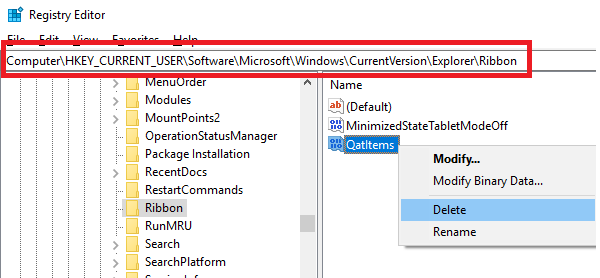 If add to Quick Access not working you may need to reset it using the Windows Registry:
Run regedit to open the Registry Editor.
Navigate to the following key:
HKEY_CURRENT_USER\Software\Microsoft\Windows\CurrentVersion\Explorer\Ribbon
On the left pane, right-click on the item named QatItems and delete it.
Exit and check.
This can also help you if you cannot Pin or Unpin folders from Quick Access.
3] Delete Quick Access folders using Command Prompt
It is possible to use the Command Prompt to clear or delete Quick Access folders on Windows 11/10.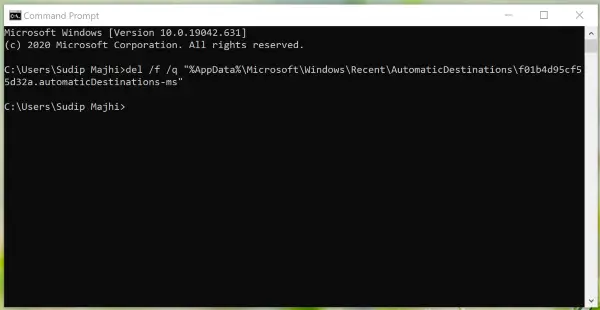 You need to open the AutomaticDestinations and CustomDestinations folders on your computer to note down the file names. Once done, follow the following steps to delete all content from those folders.
Press Win+R, type cmd and press the Enter button to open the Command Prompt.
Following that, you have to enter a command like this-
del /f /q "%AppData%\Microsoft\Windows\Recent\AutomaticDestinations\1c7a9be1b15a03ba.automaticDestinations-ms"
Once done, repeat the same steps to delete all the files visible in those two folders.
This post will show you how to Reset the File Explorer Quick Access Toolbar.