When you right click on the Explorer icon in your Windows 7 taskbar, you get to see the Recent Visit, Basic commands in the Jump List. But if you do not see anything now in your Jump List, you may like to follow these troubleshooting steps:
Jump List not working
First right click taskbar > Properties > Start Menu tab.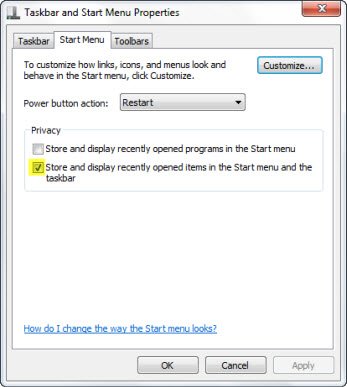 Here ensure that Store and display opened items in Start menu and the taskbar is checked. Click Apply/Exit.
Rebuild Jump List
If it doesn't help then it is quite possible that the storage file containing the lists may have got corrupted.
You may therefore have to rebuild it.
To do so, open Explorer and navigate to %AppData%\Microsoft\Windows\Recent\AutomaticDestinations folder.
Here you may see a file named 1b4dd67f29cb1962.automaticDestinations-ms. Delete it!
If you do not see this file, simply delete all the automaticDestinations-ms files you see here. This will however clear the Jump List history for all your programs.
Restart the computer and open a few folders/files randomly to see if the Jump List is building up.
Should help!
Go here if you find that your Jump List is missing or disappeared permanently in Windows 7.